MINNEAPOLIS - Minneapolis Police will no longer use undercover officers in massage parlor prostitution stings. Three cases were dismissed in court in August because of the conduct of the undercover officers.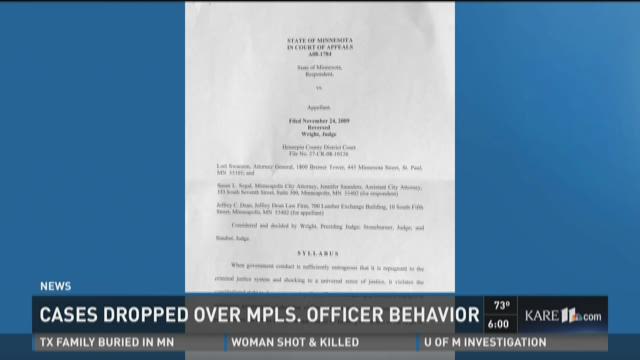 Minneapolis actually stopped using the undercover practice in July, but it was announced on Thursday. The officers in the dismissed cases engaged in sexual contact with the suspects as part of the arrest procedure.
"I think that most people do not understand that the crime of prostitution is committed once the agreement is made," explained Mary Moriarty, Chief Public Defender. "So, if you agree to engage in sexual contact for money, that is the crime. There does not have to be any contact of any kind."
According to court documents, in one of the dismissed cases, the officer is heard on audio surveillance tape receiving a naked "body-to-body" massage for more than 30 minutes before he uses the signal phase "repeat customers" to summon other officers to come into the room.
"The problem with these cases is that the police are continuing to engage in outrageous sexual conduct despite the fact that in 2009, the (Minnesota) Court of Appeals issued a published decision specifically stating that that this conduct is outrageous, unconstitutional and it has to stop,"said Jeff Dean, Minneapolis Defense Attorney who handling the 2009 case and one of the three dismissed in August of 2015.
Moriarty said there is a difference between how male and female officers handle such stings.
"The Minneapolis Police Department does have undercover women or acting in undercover roles and they also do these decoys, but I can guarantee you none of those women allow themselves to be touched sexually," said Moriarty.
The Chief Public Defender also said her office subpoenaed the Minneapolis Police policy in such stings and was told that there was none.
Harteau's statement read:
""The Minneapolis Police Department is taking immediate action by reviewing these cases. We are no longer using undercover operations to investigate suspected prostitution in massage businesses.
Under the City's new massage license ordinance  (Chapter 268 of the City Code), the City can address complaints about suspected prostitution activity through civil regulatory enforcement without having to build cases for criminal prosecution.
As a nationally-recognized leader, the City of Minneapolis remains committed to fighting sex trafficking. Over the last three years, 65 juvenile victims of sex trafficking have been rescued by MPD trafficking investigators and 101 sex traffickers have been prosecuted due to investigations conducted or assisted by the MPD."