MINNETONKA, Minn. — For Minnesota sculptor Arlene Zimmerman, art has been a way of life; but these days, it's a lifeline, as she lives with Lewy Body, a form of dementia.
"It pushes back, just like pushes back all that stuff around us," Zimmerman says.
Monthly, Zimmerman and her husband and caregiver Jim attend what's known as a Memory Café in Minnetonka, which offers the couple an oasis through an art-based gathering and represents Minnesota's growing dementia-friendly movement.
"It's important to get her out and get her out of the house and have her doing things where she can be active," Jim says.
It's important because Lewy Body has re-shaped their lives.
Accomplished Sculptor
Arlene's artistic resume includes sculptures in bronze and stone. In fact she taught classes for 15 years at the Minnetonka Center for the Arts until 2017.
"Arlene is what we refer to in the trade as the real deal," says Roxanne Heaton, executive director.
Sadly, standing in a room where she once taught, a moment of painful reality is clearly etched in Arlene's mind.
"I still can remember the horrible change, when all of a sudden, I couldn't get it right," Arlene says.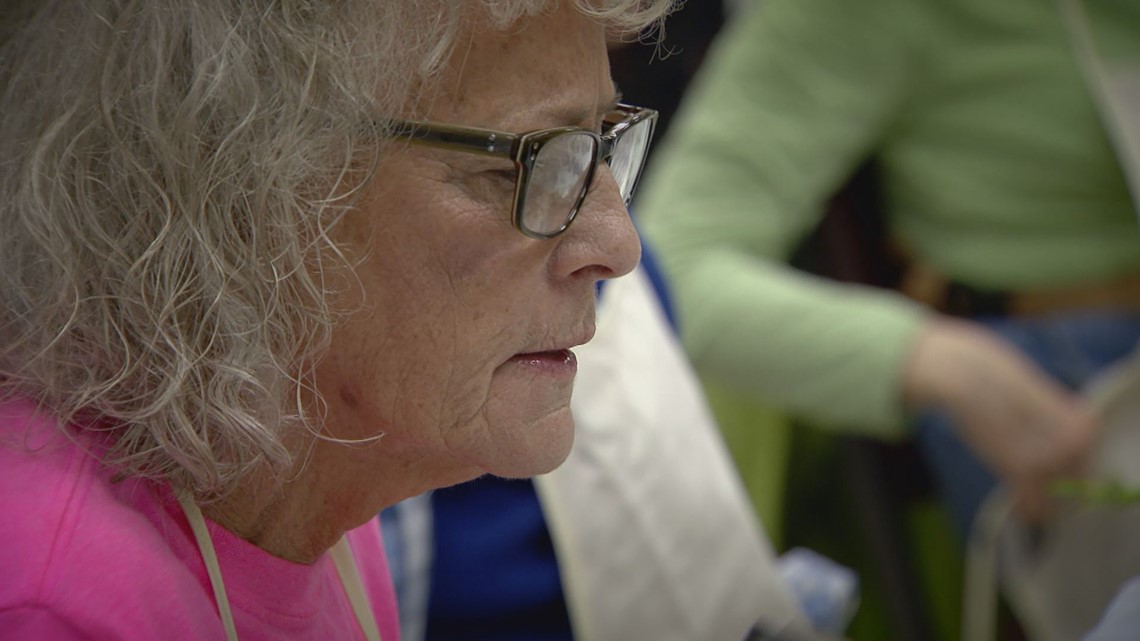 Lewy Body dementia
With the diagnosis of Lewy Body, Arlene's mind, which has been a fountain of inspiration, has become a darker place.
"Lewy Body is known for hallucinations," Arlene says.
Seated next to her husband and caregiver, Jim, the couple paint a heartbreaking picture of the disease.
"There seems to be a lot of hallucinations involved with Lewy Body," Jim says, and Arlene agrees.
"And that's something Arlene has a big fight with every day," Jim adds.
Arlene punctuates her husband's assessment, "Every day."
Specifically, Arlene sees people and even movements that don't exist, and during our interview, she offers an example, involving Jim moving his arm on the table.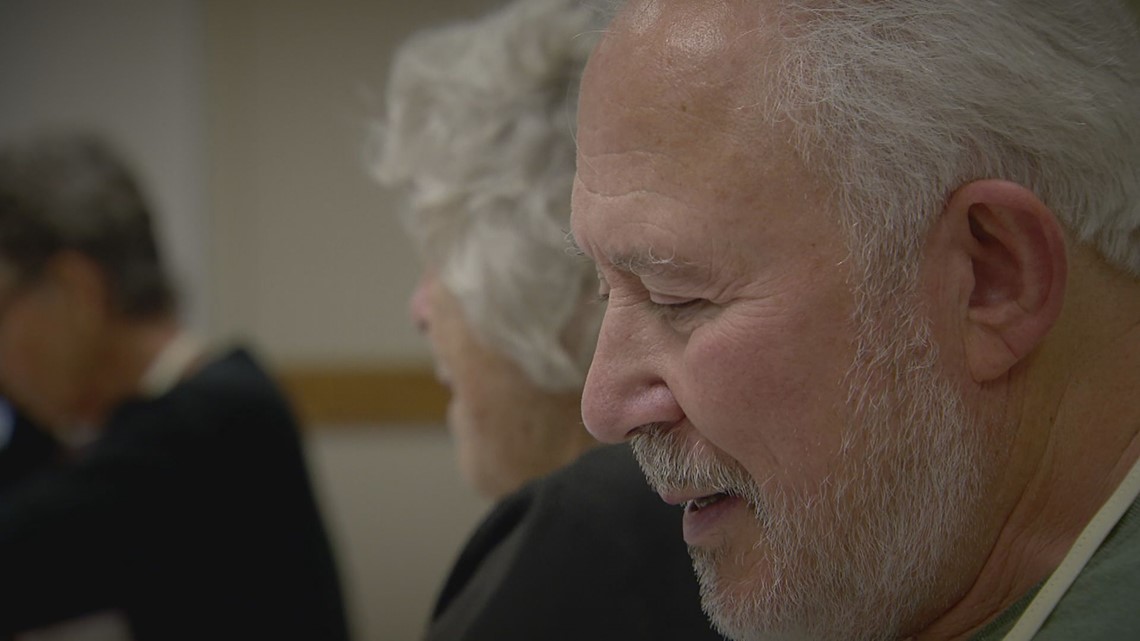 "(I) see him do this. And I'm saying, 'You did that.' And he says, 'No, I didn't.' He didn't. 'But, no, you did. I saw you, Jim. I was standing right there.' And he says, 'But I didn't.' And I'm hurting him, and I don't want to hurt him," Arlene says.
"I can't even tell you how horrible it is," Arlene says.
Memory Café
But Arlene's passion, art, is offering relief.
The oasis comes in the form of a Memory Café, which in Minnetonka is a partnership between the city and the Minnetonka Center for the Arts and which his funded by a Minnesota State Arts Board grant.
The need – just in Minnetonka – is significant.
"If you look at the national statistics for people living with dementia, it would be about a thousand people living in Minnetonka with dementia," says Steve Pieh, senior services and activities manager for the city of Minnetonka.
Once a month, roughly a couple dozen people, including those with a form of dementia and their caregivers, meet at the Minnetonka Community Center for the Memory Café.
The 90-minute sessions include light physical exercise and an art project.
"Might sound silly, but feel the love that's here, and I think art does that in a way that no other thing can do it," Arlene says.
But it's more than love; it's science, according to Heaton.
"There's a lot of really powerful compelling science about how valuable these experiences are in stemming the tide of mental decay that frequently accompanies these diseases," Heaton says.
Dementia friendly movement
Minnetonka's Memory Café is one example of Minnesota's dementia friendly movement, a statewide quest that began in 2011.
Simonson's group manages the ACT on Alzheimer's website, a resource for towns like Minnetonka that are part of the dementia friendly movement. The effort has spread nationwide, and as of fall 2018, more than 200 communities in 43 states are using strategies or resources developed in Minnesota, according to Dementia Friendly America.
"Minnesota led the way, and we based our work on what's happening in other countries, and some of that happened in the U.K., in Germany and Japan," Simonson says.
A better state of mind
For the Zimmermans, who are living with dementia, the Memory Café paints a little sunshine in their lives.
"It didn't start out as a good day at home. She used my toothbrush again, by mistake" Jim says and laughs. Arlene joins in the light moment, "It's all over when that happens."
The carefree moment is really the Memory Café's artistic creation. It's also a result of Minnesota's dementia friendly state of mind.
"We look forward to it every month," Jim says. Arlene adds, "Even if I use his toothbrush."