ZUMBROTA, Minn. — A 33 second video shows how close a fourth grader came to being hit by an SUV that failed to stop for a school bus.
The video, released by the Minnesota State Patrol, is from January. You can see the school bus with its stop-arm extended and red lights flashing. To the driver's left, Zumbrota-Mazeppa Elementary School fourth-grader Ambriel Johnson, 10, can be seen crossing the road as the driver swerves and nearly hits her.
"We were lucky. Very lucky on this one," said bus driver, Jim Perrotti. He then put his two pointer fingers about six inches apart and said, "Between life and death."
Ambriel's dad, Pat Johnson, said, "We feel that our daughter had an angel looking out for her that day."
Wabasha County Sheriff Rodney Bartsh said they were able to find the 20-year-old driver later that day and he admitted it was him. He pleaded guilty to a gross misdemeanor, failing to stop at a school bus stop arm.
"We still don't know exactly what his distraction was. We can not prove that it was his phone," Sheriff Bartsh said. "But have all of us been distracted while driving? I know I have."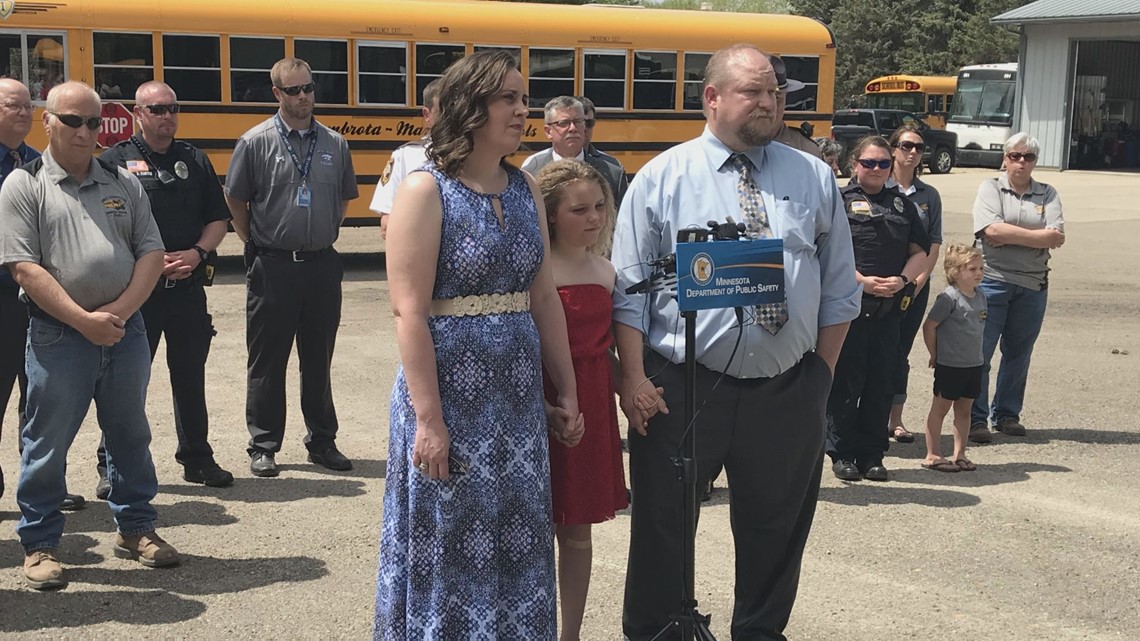 In the past five years in Minnesota, there have been more than 6,500 stop-arm violation citations.
Scott Kennedy, owner of Kennedy Transportation that operates buses for Zumbrota-Mazeppa Schools, said so far this school year they have had 15 stop-arm violation citations.
"You're not in that big of a hurry. It takes us maybe two minutes to load and unload these kids. They're counting on you to stop and let them cross safely," Kennedy said. "Red means stop and stay stopped. A child's life depends on it."
During a press conference Thursday, the Minnesota State Patrol released its annual one-day, stop-arm survey. On April 17, State Patrol asked school bus drivers across the state to respond with the number of people who illegally passed their bus on that one day. 625 motorists illegally passed school buses with their stop-arm extended and red lights flashing. 513 of those involved motorists passing illegally coming towards the bus and 112 were from behind the bus.
"The law requires that if you're approaching a bus with a stop-arm extended and red lights flashing, that you stop at least 20 feet away from the bus. The only exception to this would be if you're on a separated roadway," said Lt. Brian Reu with the State Patrol.
Drivers who do not obey the bus signals face a $500 fine. Drivers can face criminal charges for passing a school bus on the right, passing when a child is outside the bus, or injuring or killing a child.
When asked what she hopes to get across to drivers, Ambriel said, "That they stop when people come across the road."