MINNEAPOLIS --- Farmers in Minnesota are still recovering from this year's avian flu outbreak, which wiped out more than 48 million chickens and turkeys and forced the poultry industry to lose over $600 million.
According to the Minnesota Turkey Growers Association, there is enough turkey supply to meet the Thanksgiving holiday demand.
Steve Olson, executive director, said, turkey growers "start building that inventory throughout the year so in January, we started putting birds into cold storage and we've been building that throughout the year."
Frozen birds go through a flash-freezing process "that basically locks in the freshness," said Olson.
According to the U.S. Department of Agriculture, the price of turkey could increase this holiday, particularly the prices of fresh or natural turkey.
"When you go to the store and look for a fresh bird, it's going to be something that hasn't been frozen. It's cooled and refrigerated, but it was also produced within the last couple of months," described Olson.
In Minnesota, the last positive case of avian flu occurred in June. With temperatures dipping lower and wild birds beginning to migrate, farmers are bracing for the possibility that the infectious virus might make a comeback.
"We've been testing our flocks like we always have been, but when we get into the fall and the spring, we are doing an elevated level of surveillance," said Olson. "We're checking birds every week just to make sure that we can stay ahead of this and if the flu does come back, we can catch it early."
So when you stop by your local grocery store, what kind of turkey should you pick?
It turns out there's a number of options for turkeys like frozen, fresh, heritage and organic.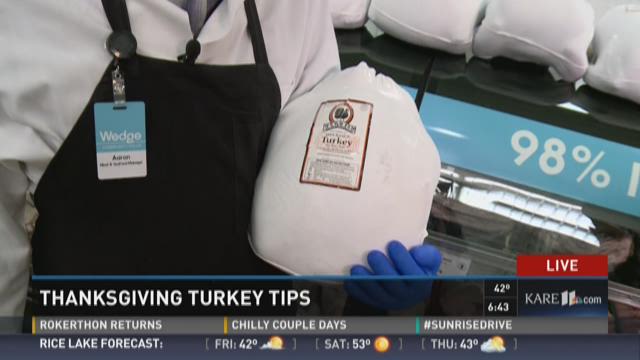 Aaron Nytroe, the Co-Op's Meat and Seafood Manager, said "generally, you need 1 to 1.5 pound of turkey per person, so if you're serving 10 people, you need a 15 pound bird."
When it comes to frozen turkeys, the most common turkey sold during Thanksgiving, shoppers must factor in thaw time.
A good rule of thumb is to allow 24 hours of thawing time in the refrigerator for every 4 to 5 pounds of turkey.
If you've run out of time, Nytroe recommends defrosting the wrapped turkey with cold water in your sink.
A fresh turkey has never been chilled below 26°F. Fresh turkeys are typically more expensive than frozen turkeys.
As for organic turkeys, USDA-certified organic poultry must comply with national organic standards in its production and processing, and must contain 95 percent organic ingredients.
Lastly, heritage birds are rare indigenous breeds. They are often smaller, with a richer, gamier flavor. Heritage turkeys are more expensive than other types. The average price can be about $5 per pound.