SANTA FE, Texas — Ten people were killed and 10 others were injured at a Texas high school early Friday morning when a teenage gunman opened fire.
Texas Governor Greg Abbott called the deadly shooting at Santa Fe High School "one of the most heinous attacks we've seen in Texas schools."
The suspected shooter, 17-year-old Dimitrios Pagourtzis, used a shotgun and .38 revolver during his attack, according to Gov. Abbott.
Investigators have found evidence that Pagourtzis planned the attack in advance and took the weapons from his father, Gov. Abbott explained. The suspect was taken into custody and two persons of interest were being questioned.
While the governor called on everyone across the country to join Texas in mourning the lives lost and offering prayers and support, he said people need to do more than just praying.
RELATED: Santa Fe shooting suspect used dad's guns, governor says
"It's time in Texas that we take action to make sure this tragedy is never repeated again," Gov. Abbott declared.
"Wherever you may be, hold your children close tonight and let them know how much you love them."
Abbott also promised to work with the legislature and local communities to tackle this issue, starting with round table discussions next week.
Earlier in the day authorities urged caution after discovering explosive devices on and off the Santa Fe High School campus where the deadly shooting took place.
Various kinds of explosive devices have already been detected by authorities, including a CO2 device and a Molotov cocktail, according to Texas Gov. Abbott. He added that authorities have warrants to search two residences and a vehicle. There are concerns that explosives may be found inside.
Seven of the victims who lost their lives have been identified. They are: Sabika Sheikh, a foreign exchange student from Pakistan, Angelique Ramirez, substitute teacher Cynthia Tisdale, teacher Ann Perkins, Chris Stone, Shana Fisher and Kimberly Jessica Vaughan.
Among the wounded is John Barnes, 49, a retired Houston Police Department officer. He is in critical condition at the University of Texas Medical Branch in Galveston as of 3 pm CT.
Doctors said Barnes lost a lot of blood before getting to the hospital. They described his main injury as a gunshot wound to his elbow and damage to an artery in his arm. Houston Police Chief Art Acevedo said Barnes was sworn in in May 1995 and retired in January 2018.
Pagourtzis has been charged with capital murder and aggravated assault of a police officer. He planned to take his own life but couldn't go through with it, Gov. Abbott said. He added that unlike other school shootings there were no warning signs involving the suspect.
RELATED: Gunman identified as 17-year-old Dimitrios Pagourtzis, FBI source says
Several law enforcement agencies are searching a mobile home where records show the teen lived.
Pagourtzis recently posted a photo on social media wearing a t-shirt that said "Born to Kill." There were also photos of Nazi regalia.
The gunfire was first reported before 8 a.m. CT Friday when the school district issued an alert saying the school was on lockdown. Witnesses said at least one suspect came into the school and opened fire in an art class. Some students also said the shooter was throwing explosives into a classroom.
MORE: 'Everybody yelling 'run, go as fast as you can'
By 11 a.m. CT authorities were at another scene, about two miles from the school, where authorities said they were investigating the possibility of explosive devices inside a mobile home. Authorities later confirmed explosive devices were found both inside and around the school.
Some students told Houston television station KHOU they were evacuated down the street to a nearby auto shop as police surrounded the school. Many parents lined up to pick their kids up at the business.
VIDEO: Hospital staff details patient injuries from Santa Fe High School shooting
One student told Houston television station KTRK in a telephone interview that a gunman came into her first-period art class and started shooting. The student said she saw one girl with blood on her leg as the class evacuated the room.
RELATED: President Trump promises action from his administration after Texas school shooting
"We thought it was a fire drill at first but really, the teacher said, 'Start running,'" the student told the television station.
The student said she didn't get a good look at the shooter because she was running away. She said students escaped through a door at the back of the classroom.
Photos: Shooting at Santa Fe High School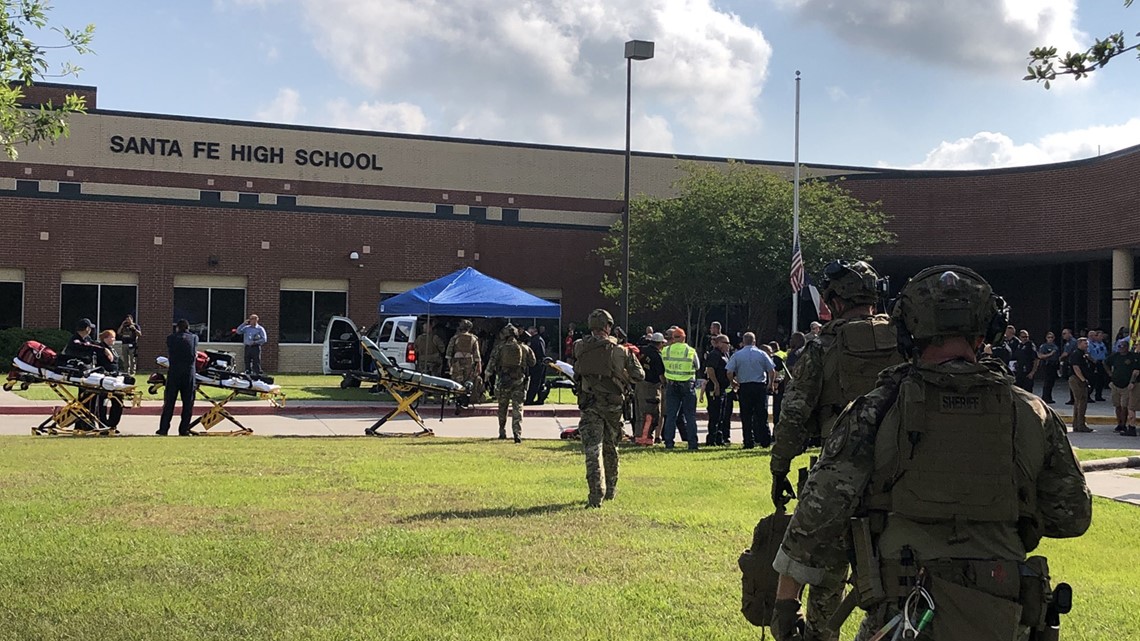 Aerial footage from the scene showed students standing in a grassy field and three life-flight helicopters landing at the school in Santa Fe, a city of about 13,000 residents roughly 30 miles southeast of Houston.
VIDEO: Sheriff gives update on situation after Santa Fe High School shooting
President Donald Trump extended prayers and support to school shooting victims at Sante Fe High School outside Houston and pledged to do "everything in our power to protect our students." He ordered flags at half-staff until Tuesday night.
President Trump has "activated" his gun safety commission and is expected to meet with members next week in the wake of the deadly school shooting in Texas.
White House spokeswoman Sarah Huckabee Sanders says the commission the president convened after the Parkland, Florida, shooting in February "has been activated today to start that conversation up again." She says she believes it will be meeting again in "first part of next week."
She declined to say whether Trump will revisit some gun control measures after another school shooting, but adds, "Certainly conversation's ongoing about the best ways to protect kids across the country."
There was a large law enforcement response to the same school in February when it was placed on lockdown after students and teachers said they heard "popping sounds." Santa Fe police swept the campus but found no threat then.
RELATED: Remember Their Names: Santa Fe High School shooting victims identified
Contributing: Associated Press, KHOU