MINNEAPOLIS — When Finnish conductor Dalia Stasevska arrived in Minnesota earlier this week, she didn't expect she'd be sitting inside her Minneapolis hotel room Thursday morning – around the same time she should have made her debut with the Minnesota Orchestra.
"The snow is normal, but we usually don't cancel anything – so today is quite exceptional."
Canceling the show was exceptional, maybe, but not really a surprise, as a days-long winter storm blanketed the city with snow, causing travel advisories just serious enough to shutter events and happenings all around the metro. That's OK though, said Stasevska, because she's been taking tourism cues from one of Minnesota's own adopted daughters.
"I found this amazing interview of Lizzo – apparently she's from here!" she said. "She had this amazing list of restaurants that she recommended so I'm following Lizzo's list, and I already tried two of the places."
Stasevska gives Quang's Pad Thai two thumbs up.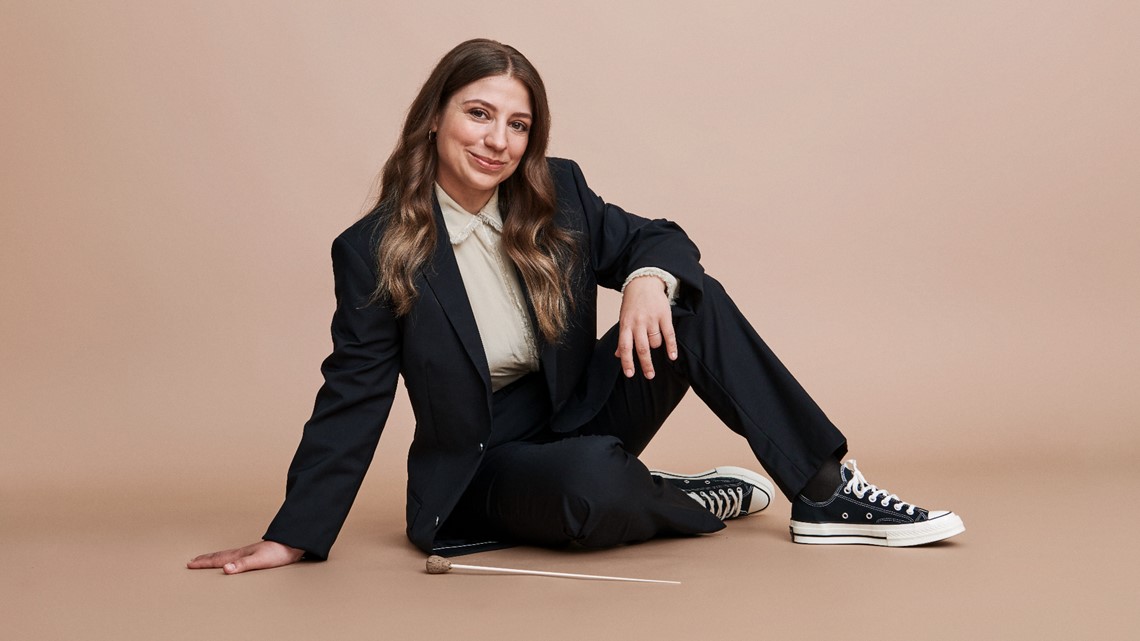 Biding her time with Lizzo's 36-hour itinerary in Minneapolis, Stasevska – the Chief Conductor of Finland's Lahti Symphony Orchestra, and Principal Guest Conductor to the BBC Symphony Orchestra – is still more excited than ever to take her program up to the podium at Minneapolis' Orchestra Hall.
"I'm extremely thrilled for this program," she said. "It's a program of my dreams."
For her Friday and Saturday evening performances, Stasevska put together a presentation comprised of only works by American composers, a program she says is an "X-ray in American music history."
"We start with Afro-American composer William Dawson's 'Negro Folk Symphony.' He's been neglected for years, and now it's finally coming back to two concert halls. It was premiered in 1934. It's an incredible masterpiece," she said.
Stasevska's program also includes a performance of Leonard Bernstein's "Serenade" – in which Minnesota Orchestra Concertmaster Erin Keefe earns her keep as a soloist on violin – and a third piece of music, written by composer Missy Mazzoli: "Sinfonia (for Orbiting Stars)."
A big fan of Mazzoli, Stasevska says she's a star in her own right.
"Missy is a huge rising star as a composer," she said, "and I think that she is one of the greatest living young American female composers."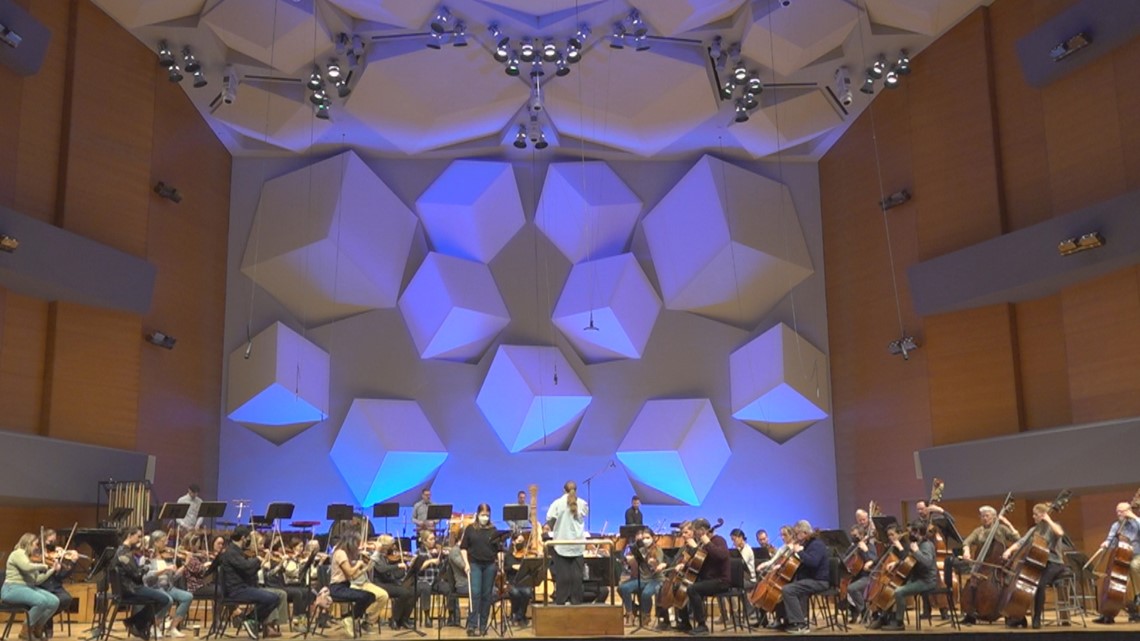 While on schedule to conduct some of the best orchestras in the United States this year, Stasevska's tour stop in Minneapolis comes at a particularly significant time. Exactly one year ago on Friday, Russian President Vladimir Putin waged war on Ukraine – Stasevska's birthplace.
"This has been my most important, number one mission to speak about, that we need to give unconditional help for Ukrainians."
Raised in Finland but born in Kyiv, Stasevska said the connection she feels to her Ukrainian roots has only gotten stronger with time. Her earliest exposure to Ukrainian culture was seen through the lens of her proud Ukrainian father and grandmother.
"I was very lucky in my childhood," she said. "Though I never lived in Ukraine, my father and my grandmother, who was living with us, they were really passionate about giving us a glimpse of Ukraine and Ukrainian culture, and everything beautiful from there."
She added, "It was really thrilling to go for the first time in Ukraine as a child, and we had a wonderful time there. And ever since, I've been trying to visit Ukraine and try to find my Ukrainian heritage," she said.
Stasevska said becoming more acquainted with her Ukrainian side has been a "beautiful journey."
"I feel all the time more and more connected to this country. I'm really lucky to have both sides in me – Nordic, but then also this Ukrainian beautiful heritage that I explore."
But with exploring her past, comes an added sense of duty. As Ukrainians close in on a full year of fighting and resisting Russian forces, Stasevska remains steadfast in her commitment to providing humanitarian relief to areas most impacted by Putin's war.
Last year in March, Stasevska said she and her brothers – one of whom was living and studying in Kyiv – established a fund to funnel money and supplies straight into the hands of citizens and soldiers feeling the incessant, crushing weight of war on the frontlines. Since they started spreading the word through their project, Humanitarian Aid to Ukraine, Stasevska said they've raised over €200,000 (or just over $211,000); provided thousands of people with essential seasonal items (socks, mittens, sleeping bags, etc); and fulfilled other survival needs with items like evacuation vehicles, stoves used for both cooking and warming, and various types of medications.
She said every penny raised is guaranteed to go directly toward helping Ukrainians in need.
"As we all know, Russia has been destroying Ukrainian infrastructure, and basically all the things that you need to survive and to live," Stasevska said. "It has been really important for us that this is very see-through – our activity – with every single penny going to Ukraine. And that also the people see that we are, actually ourselves, really involved in this."
Not only does Stasevska help gather funds and supplies, but she actually helps hand deliver that aid. Stasevska said last that October, she drove a truck full of supplies into Ukraine, extending her stay to conduct a local orchestra.
That program came together on the fly, which Stasevska said brought the community of Lviv a temporary escape from months of pain and suffering.
"We did this incredible concert with only Ukrainian music," she said, "And it was one of the most touching things for me I've ever experienced. The music has been for me a great escape and kind of like a grounding force."
Stasevska said many of the musicians who would have normally joined them on stage instead found themselves staged in defense of their country on the frontlines of war.
"We tried to take a lot of happy photos and videos and send them good, happy messages because this is also what the people on the frontlines need to see – that life goes on and that we keep our kind of houses strong."
She said as she left Ukraine the next day to return to Finland, Russia attacked Lviv, damaging even more critical infrastructure. But even after experiencing the consequences of war firsthand, Stasevska still refused to abandon her mission.
"It's also important that we don't get tired because when we get to rest, the war machine keeps eating there – and this we cannot let [happen]. We have to do everything we can to stop this war; we can't leave our friends behind," she said.
Unfortunately, Stasevska said, it's everyday people like you and me who continue to bear the brunt of Putin's war, which is why she's pleading with all of us to join in the effort.
"I think this is a duty of every person because they are people like us; they have done nothing wrong," she said. "It is really important that we are all in this together because it's an investment in peace; it's an investment in democracy – and we all benefit that Ukrainians win."
Watch all of the latest stories from Russia's war on Ukraine in our YouTube playlist: