WASHINGTON — Payments will likely be resuming on student loans sometime in the next few months.
In testimony before Congress Thursday, Education Secretary Miguel Cardona confirmed that the Biden administration doesn't have any plans to add another extension to the pandemic-era payment pause.
"The emergency period is over and we're preparing our borrowers to restart," Cardona said.
Thursday marked the official end of the emergency phase of the coronavirus pandemic in the U.S., with many eager to put the past few years behind the country and return to normal.
"We recognize that during the pandemic it was very difficult for borrowers," Cardona said. In response to a question from Sen. Shelley Capito, he confirmed that payments would resume later this year.
When will student loan payments resume?
The exact date is still somewhat unknown.
Currently, the pause is set to expire on June 30. The first payments would then be due 60 days after that, which would be Aug. 29, 2023.
However, if the Supreme Court rules on the administration's debt forgiveness plan before the end of June, the 60-day countdown to payments resuming would begin when the ruling comes down instead.
Cardona's comments on Thursday indicate borrowers would begin receiving reminders about upcoming payments before actual processing happens.
"No later than June 30th, we're going to begin that process," Cardona said. "They need a long on-ramp because it has been three years (without) resuming payments."
Payments will also begin accruing interest again; interest was frozen as well during the pandemic to put a true pause on payments while borrowers dealt with the additional costs brought by COVID-19.
Cardona's testimony came during a hearing about his budget proposal for the upcoming fiscal year, in which he asked for $620 million more for federal student aid programs. The country's top education official said the extra money is needed to support student loan borrowers as they navigate the repayment process when it starts back up again.
The additional money will not be used to directly pay for student loan forgiveness, Cardona said. Instead, it will simplify the FAFSA process high school students use to apply for federal student loans.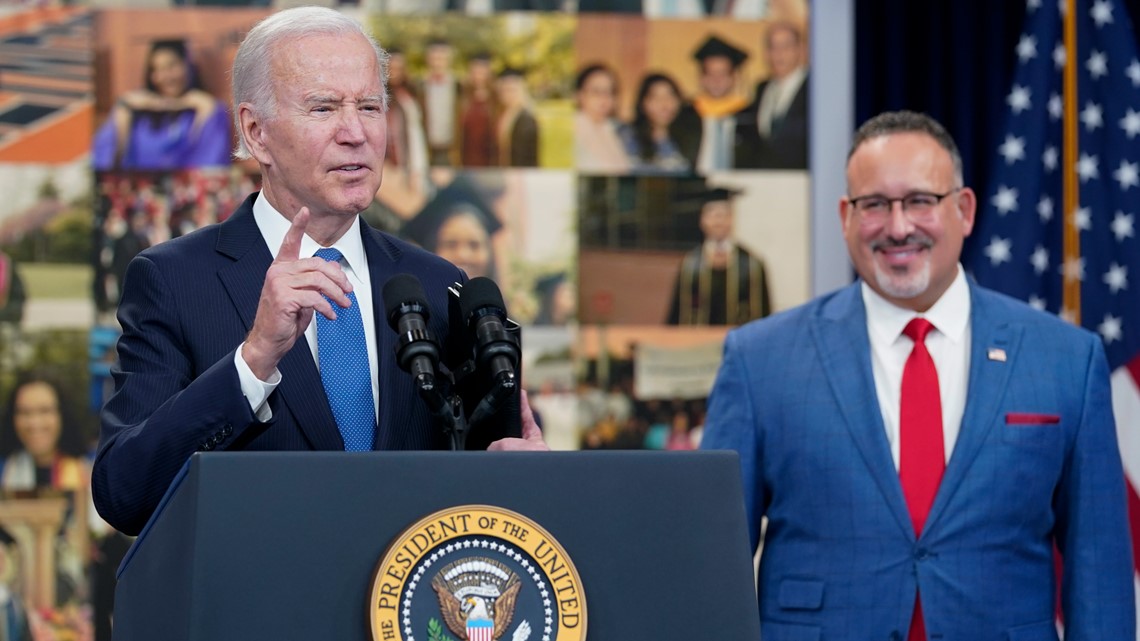 Cardona's testimony before the Senate appropriations committee comes at a pivotal time for both the administration and for college grads.
The plan Biden announced last August would cancel $10,000 in federal student loan debt for those earning less than $125,000 or households with less than $250,000 in income. Pell Grant recipients, who typically come from lower-income households, would receive an additional $10,000 in debt forgiveness, for a total of $20,000.
Federal student loans taken out for both undergraduate and graduate school, including Graduate PLUS loans, can qualify for forgiveness under the plan.
Borrowers qualify if their federal student loans were disbursed before July 1.
The federal government believes 40 million Americans could be eligible for the forgiveness plan, and nearly half of those people could have their federal student debt wiped out entirely.
It's unclear when the Supreme Court will rule on the case. Decisions must be made before the court recesses for the summer sometime in late June or early July, but beyond that there is no deadline for the court to decide how the student loan forgiveness case will play out.
In the meantime, student loan payments have been on hold for years, since March of 2020.
The hold was put in place because of the then-beginning COVID-19 pandemic, and was originally meant to expire at the end of September 2021. But the administration kept adding extensions as the pandemic continued to challenge the economy.