ST PAUL, Minn. — The owner of a group of central Minnesota taverns decided he wouldn't defy an order from the governor and reopen at noon Monday, saying he didn't want anyone to get anyone else in trouble after a judge approved a temporary restraining order.
But Kris Schiffler, who owns and operates a chain of six "Shady's" bar-restaurants, said that he will fight the order in court after supporters raised over $200,000 on Gofundme for a legal defense fund.
More than 200 people gathered outside Shady's Hometown Tavern in Albany in anticipation of his opening, and to show support after Minnesota Attorney General Keith Ellison filed a lawsuit asking the judge for an injunction.
"The risk isn't worth the reward at the end of the day," Schiffler told his supporters. "He (Ellison) just keeps threatening us with more things and more things and more things. And now he wants to audit our taxes," the bar owner said.
But Schiffler continued by saying the fight isn't over.
"We appreciate (all the support.) We appreciate it and we're going to fight the fight. This isn't over for us. We're fighting for the small businesses. This isn't about Shady's anymore. It's about everybody. It's about all these people. It's about everybody that's ready (to reopen,)" he said.
Schiffler told the crowd he and his staff were ready to reopen and operate safely in the midst of the COVID-19 pandemic, but his attorney advised him not to after a Stearns County judge issued a temporary restraining order banning Schiffler from opening any of his locations while state guidelines prohibit him from doing so.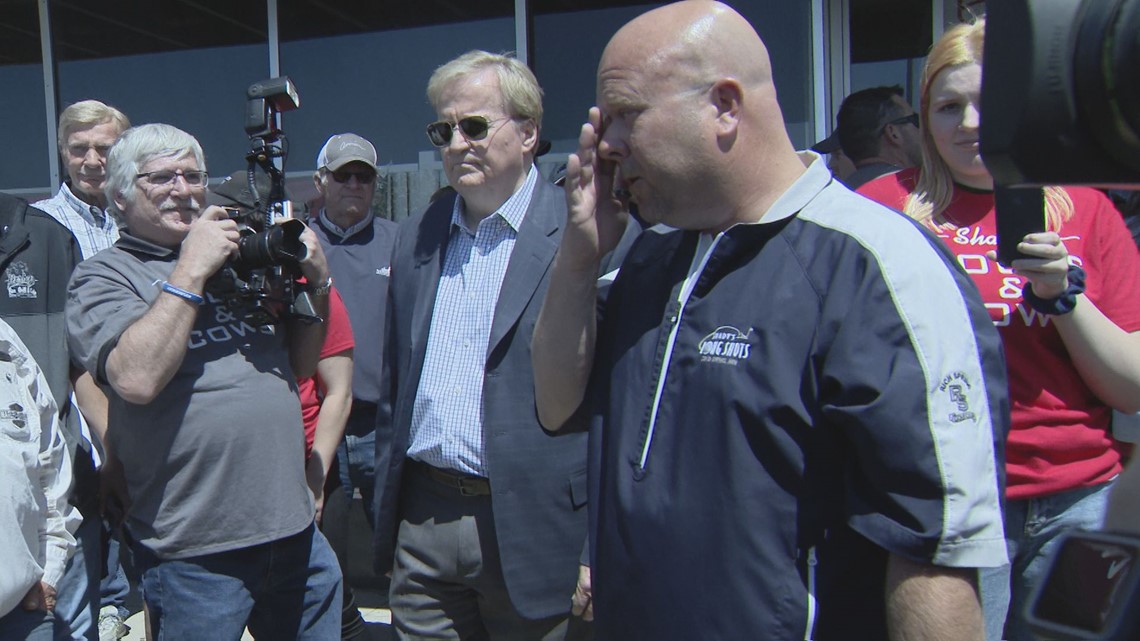 In his order, Judge William Cashman called the COVID-19 pandemic "one of the greatest public health pandemics Minnesota has endured in recent history," also writing that a temporary restraining order would be in the best interests of the public, Shady's patrons and staff.
"It is clear from the facts shown by the State that Defendants' patrons, Defendants' employees, and the general public will suffer irreparable harm unless Defendant is temporarily enjoined from providing on-site consumption services at their six Minnesota restaurant locations prior to the expiration of Executive Order 20-56," the judge wrote while granting the Attorney General's request.
When asked about the judge's ruling and Schiffler's plight, Ellison insisted he was sympathetic but explained that everyone has to proceed in a manner that supports good public health.
"Think about all the other businesses that are doing the right thing. How come they don't just say 'we don't care about the rules, we're going to do whatever we want?' Because they have a certain sense of concern for other Minnesotans, and we're just asking him to share that concern and talk with us and try to come up with something that makes sense," Ellison said.
The Attorney General first announced Sunday he was prepared to sue Shady's Taverns after Schiffler announced he would reopen the Albany location Monday, and others in the coming days.
The reopening would have been a violation of Governor Tim Walz's "Stay Safe Minnesota" order, as bars and restaurants have been ordered to keep dining areas closed until at least June 1.
The lawsuit, announced in a press release from the AG's office, listed the six locations in Albany, Burtrum, Cold Spring, New Munich, Rice, and St. Martin, and names the owner as a defendant.
Ellison said that despite initially agreeing to delay opening, the owner stated publicly Sunday that he intends to reopen Monday, or in the coming days.
"The vast majority of Minnesota's bar and restaurant owners are doing the safe, lawful, and right thing during this crisis by keeping their doors closed, while still serving customers as allowed through take-out and drive-up. As hard as it is for them — and I know it's hard — they're doing their part to stop the spread of COVID-19 and keep themselves, their families, their employees, and their customers safe from this deadly pandemic. They deserve all of our thanks," AG Ellison said.
Ellison went on to say that his office has reached out to a handful of other bar and restaurant owners who have wanted to reopen illegally, and that he appreciates those who are complying with the law.
"The owner of Shady's, however, has declared his intention to break the law and endanger his customers and employees — in Stearns County, with the second-highest number of COVID-19 cases in Minnesota. My office has the duty to enforce the law and the Governor's order, to protect Minnesotans' health, and to protect businesses that are complying with the order from unfair competition. I take that duty seriously," Attorney General Ellison added.
This is the first enforcement action the Attorney General has brought to stop the early reopening of a bar or restaurant in Minnesota.
The state of Minnesota has set up a hotline for general questions about coronavirus at 651-201-3920 or 1-800-657-3903, available 7 a.m. to 7 p.m.
There is also a data portal online at mn.gov/covid19.