Just by looking at Breeze the horse you'd never be able to tell the nasty situation she got herself into on Wednesday.
Katie Bialka, a student at St. Cloud State, said she decided to come home to her Princeton, Minn. property on Wednesday on a whim.
When she came home, she noticed that one out of the four horses was missing and she said she began to search immediately.
"I just heard my brother yelling, 'I found her, I found her, she's in the swamp,'" Bialka said. "Instantly my heart just dropped."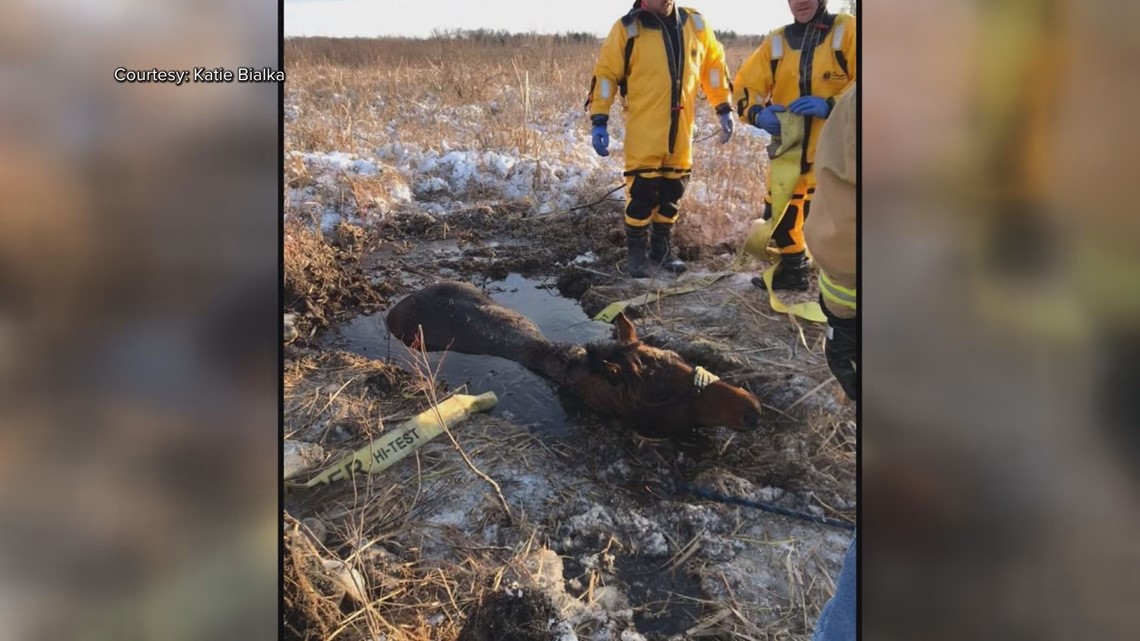 Breeze, the 5-year-old horse had gone over a downed fence and gotten herself into a deep part of a swamp. Photos and cellphone video from that afternoon show Breeze standing in cold water, with just her head poking out.
Pulling her out, rescuing her and caring for her wasn't a one-man job. Bialka said after they tried on their own to get her out, she called the Princeton fire department.
"The Princeton fire department was fast," Bialka said. "They had ratchet straps, body boards and stuff like that." She continued to explain that the fire fighters went above and beyond to rescue Breeze. She said they went as far as putting body suits on to go in the water with the horse to get straps around her body.
The effort doesn't end there. The Anoka Equine Veterinary Services sent over two veterinarians to care for Breeze and evaluate her once she was out.
"It takes a village and she would't be alive if we didn't have the team we had in place," Dr. Zach Loppnow said. He said Breeze's body temperature was significantly lower than it should have been but they managed to bring it back up by tubing her to give her warm water.
With plenty of tender love and care, on Friday, Breeze was her curious self. She was donning braids with rainbow rubber bands. Bialka said through the entire incident, she was scared, but Breeze remained unshaken.
"I'd never thought I'd ever see a horse stuck in a swamp like that ever," Bialka said.
She warned other folks who live near swamps and bogs to keep an eye on their horses.