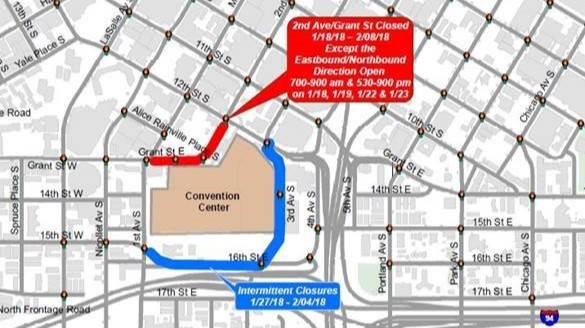 MINNEAPOLIS - And so it begins.
Streets surrounding the Minneapolis Convention Center will be closing for the Super Bowl Experience, starting Thursday.
Second Avenue and Grant Street in front of the convention center will be closed from Thursday, Jan. 18 until Thursday, Feb. 8. The eastbound and northbound lanes will be open temporarily during the closure -- from 7 a.m. to 9 a.m. and 5:30 p.m. to 9 p.m. on Jan. 18-19 and Jan. 22-23.
First Avenue South, Third Avenue South and 16th Street East will be intermittently closed while the Super Bowl Experience is open, from Jan. 27 to Feb. 4. Event removals will take place from Feb. 4-8 and the streets will reopen shortly after.
This first phase includes:
• Chicago Avenue between Fourth and Sixth streets;
• Norm McGrew Place between Third and Fourth Street; and
• Fifth Street South between 11th Avenue South and the loading dock of the 511 Building
Those roads will be closed until Feb. 11.
"We will be open for business," said Michael Rossman, Hennepin County's Chief Human Resources Officer. "So, the services we provide will be the same every single day. We are hoping residents don't notice any difference whatsoever. ... What we're doing is planning ahead."
Hennepin County Medical Center is also impacted by the first round of road closures.
"I think this first couple weeks, things should be pretty normal," said HCMC Emergency Manager Mark Lappe. "There will be loss of street parking and maybe some increased congestion. So, their normal commuting is probably OK. But starting Jan. 26, we're really encouraging our staff to do carpooling and mass transit. For our patients and our clients, we're communicating that to them so they understand what the delays might be."
Officials say organizers spent months working with the city, NFL and the Minnesota Super Bowl Host Committee to create a traffic management plan that would be as minimally disruptive as possible, while enhancing the events of the Super Bowl experience.
Other road closures, including streets surrounding Nicollet Mall, the Minneapolis Convention Center and other areas of the city will close at a later date -- most in mid- to late-January.