MINNEAPOLIS - The long, drawn-out winter has left Minnesotans yearning for a taste of the tropics -- and thanks to the new patio at Minneapolis' Hai Hai that is now attainable.
The space is sunny, bright and like a trip to southeast Asia without the plane ticket.
Owners Christina Nguyen and Birk Grudem (also of Hola Arepa) say that was their intention.
"(We're) just kind of keeping it fun and ultimately reminiscent of eating on the street in southeast Asia," Nguyen said. "It's just kind of a different experience you won't get anywhere else in Minneapolis."
The patio matches the rest of the restaurant -- fun, tropical prints surrounded by brightly colored seats and plenty of plush vegetation that transport you across the ocean.
PHOTOS: Hai Hai in northeast Minneapolis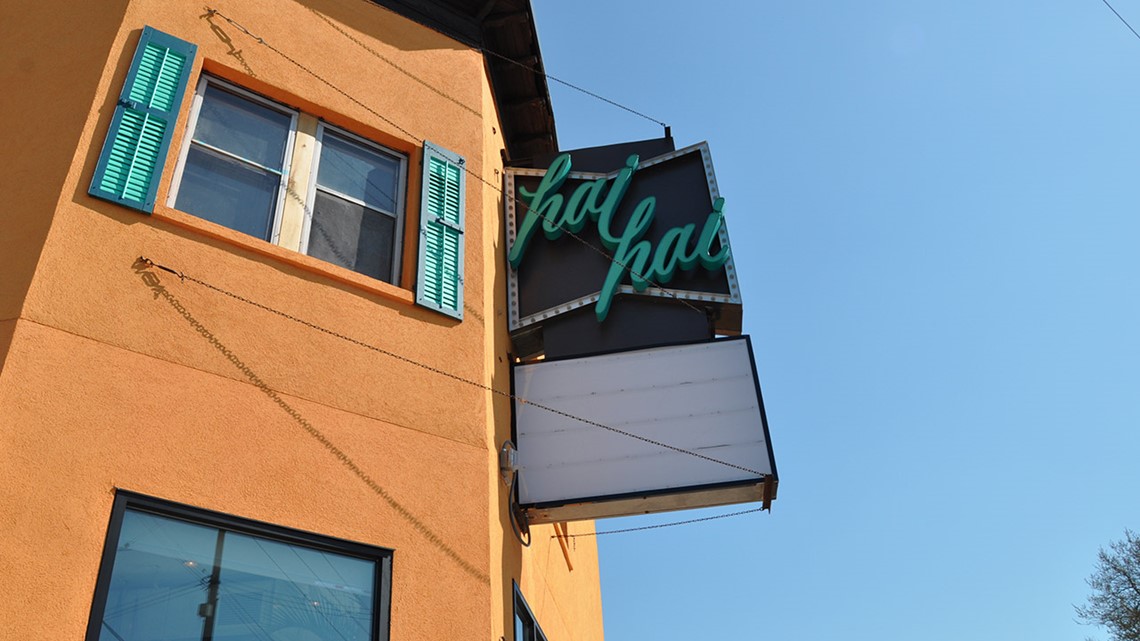 Short plastic stools situated at glossy covered tables are inspired by dining on the streets of Saigon, near where Nguyen and Grudem traveled with the intentions of bringing that culture to life in northeast Minneapolis.
"I feel like it's a pretty unique patio that still kind of feels like you might be somewhere a little warm and tropical," Nguyen said.
Add in the fresh, bright flavors of Nguyen's Vietnamese dishes and a summery, tropical cocktail and there's nothing better to celebrate the end of a long, snowy season.
The menu features big flavors inspired by the food Nguyen grew up eating at home and the street food the pair fell in love with during their travels to southeast Asia.
Sara Pelissero, KARE
A banana blossom salad features bright grapefruit and shredded banana flowers. One of her favorite dishes, water fern cakes, starts with a smooth steamed rice cake which is topped with layers of mung bean, ground pork and crispy shallots and finished with a kick of Thai chili. (Side note: Nguyen suggests eating these delectable cakes with a spoon, to ensure you get every layer.)
The Balinese chicken thigh combines perfectly grilled and seasoned juicy chicken, with kale and bean sprouts and a healthy portion of jasmine rice and coconut cream.
Sara Pelissero, KARE
Classic Vietnamese crepes, served as lettuce wraps, offer incredibly flavorful Asian herbs alongside the coconut milk rice flour crepe filled with your choice of pork belly and shrimp or bright snap peas, pea shoots and shiitake mushrooms.
The results are stunning and truly unlike anything else in the area.
Cocktails take similar inspiration, featuring classic Asian flavors like lychee, Thai basil, dragonfruit and made-in-house fresh sugarcane juice.
Sara Pelissero, KARE
Plus, as a special treat, Hai Hai offers two different adult slushie drinks -- a gin based option with lychee and elderflower liqueur and a rum based option with passion fruit and lime. Add them together for an Asian-inspired "Miami Vice."
"We're able to kind of play off classic cocktails but take them in a nice, tropical, fun, sort of slightly tiki way," Grudem said.
UPDATE: Hai Hai has been named one of the 18 best new restaurants in America by Eater. Congrats guys!
Hai Hai is open Tuesdays through Sunday from 3 p.m. to midnight, with a brunch menu on Saturdays and Sundays from 10 a.m. to 3 p.m. Dinner is available from 3 p.m. to 10 p.m.
For more information and full menus, click here.