PIERZ, Minn. — On a cloudy day, there's a bright spot in Pierz, Minn. 15 acres of sunflowers are in full bloom—one of the smaller fields connected to a central Minnesota business.
"They've been blooming for about 10 days now so they're about halfway through now," said Tom Smude of Smude Enterprises.
Tom and his wife, Jenni Smude, are the owners of Smude's Sunflower Oil and Smude's Natural Microwave Popcorn.
Working with local growers, they have about 1,200 acres of sunflowers planted from Wadena to Wisconsin.
"It was not planned at all," Tom Smude said.
More than a decade ago, the couple's corn and soy crops experienced two years of drought.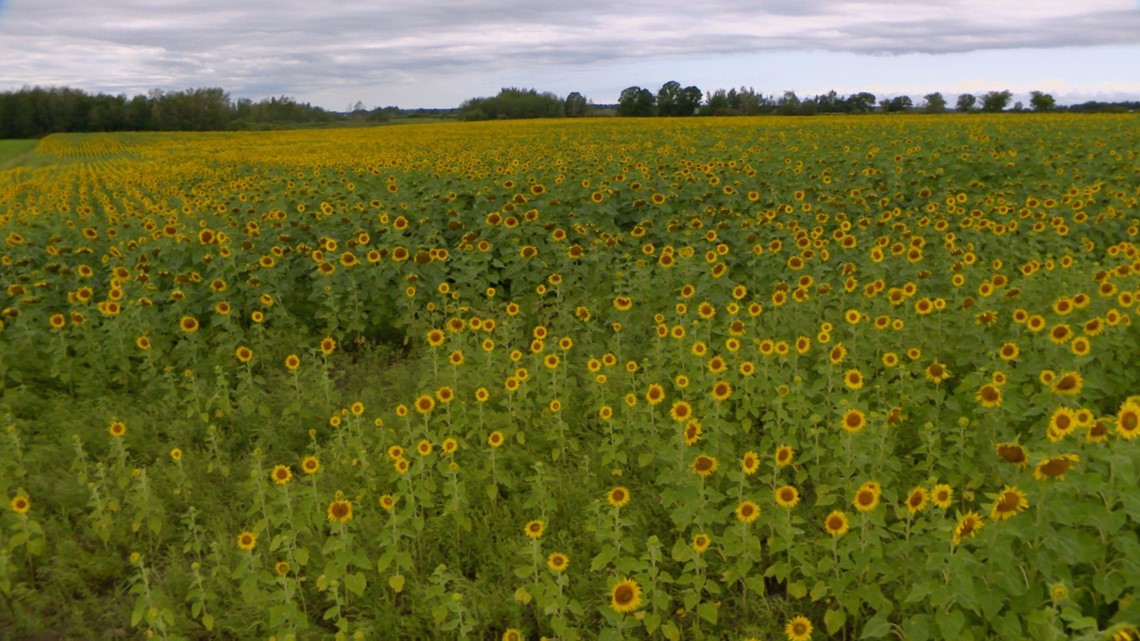 "You go through a couple years and everything goes backwards and it's not different than right now. It's been tough farming for everybody," Smude said. "Back in 2007, 2008 it was really dry and so we were looking for a drought-tolerant crop to grow... We were looking for a crop to grow and make a byproduct or a protein source for the feed lot. We were feeding black angus, natural cattle. Why not grow something here versus truck it all in?"
So they turned to sunflowers. They were going to sell the oil but then the price of oil dropped.
"Here I'm sitting with low-cost oil and nowhere to go with it. So we ended up putting it in a bottle," Smude recalled.
Quickly, Smude's Sunflower Oil took off. The seeds are cold-pressed, separating the oil from the seeds.
"High Vitamin E and longer shelf life. And the nutritional value is a lot better in a cold-pressed oil versus a refined oil," Smude explained. "Over the last eight years we've been growing and now we're probably in over 500 locations."
Then more than a year ago, they launched Smude's Natural Microwave Popcorn.
"Whoever tries the microwave popcorn, no one believes that microwave popcorn can be that good," Smude said. "It's only three ingredients: It's our sunflower oil, popcorn and salt. So no additives, no preservatives."
With 1,200 acres, Smude said they hope to grow to 5,000 acres in the next couple of years.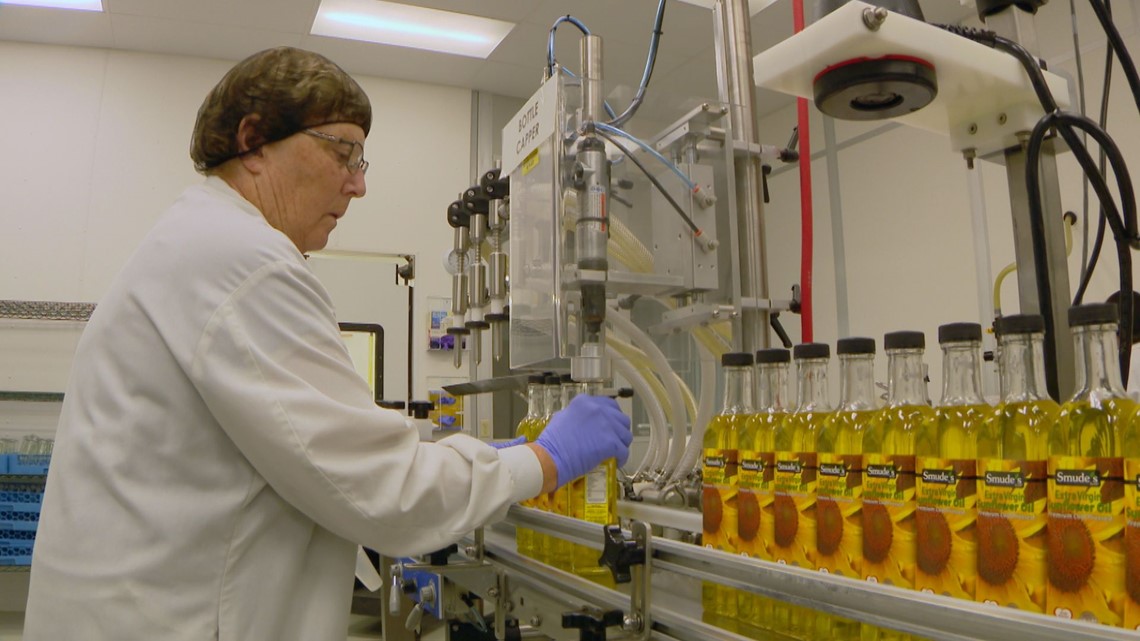 For the first time, they're trying Bee Vectoring Technology (BVT) to better protect their crops and produce higher yields.
"Behind us are the bees that are actually helping pollinate the sunflowers this year. So it's Bee Vectoring Technology is what we're using to take an organic fungicide and the bees will deliver that to each flower and put a spore into that flower. So it'll help protect the plant from sclerotinia this fall for head rot," Smude said.
They won't know if it worked until the fall but Smude said they hope to gain 2,000-2,500 pounds per acre of flowers using this technology.
The sunflower fields will stay in full bloom for about 10 more days. During that time, hundreds of people visit to take photos.
"It's fun talking to people. People are just so happy... just be careful of all the bees but we do get some traffic jams every once in awhile on a county road," Smude said. "Today it's not sunny out yet but when the sun is out in the bright morning, it's just so beautiful."
Smude's Sunflower Oil comes in eight different flavors. Smude's Sunflower Oil and Smude's Microwave Popcorn are sold at local stores including Lunds & Byerlys, Coborn's, Kowalski's Markets and more. You can also find them on their website and Amazon.