MINNEAPOLIS — If you thought lineups for a Twins ballgame were long, they're even longer if you want to try all the food available at the ballpark during the season.
On Tuesday, the team hosted the annual food and beverage tasting for season-ticket holders and media members.
Twins President David St. Peter feels the event has become a rite of spring.
"People really look forward to this. It was our intention to re-imagine the food and beverage experience and take it to a level that goes well beyond what the Twin Cities, what the Minnesota sports fan has experienced." St. Peter said.
This is my second time at the event, and I learned from last year that pacing yourself as you make your way around the concourse is the key to maximizing food intake.
It starts on the second level, where I quickly down some Kramarczuk's sausages and Loon Cafe chili topped with shredded cheddar cheese and a dollop of sour cream. A line was forming for craft sandwiches, so I got in the cut and was rewarded with a melt in your mouth roast beef sandwich.
Then, it was time to wash all that down with a Mimosa Mary. With vodka, champagne, fruit and vegetable juice, it's almost qualifies as health food. Besides, with my schedule, it's not too early for a little booze.
No matter what your taste, there is something for you at Target Field. I manage to find some tasty vegetarian fare in the Northside Fresh Salad, which features black-eyed peas, sweet potatoes, tomatoes, cucumbers and a whole bunch of other tasty morsels covered in an avocado lime dressing.
Then, the vegan rice bowl went down the hatch before I got back on the meat train with a Boomstick. Yup, it's a two-foot-long hot dog topped with chili, nacho cheese, grilled onions and jalapenos. Ok, full disclosure, I didn't eat the whole two feet, that would just be gluttonous.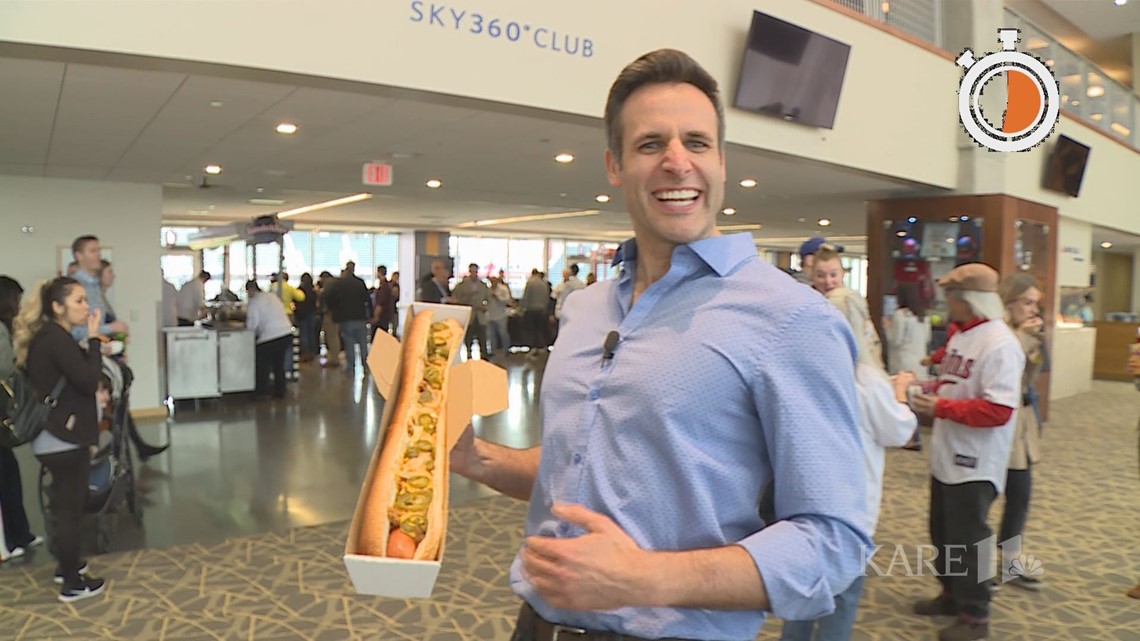 As I'm finishing off a chicken and waffle cone, Delaware North Sports Services General Manager Peter Spike tells me how the team is looking to assist those who want more value when they attend a ballgame.
"This year, we're introducing the family value stands located in sections 133 and 327. All your basic ballpark fare items, hot dogs, soft drinks, beer, peanuts, nacho chips and cheese and pretzels will be available at discounted prices." Spike said.
The next stop on the tour is the vendors in front of the new Gate 34 experience. Smack Shack is serving up lobster on a buttered bun and chased that with some local craft beer.
I grab a salt and caramel macaroon for the walk up the stairs to Bat and Barrel where there are steak sandwiches from Murray's, Barrio taco's and adult slushies. Yes, pineapple and strawberry prosecco slushies. I couldn't decide which was better- they were even good mixed together. I might have loitered at that station a little too long.
It was time to call it quits, but I can tell you... with all the food at Target Field, you don't want to come to Opening Day if you're watching the waistline.