BLAINE, Minn. - A vintage military aircraft crashed and burst into flames in Blaine Thursday.
It happened shortly after 11 a.m. on the grounds of the Anoka County Airport in Blaine. While it's not yet known what led to the plane going down, images from Sky 11 showed the fuselage broken into pieces near the end of a runway, being consumed by flames. The sky above was filled with thick black smoke.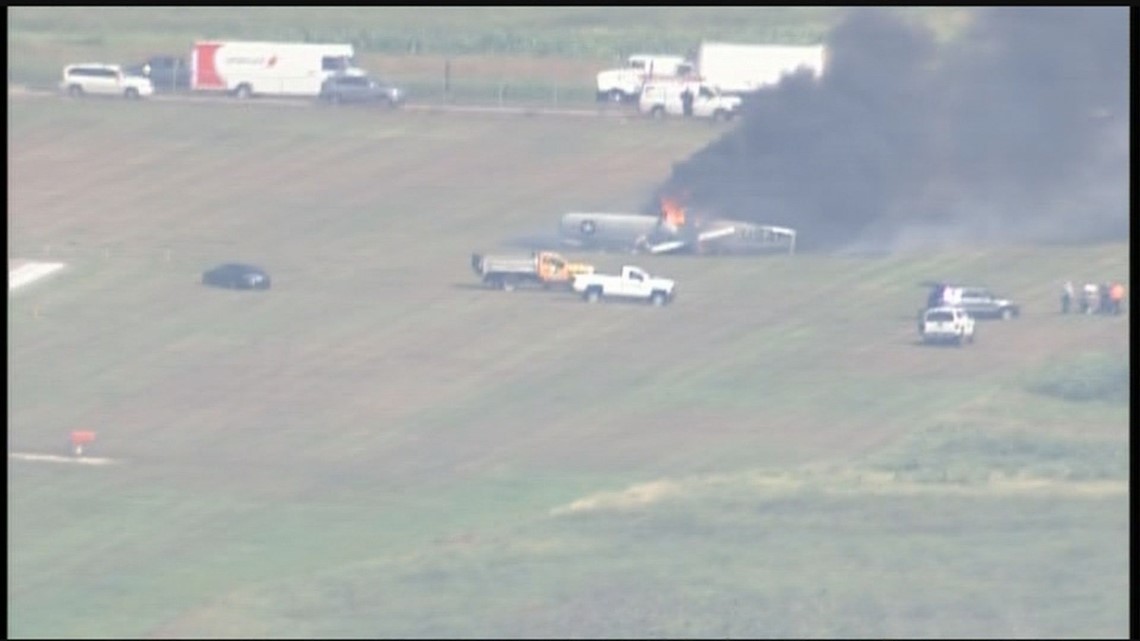 Blaine Police Chief Brian Podany says the pilot, a 65-year-old man from Ham Lake, crashed about 50 yards off the north-south runway. Two good Samaritans driving by on Radisson Road saw the crash, pulled over and jumped the airport fence before pulling the pilot away from the burning aircraft. He was flown by air ambulance to Hennepin County Medical Center (HCMC) where he's listed in critical condition.
Podany says investigators from the FAA and NTSB are on their way to Blaine.
Debbie Andrews lives by the Anoka County Airport and was driving by with her daughter when she saw the Korean War-era T-28B aircraft flying close to the ground. "Look at how low that plane is," she recalls saying to her daughter. Andrews says the plane visibly started to wobble, barely clearing the fence. "That plane is not going to make it," she said.
In moments the aircraft banked to the left, then hit the ground. Debbie said two vehicles pulled up behind her, the drivers scrambling out to find a spot on the fence that wasn't electrified. They located a gate, scaled the fence and sprinted to help the pilot.
"Very surreal," she recalls.
Even stranger, Andrews was on the way to the airport to drop her daughter off so she could fly back to school.
The T-28B registers to an aviation company in Ham Lake. It is classified as an experimental aircraft.