Audrey Johnson recently posted this photo of her huge zucchini on our Grow with Kare Facebook page asking for zucchini recipes and it's gotten a lot of feedback! Maybe you too have left your zucchinis on the vine a little too long and now have monster vegetables of your own. (We've all been there.)
Never fear, the Grow with Kare community has you covered with zucchini recipes both sweet and savory. From cornbread to cakes, and of course hotdish!
Regardless if your zucchini is as large as Audrey's or not, chances are you have a ton of it in the garden this time of year.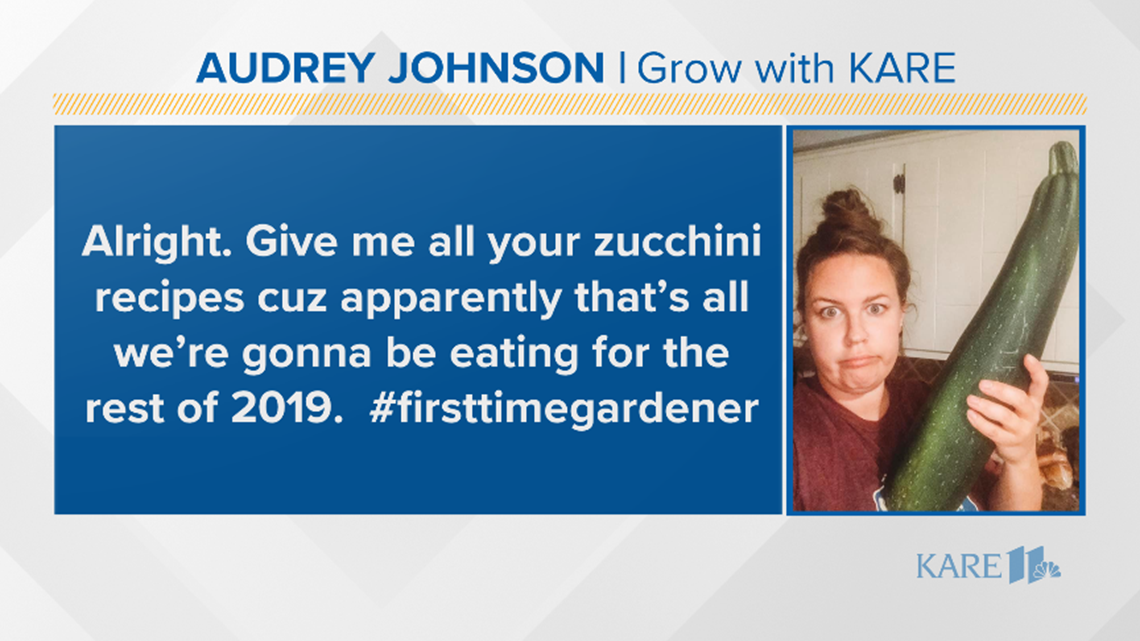 Below are some of the recipes that viewers shared on Facebook.
Zucchini Snack Cake – Sandra Dalen Gould
1/2 c. margarine/butter

1/2 c. oil

1 3/4 c. sugar

2 eggs

1 t. vanilla

1/2 c. soured milk (I use buttermilk

)

2 1/2 c. flour

4 T. cocoa

1 t. baking soda

1/2 t. baking powder

1/2 t. cinnamon (I don't add this)

1/2 t. salt

stir in 2 c. of shredded zucchini last.





Cream together room temp.

margarine

, oil sugar, add eggs one at a time, then the vanilla.




Mix dry ingredients together and add to the creamed mixture, 1/2 of the dry ingredients then sour milk and last 1/2 of flour mixture. Don't over beat, just until flour looks mixed in, because you will add the zucchini and hand stir it gently into the cake batter

.




Pour into a 9"x 12" cake pan.
Put together the topping:
1/3 c. of chocolate chips

1/3 c. of brown sugar

1/3 c. of chopped nuts





Sprinkle the topping all over the top of the cake,




then bake at 350 degrees




for 40 minutes.




Cool and serve with whipped topping, if desired.
Zucchini Hotdish – Arlene Rickaby
1

lb

ground turkey

or beef

¼

onion

1

Tbsp

flour

1 8oz can tomato sauce

¾ cup water

¼ cup green pepper

1 tsp

oregano

½ tsp chili powder

½ tsp salt

3 cup zucchini (peeled, sliced thin)

1 cup

parm

esan

Cheese
Brown turkey and onion, sprinkle flour on top of meat then add all remaining ingredients except parmesan cheese. Cook for 15 minutes covered on top of stove. Add parmesan cheese and stir, cook another 5 minutes
Chicken Zucchini Parmasean – Bruce Bungert
Cut up small zucchini into small discs sauté in olive oil, Boil chicken breasts, cut into bite sizes pieces to your liking and sauté in olive oil with garlic and ginger. Make a red sauce with tomato sauce peppers, mushrooms, onions, basil, oregano etc. like a spaghetti sauce. Mix all ingredients together in a pan and sauté.
Put into 9 x 11 baking dish and cover with Parmesan cheese and Cojack & Mozzarella cheeses. Bake approximately 45 minutes at 350 until cheese starts to turn slightly golden like a pizza. Remove from oven and let sit for 10 minutes before serving.
Zucchini Skillet Hot Dish – Julie Winterrowd Bruessel
Sliced zucchini, cooked hamburger, spaghetti sauce and cook in a skillet until zucchini is soft. Add oregano, garlic powder, salt and pepper for spices. When cooked sprinkle cheese on top and serve!
Chocolate Zucchini Cake - Charlene Stearns
½ cup butter

½ cup oil

1.75 cups white sugar
2 beaten eggs

1 tsp vanilla

½ cup sour milk (add vinegar to regular milk to sour it)

In another bowl sift together:

2.5 cups flower

1/3 cup cocoa powder

½ tsp baking powder

1 tsp baking soda

1 tsp salt
Add to creamed mixture and beat well. Stir in:
2 cups finely shredded zucchini
Spoon into greased and floured 9x13 pan. Sprinkle on top:
Bake at 350 for 30-35 minutes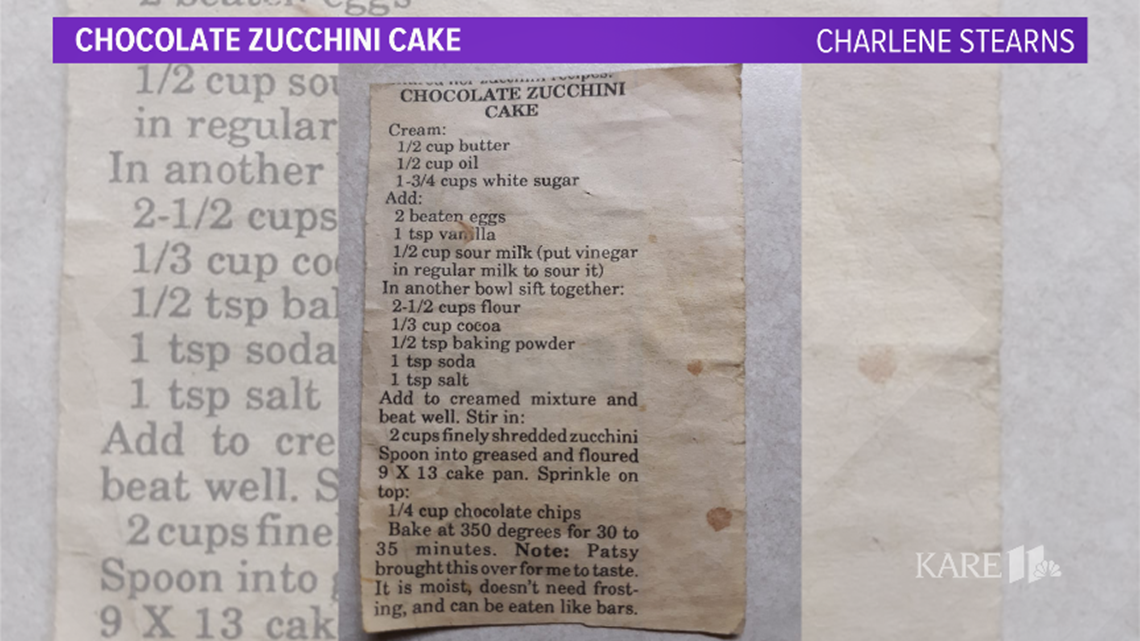 Sheryl's (Almost Famous) Zucchini Cheddar Cornbread – Sheryl Goldberg
2 cups shredded zucchini (squeeze out extra moisture)

1 small finely chopped onion

2 large eggs, beaten

1 box Jiffy Corn Muffin mix

½ tsp salt

¼ tsp ground black pepper

8

oz

shredded sharp cheddar cheese

½ can finely chopped jalapenos or green chilies (optional)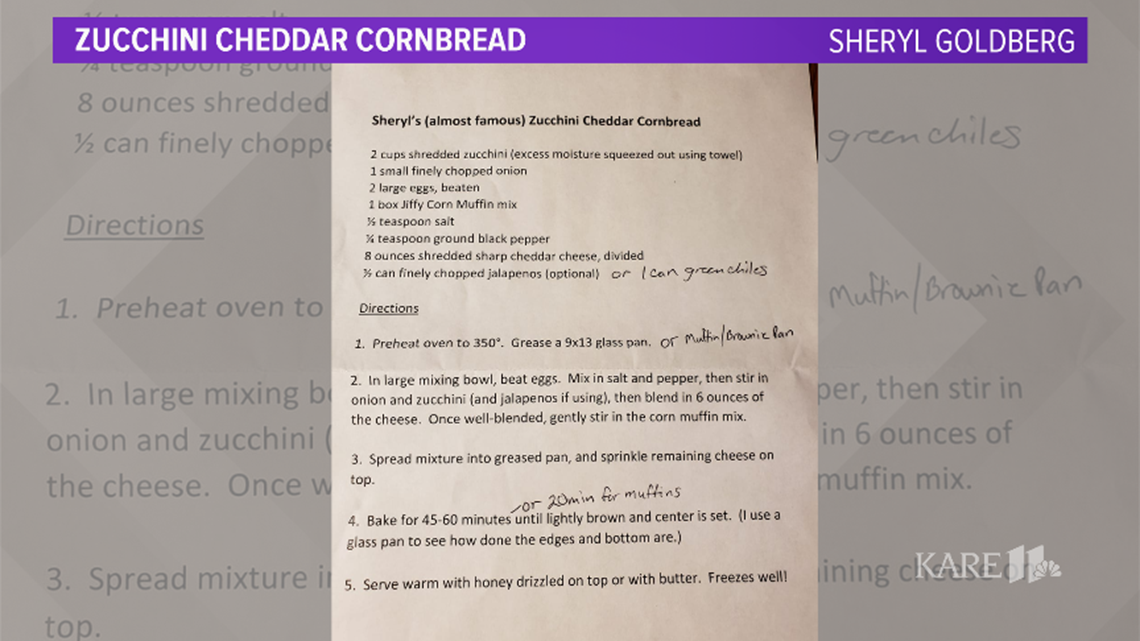 Preheat oven to 350. Grease 9x13 glass pan or use muffin tin. In large mixing bowl, beat eggs. Mix in salt and pepper, stir in onion and zucchini (and jalapenos/chilies), blend in 6 oz of cheese. Once well blended, gently stir in corn muffin mix. Spread mixture into pan and sprinkle remaining cheese. Bake for 45-60 minutes (20 for muffins) until lightly brown and center is set. Optional: drizzle with honey or butter.