MINNEAPOLIS — About a month into Major League Baseball's 2018 regular season the Tampa Bay Rays started to experiment with a tactic that's become known as "using an opener."
Instead of deploying a starting pitcher, as all levels of baseball had done for roughly 100 years, the Rays took a relief pitcher (a pitcher who usually enters the game in its later stages) and had him open the game by pitching to the top of the opposing team's starting lineup.
The thought concept behind using an opener is that relief pitchers are used to coming in and wriggling out of tough situations. If a reliever can open the game and get through at least the top half of the opposing team's order then you bring in your typical starting pitcher, who would come in and face your opponent's best hitters fewer times throughout the game.That, in theory, would give them a greater chance for success.
The concept behind the 'opener' approach comes from analytics, or statistics compiled from previous games that appear to show that a team's starting pitcher is less effective against another team's hitters the more times he faces their batting order.
While the application of the opener gained a foothold in 2018, the concept was first introduced in the 2016 book "Ahead of the Curve" by Brian Kenney. He noted that the first inning is typically the highest scoring inning of a game. In his book Kenney suggested teams should use a relief pitcher against the opponents top of the batting order to start the game.
Question is, does it work?
By the end of the 2018 regular season, five teams had used "the opener." Two were eventual playoff teams and three, including the Minnesota Twins, were not. Let's just say the jury is still out.
Analytics now drive all major sports, and it was that desire to move the Twins' front office into the 21st century that led the organization to bring in the brain trust of Derek Falvey as the team's Executive Vice President/Senior Baseball Officer, and Thad Levine as the Senior Vice President/General Manager following the end of the 2016 regular season.
Has the move worked? Again, the jury is still out.
Falvey and Levine, or "Falvine" as they've come to be known collectively, probably started on the wrong note when team owner Jim Pohlad told them upon their hiring that then-manager Paul Molitor came with the deal.
In the new brain trust's first year on the job Molitor somehow pushed, pulled and dragged a promising young club through a remarkable stretch run that saw the Twins slip into the playoffs as a wild card team. Once there, they quietly exited the same way as many Twins teams before them by falling to the New York Yankees in swift fashion.
Expectations were high heading into year two of Falvine. Slugger Miguel Sano, a previous All-Star who had let himself get way out of shape, would be back in the lineup. Promising young outfielders Eddie Rosario and Max Kepler would flank Gold Glove center fielder Byron Buxton, a former top pick whose apparent arrival had played a key role in sparking the Twins pennant drive. Jorge Polanco was solid at short with a promising bat, while second baseman Brian Dozier was a 30-home run All-Star and first baseman Joe Mauer had shown signs of new life late in a potential Hall of Fame career.
Unfortunately, things started to go wrong before the first game of 2018 was even played.
Ervin Santana, the team's top pitcher, was plagued with finger problems that limited him to just five starts on the season. He posted an unsightly earned run average of 8.03, prompting the team to release him and his sizable contract after the season.
Shortstop Polanco was suspended for 80 games (half the season) for violating Major League Baseball's policy on performance-enhancing drugs.
Neither Sano or Buxton were ever healthy or effective, Dozier was traded, Kepler was inconsistent, and Joe Mauer looked and played like a guy who had reached the end of the line before announcing his retirement at season's end.
Falvine's big addition to the team was supposed to be free-agent DH/first baseman Logan Morrison, who hit a miserable.186 with 15 homers just a year after slugging 38 round-trippers for Tampa Bay.
Starting pitching was awful and the bullpen was even worse. Somehow, all of this became Molitor's fault, and one year after being honored as American League Manager of the year Mollie was out of a job.
2019 begins with Falvine working with the manager they want in Rocco Baldelli, a guy with plenty of experience in the baseball world but zero as a big-league manager.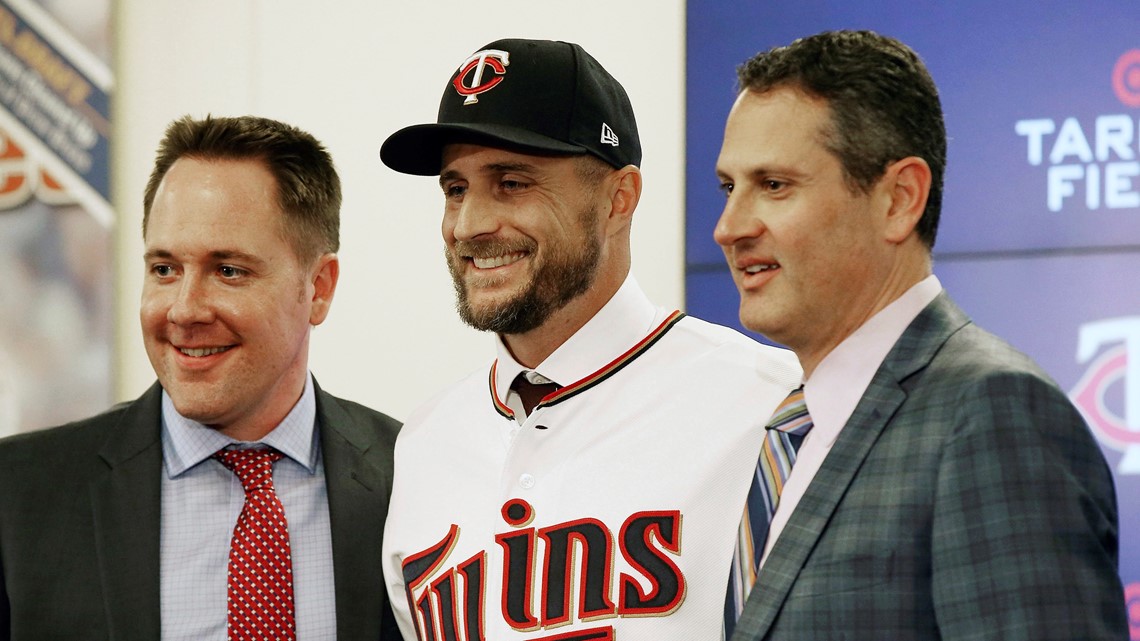 C.J. Cron replaces Mauer at first base, promising more pop at the plate. Jonathan Schoop takes over for Dozier at second, but Schoop is looking for a bounce back season after under-performing in 2018.
The Twins are once again counting on Sano and Polanco at third base and short. The outfield of Rosario, Buxton and Kepler returns intact, at least to start the season.
The Twins biggest off-season addition is DH/outfielder Nelson Cruz, a career slugger who arrives in the Twin Cities at the tender age of…38.
As far as Twins pitching goes, all you need to know is that career under-performer Kyle Gibson is being counted on as the club's No. 3 starter, while Addison Reed (a reliever who threatened Ron Davis for his frequency to surrender home runs to the opposition) is back as an anchor in the bullpen.
If analytics dictate that a starting pitcher gets pulled before facing an opponent's batting order a third time (no matter the pitch count), then I figure the same kind of thinking should be applied to Falvine too.
The two deserve a season with a team that is of their own making, led by their own manager. Falvey and Levine also deserve to have ownership allow them to spend money to put a competitive product on the field... something to this point they seem reluctant to do.
Look, no one wants to see the Twins return to ground zero and start over. But can you remember a recent season where there was greater apathy and less excitement than heading into this one?
If baseball is all about analytics... and that's why Falvey and Levine were brought here... show us some numbers that we can believe in. Give baseball fans in Minnesota, the Dakotas and Iowa reason to believe that this team, this franchise, is indeed headed in the right direction.
To this point, I frankly haven't seen any analytics to raise any expectations of postseason baseball anytime soon, much less this season.
Then again, I'm the same guy who predicted 90 wins a year ago…