Okay... don't come at me because I just called a 17-year-old girl a "beast," It's cool. At least, I think it is.
As I explained to Emily Shilson, who just last week became the first girl from the U.S. to win a world championship since 2015 (teammate Macey Kilty from Wisconsin also won a world title the very next day), I meant it as nothing but a compliment, because Emily Shilson eats, drinks, lifts, sweats, dreams and breathes everything about wrestling.
"I can't imagine doing any other sport. It just wouldn't be the same," says Emily. "I love every minute of wrestling. Whether it's hard or not, it's just fun and sometimes the funnest parts are the hard parts."
Emily would know. Winning her world championship certainly did not come easy. A runner-up to a wrestler from Japan a year ago, Emily suffered food poisoning and was throwing up before her quarterfinal match in this year's tournament in Zagreb, Croatia. How affected was Emily? She tech-falled her opponent from India 10-0 to move into the semifinals at 43 kilograms.
After changing tactics mid-match to dispatch a wrestler from Russia in her semifinal match, Emily then had to rally from a 4-0 deficit in the last minute and a half of the championship match to down a wrestler from Azerbaijan by tech-fall, 14-4. That's called doing it the hard way, but Emily Shilson wouldn't have it any other way.
"It was rewarding how hard it was," Emily says. "All the hours I worked and how much time I put in winning the title was really rewarding. And if it was easy getting there it wouldn't have been as special."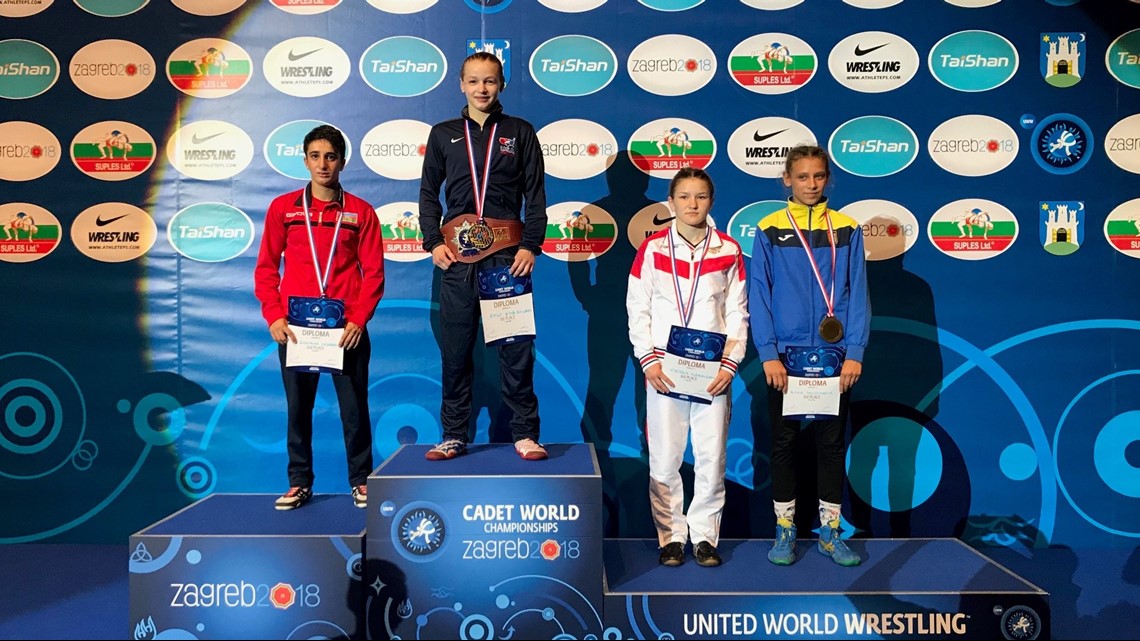 "Emily has put more time and focus into her training than anyone I know," says Emily's dad and personal coach Chad Shilson. You knew that was coming, right? If you know anything about wrestling it's a family affair, and the best wrestlers either have a dad who coaches and/or a big brother in whose footsteps they have followed. In Emily Shilson's case, she has both.
Big brother Tyler just finished red-shirting his freshman year in the University of Wisconsin wrestling program, while father Chad is the Minnesota USA women's and girls wrestling coach and director.
"My brother has always been a great practice partner for me because he has great technique," Emily says. "And my dad is great because he's been my coach my whole life and he gets me exposed to other great coaches and he just provides a lot of opportunities for me."
"She doesn't leave any stone unturned to try to be a better wrestler, to be a better person, to be a better competitor," says Chad. "We're going to enjoy this knowing that this is a great gift. It's incredible that she did this. So, five minutes after winning someone asked her why she wasn't smiling, and Emily said, 'I'm already working on winning another world title.' That's Emily."
It's really the only life Emily has even known, but she sounds 100 percent authentic when she says she really wouldn't have it any other way. This is how Emily describes her life when she ISN'T training for an upcoming tournament.
"Every day I do cardio workouts and I lift three to four times a week." says Emily. "And if there's no structured practice then I'll work out with my dad, so I'm always doing something."
Emily says she's always felt driven to be the best at whatever she does. A 4.0 student, Emily took her high school classes online last year so she could fit school into her training schedule. Even while traveling the world to improve her wrestling, Emily worked so far ahead school counselors informed her parents that Emily had enough credits to graduate a year early.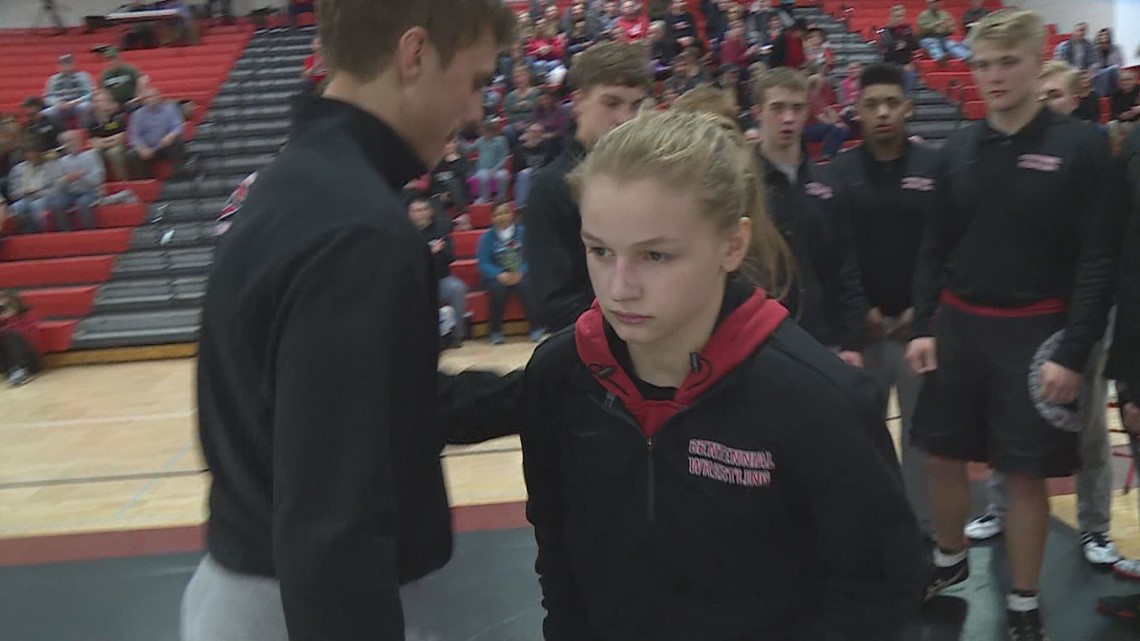 "I just feel like if I'm not doing something, I'm not getting better," says Emily. "So I always have to be training and I always getting better."
Emily, who qualified for the boys state wrestling tournament for the past two years while wrestling at Centennial High School, also trains at Pinnacle Wrestling under the direction of former Golden Gophers and world class wrestlers Jared Lawrence and 1996 Olympic Silver medalist Brandon Paulson.
"My coach Brandon Paulson has a saying. He says 'Love the fight' and I really like that because wrestling isn't easy. I'd say it's the hardest sport out there. But that's what makes it fun."
Emily says she does get down time. She enjoys going to the family cabin to swim, water ski and hang out with her cousins. She also admits that she does like ice cream (cookie dough is her favorite), but as you might expect, Emily has a handle on that, too.
"I do love ice cream. But there's just a time for it and I just have that stuff in moderation."
Emily says it was a thrill to be able to represent her country and to carry the flag around the ring in celebration. But don't kid yourself, Emily Shilson doesn't spend much time looking backwards.
"I'm already on to the next thing. I have nationals next week, so I have to get ready for that now."
See what I mean? Emily Shilson is a beast.