ST. PAUL, Minn. - Thomas Paine once wrote, "Titles are but nicknames, and every nickname is a title."
While my thoughts clearly don't run that deep, I do know that some nicknames are better than others, and that you DON'T get to pick your own nickname. One guy who earned both a title and one of the best nicknames of all-time is Mike Evgen. If that name doesn't mean anything to you, perhaps Mike's nickname will.
"People still call me the 'Rice Street Rocker," Says Evgen (pronounced Ev-yen). "They don't know who Mike Evgen is, but they know the 'Rice Street Rocker' and I love it, I love it, and I'm honored to be it!"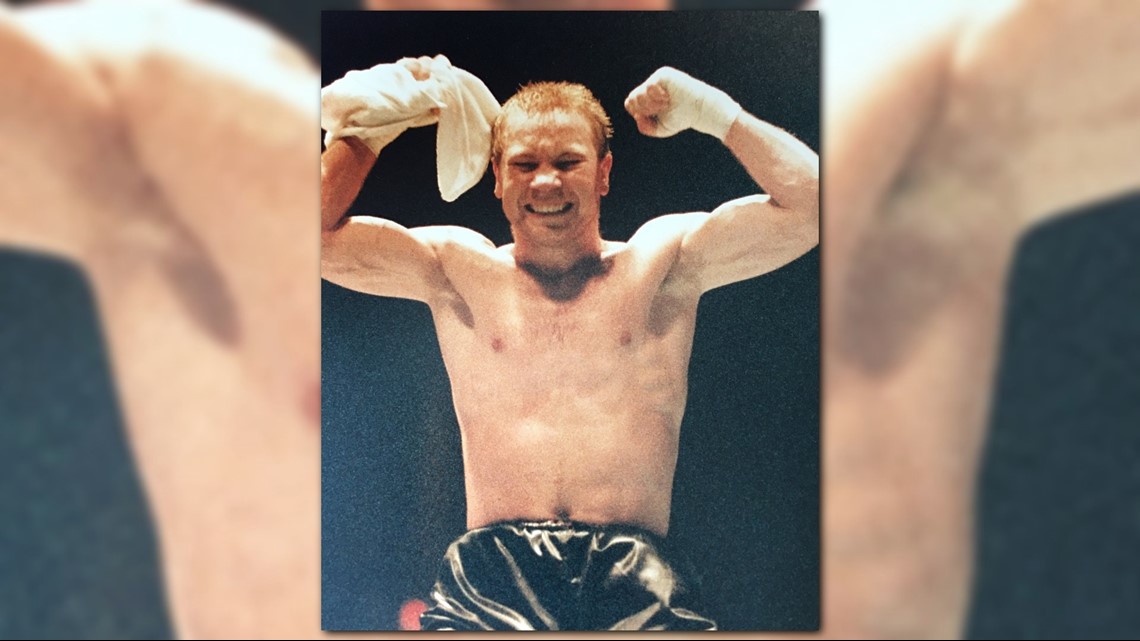 Evgen's classic handle came courtesy of late St. Paul Pioneer Press Sports Columnist Don 'The Eye' Riley. The year was 1986 when the 20-year old was on his way to becoming Minnesota's most decorated Midwest Golden Gloves champion. "I am the only one, in the 75-year history of the Golden Gloves to win six consecutive championships at four different weight classes," the Rocker reflects.
Inside the ring the 'Rice Street Rocker' was a living embodiment of the working-class community he came from. Evgen turned professional in 1989 and fought professionally until 1997, posting a professional record of 31-wins and 6-losses and winning the IBO Jr. Welterweight World Championship in the process.
"I successfully defended that title two times before I was stripped of the title for signing a contract for a shot at the IBC Jr. Welterweight championship in 1992," Evgen explains.
Taking the fight on short notice, Evgen had to cut serious weight and things did not go well. He lost a 12-round decision to Carl Griffith of Erie, PA, in what turned out to be the beginning of the end of Evgen's prolific career as a fighter.
"I battled alcohol from 1993 to about 1995 and I took some fights that I probably shouldn't have" says Evgen. "I wasn't in the best of shape, I struggled with alcohol, I was going through a divorce, I was just not myself, I was very depressed."
This time, Evgen was fighting an opponent that was way out of his weight class.
"I was in a coma in 1994 because of the alcohol, and I struggled with the alcohol still for another year-and-a-half after that," says Evgen. "I finally sobered-up August 5 of 1996, but by that time I was pretty old and my boxing career was pretty much done with."
Like many other world class athletes, Mike Evgen struggled to find his way when his fighting days were done. He bounced between gyms and jobs for years before he was offered a position in 2013, helping alcoholics and drug addicts as they were released from prison through a program called Restoration Counseling Community Services. His job, naturally, took Evgen back to Rice Street.
"We get different guys in there every day, and it helps me to not forget where I was just a few years ago," says Evgen. "And it gives these guys hope because, I don't want to sound conceited or anything, but a lot of these guys have heard of me, or know my story or whatever, and they see me today, compared to what I was years ago and that kind of gives these guys hope."
If you follow Mike Evgen on Facebook you see he's open about the day-to-day struggle to maintain his sobriety and his struggles with those who question how he goes about his process. But Evgen's return to Rice street has the champ looking back to his roots, in a continuing effort to help others who are fighting for a better future.
"Since I've been back on Rice Street again I see the youth walking the streets at all hours of the night and just kind of raising havoc in the Rice Street area," Evgen reflects. "So, I got together with a couple friends of mine and they did a lot of the paperwork and the behind the scenes work, and we're hoping to get into the old St. Bernard's bowling alley and open a boxing gym."
With help of his current girlfriend Linda Wojcik and the financial support of neighborhood mainstays like Paul Kamp of Kamp's Food Market, Evgen wants to work with St. Bernard's parish to give the young people on St. Paul's 'East Side' a better option than running the streets.
"We don't expect every kid who comes into this gym to put on a pair of boxing gloves and to become a boxer. We want to give these kids some direction, a little discipline, someone maybe to look up to," says Evgen. "Because some of these kids might not have people at home to kind of guide them. We just want to kind of be a support for them, and hopefully these young man and young women will be better people than they were the day before."
Evgen's latest fight is still in its early rounds. While the pastor at St. Bernard's has approved the deal the Archdiocese of St. Paul has yet to weigh-in. There are also many things in the old bowling alley (a building that's been vacant for four years) that need to be improved or replaced, like an antiquated but expensive sprinkler system. Still, the Rocker is determined to keep punching, looking to impact lives on Rice Street, and beyond.
"We want a safer, and just a better community," says Evgen. "It's always been a safe place to go and just over the last 6-8 months there's been a lot of violence and just not good people around and we want to make changes and make it safe for the community and the people who come to visit."
Evgen's vision is to share the space with St. Bernard's, with his part operating as the 'Rice Street Old School Boxing Gym.' While the wheels of progress continue to grind there is an operational Facebook page under the same name for those who may be inclined to help make the Rocker's vision reality.
Yes, Mike Evgen has another fight on his hands. While approaching his sobriety one day at a time, he has one eye firmly on the future... the future of a community that took so much pride in his accomplishments that 30 years later, he's still best known by the nickname he earned in the ring. Earned one round at a time.
"I want people, after they meet me or if I help them, to go away saying, 'You know what? He was a good guy, I'm happy I got to meet him," says Evgen. "I just enjoy meeting people and trying to make people happy."