ST PAUL, Minn. — The Minnesota State High School League is going forward with both the state gymnastics competition and state girls hockey tournaments this week as Minnesotans brace for the potential of a major snowstorm.
The league issued a statement urging teams to "make travel plans accordingly" as athletes, coaches and fans from all over the state make their way to St. Paul.
"The Minnesota State High School Girls Hockey and Gymnastics State Tournaments for this week are expected to take place as scheduled," the statement reads. "Teams are being encouraged to watch the weather and make travel plans accordingly. We look forward to hosting two great tournaments."
The girls high school hockey tournament begins Wednesday at the Xcel Energy Center with teams traveling from all over the state, including Warroad, Hermantown/Proctor, Luverne, Mankato and Moorhead.
"The original plan was to leave Wednesday morning. We had to change it, because by the time we get down there late Wednesday afternoon, there could be a foot of snow on the ground in the Twin Cities," said Moorhead head coach Ryan Kraft as the Spuds prepare for their first state tournament appearance in 17 years. "We're going to try to get out of here [Tuesday] afternoon."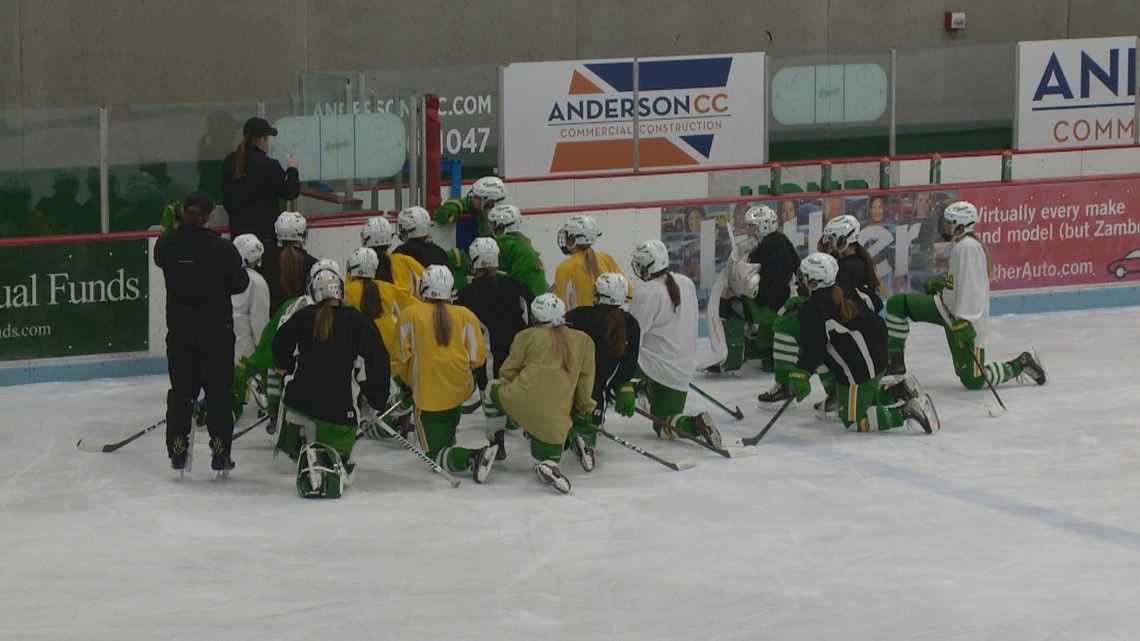 Kraft, a former standout at the University of Minnesota, said the team will practice Tuesday from 1 to 2 p.m., before leaving at 2:30 p.m. to get ahead of the storm.
"One way or another," Kraft said, "we're getting down there."
The Twin Cities could get between 3 to 6 inches of snow by Wednesday morning with a more substantial amount of snow late Wednesday and into Thursday. The snow could continue into Friday when the gymnastics competition begins at Roy Wilkins Auditorium.
"We're Minnesotans. We're resilient," said Casey Hankinson, who has two daughters playing for Edina, which begins tournament play Thursday. "I'm sure there are logistics that are going to be a challenge, but I do know the kids are going to be ready to play."
Watch the latest sports videos - from high school hockey to the Minnesota Vikings and everything in between - in our YouTube playlist: