CLEVELAND — Wide receiver Odell Beckham Jr. is an integral part of the Cleveland Browns' offense, but after making a 33-yard catch to set up a first-and-goal from New York's four-yard line, officials forced him to the sideline until his helmet visor was changed.
Beckham Jr. was ruled to be in violation of league mandates, and he missed the remainder of the 11-play drive in the Browns' 23-3 Monday Night Football win over the Jets at MetLife Stadium in East Rutherford, New Jersey.
"It's just frustrating," Beckham Jr. said. "I feel like I've grown a lot. I've just tried to do better and be better, and it's like always something. It's just always something. There's other players in the league who have worn it all game. They threaten they're going to take them off the field. They never do.
"It's just always something with me, and to pull me off on third-and-goal, that just hurts the team, and that falls on me. That's not what I want to be. That's not what I want to do, so it's frustrating, but all I want is for it to be equal across the league. Just keep it that way. Don't single anybody out, but at the end of the day, it happened. Learn from it. I still don't know what the right visor will be. That was a clear visor, but I'm not here to complain about it. I'm just happy we won."
According to Browns coach Freddie Kitchens, Beckham Jr. was sent off the field because his visor was too reflective.
"The uniform guy told him he needed to take it off," Kitchens recalled.
"I guess the lighting was better on that end of the field when we drove down there inside the five and they could tell that he had too much reflective stuff on his visor. They waited for us to get down the field to tell him. I don't know. I guess the light shines differently down there."
"I am…F-A-C-E-T-I-O-U-S," Kitchens added.
The official's decision forced the Browns' equipment managers to make a quick change on the sideline.
After Beckham Jr. was walked off the field, a manager took his helmet and swapped out the visor, but not before the end of the drive, which finished with a 23-yard field goal from rookie kicker Austin Seibert.
"Absolutely, first drive in the red zone, you want him there, especially to kind of see what they're going to play, how they're going to line up to him in the red zone," quarterback Baker Mayfield said. "Yeah, I'd love to have him in there."
Kitchens added, "Both of them showed some resiliency. We got it rectified, fixed the problem and he came back out, stayed focused with the job at hand."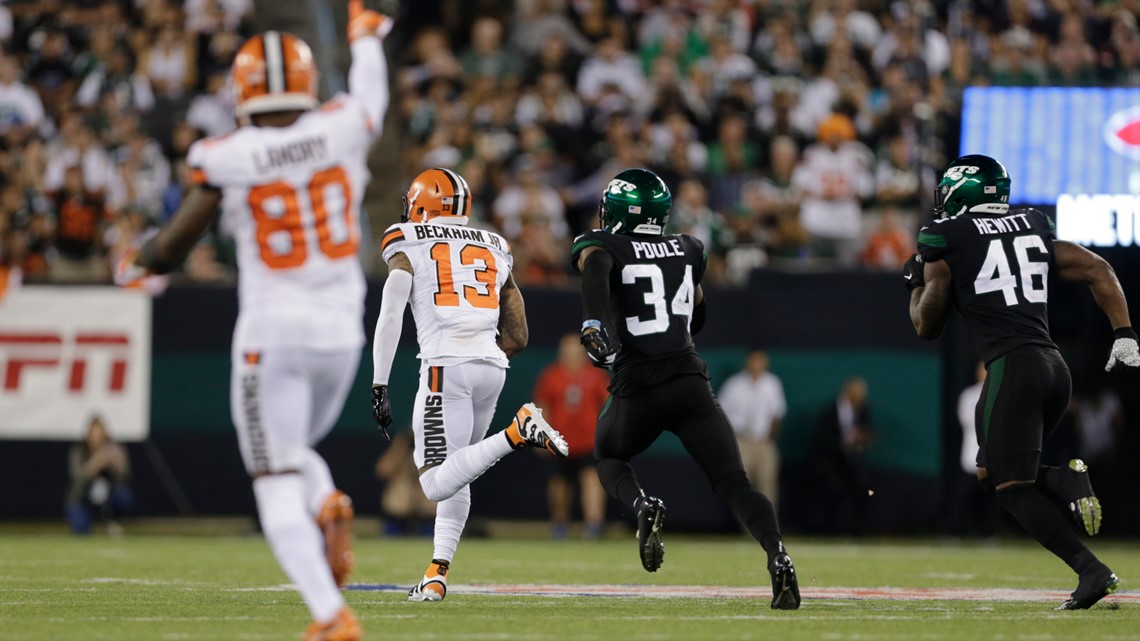 Although the visor issue came to the forefront against the Jets, Beckham Jr. is committed to helping the team and not taking himself out of the game because of an equipment dispute.
"I'm just going to wear whatever is possible to wear," Beckham Jr. said. "I'm not here to break any rules. I'm just here to play football."