MINNEAPOLIS — The Minnesota Vikings will begin their quest for the franchise's first Lombardi trophy against the Tampa Bay Buccaneers.
The team will play in five prime-time games in the upcoming season, including two you can catch on KARE 11.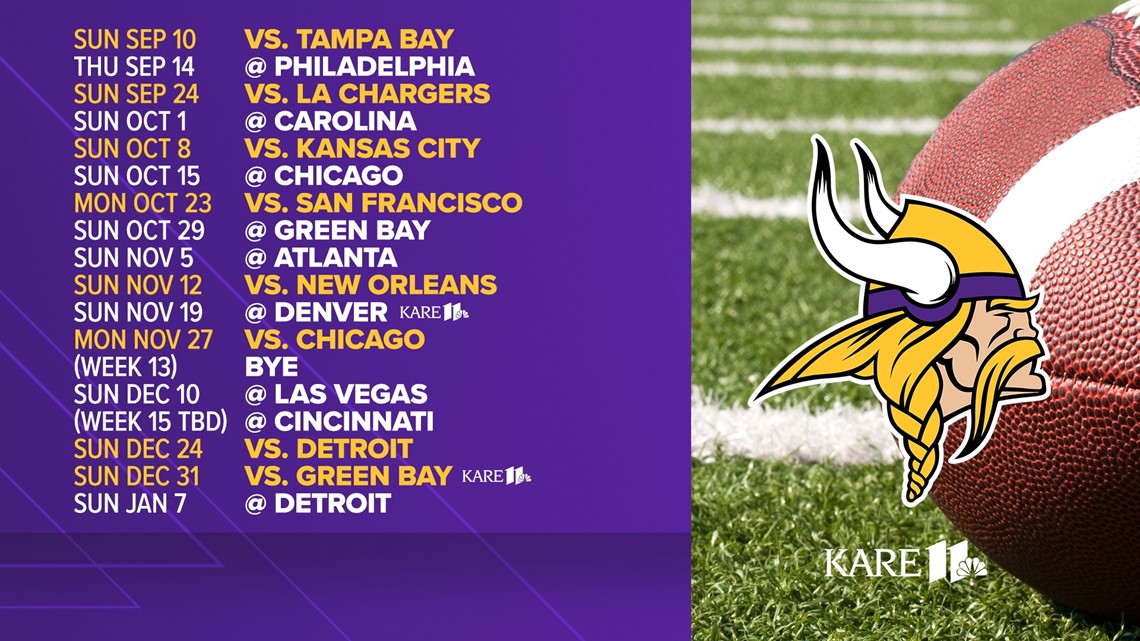 The Vikings' prime-time matchups will be:
Week 2 against the Philadelphia Eagles in what will be a matchup of two NFC playoff teams from this past season. The game will be streamed live on Prime Video.
Week 7 versus the San Francisco 49ers, a team fresh off an NFC Championship game in 2023.
Week 11 against the Denver Broncos who the Vikings haven't played since pulling off a miraculous 20-0 comeback in 2019.
Week 12 versus the Chicago Bears in what will be the second matchup of the season for the NFC North foes.
Week 17 versus the team's rival Green Bay Packers.
The Vikings will be looking to build on the success of Head Coach Kevin O'Connel's first year, where the team made the playoffs before losing to the New York Giants in the Wild Card round.
WATCH MORE ON KARE 11+
Download the free KARE 11+ app for Roku, Fire TV, Apple TV and other smart TV platforms to watch more from KARE 11 anytime! The KARE 11+ app includes live streams of all of KARE 11's newscasts. You'll also find on-demand replays of newscasts; the latest from KARE 11 Investigates, Breaking the News and the Land of 10,000 Stories; exclusive programs like Verify and HeartThreads; and Minnesota sports talk from our partners at Locked On Minnesota.