MINNEAPOLIS — When the scandal involving Facebook broke this week, Shea Sullivan and her classmates at North Central University began texting each other almost immediately.
"Oh my gosh. This is us, guys," Sullivan recalled saying. "This is our moment!"
That's because Sullivan, in addition to her duties as a student, also serves as the Associate Director at the Institute for Digital Humanity, a student-run think tank that tackles important issues like digital privacy, bias in algorithms, misinformation, free speech, hate speech, and bridging the political divide.
All of these topics are top of mind for the American public again, after whistleblower Frances Haugen lofted serious allegations against her former company, Facebook, accusing it of protecting "astronomical profits" no matter the impact on users. The company has pushed back, saying it works fervently to fight misinformation and does not even benefit from negative content, but those arguments have left many unconvinced.
"The Facebook whistleblower thing was just one thing," Sullivan said, "in a string of different events that have led up to this point."
On Thursday, a small group of about a dozen students with the Institute for Digital Humanity discussed issues related to Facebook and Big Tech, during a 90-minute roundtable meeting on the western edge of North Central University's campus. They talked about social media's enormous influence over our daily lives; the algorithms that determine what content users see, including political posts; and most importantly, what to do about all these big problems.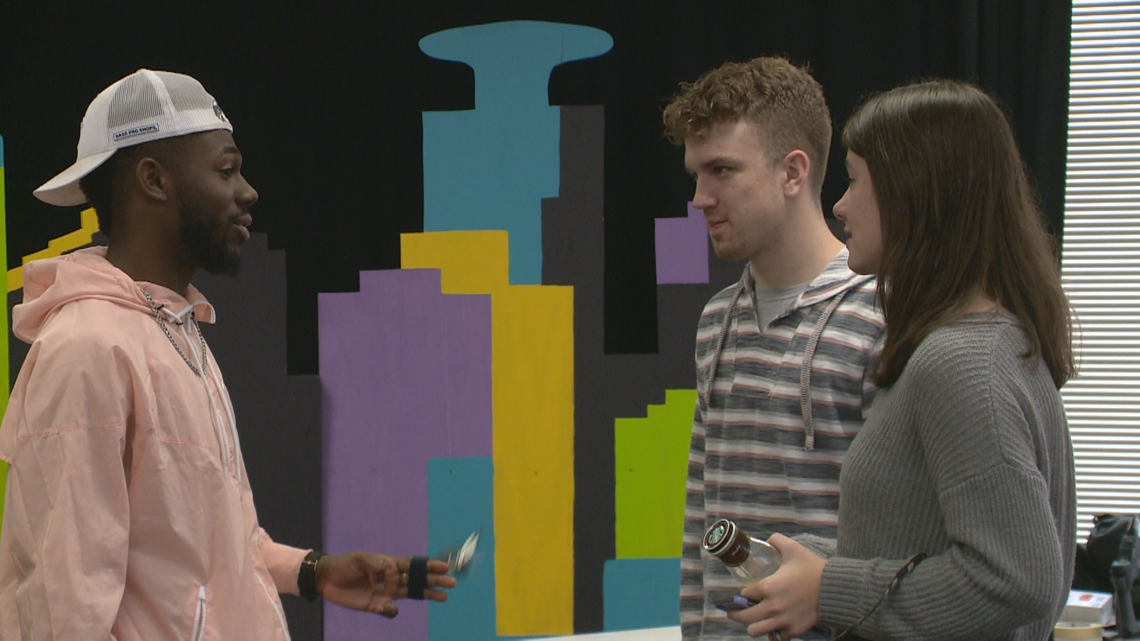 As Julius Hernandez said during the roundtable: "Everyone hates Big Tech, even though they like to use it."
The discussion, featuring students of many different backgrounds and political beliefs, remained extremely cordial the entire time, which is typical for the Institute for Digital Humanity.
"We have liberal views, conservative views, and it's just... how can we find a common ground," senior Israel Futsum said, "but fighting the good fight along the way?"
This group of students, attending a small Christian university in downtown Minneapolis, have patched together an underdog story of sorts, working with high-profile partners like the ACLU, the Anti-Defamation League and Indiana University to influence policy nationwide. The group also helps to set curriculum for high schools, colleges, and even graduate programs.
Their work continually impresses Professor Aaron McKain, the executive director of IDH as well as the director of the School of English and Communications at North Central University.
"This is the highlight of my career," McKain said. "These kids – there's not many of them, and it's done for virtually no money – have affected change. Which is why they've been able to partner with other universities, get people from Stanford to Zoom in on their classes. It's really, really interesting. And I don't think it could happen any place but here."
At the federal level, lawmakers from both parties have called for more regulation of Facebook, and many of the students at IDH agree with those sentiments.
Shea Sullivan called for more education on the issues, saying that if people learn more about digital ethics, they may be more likely to take action. Julius Hernandez agreed, saying "there's maybe some laws that need to be repealed, some things that need to be reformed."
The problems are complex, but you can bet the North Central University students at IDH will be doing their best to find solutions.
"We should be looking at people on both sides of the aisle and communicating with them," Sullivan said, "so that we can actually fix these problems and have a chance at making a better future for ourselves."