MINNEAPOLIS -- Lighting, lift gates for the parking garage, trains to move passengers from point A to B and even auxiliary power units for airplanes all require massive amounts of electricity at the Minneapolis St. Paul International Airport.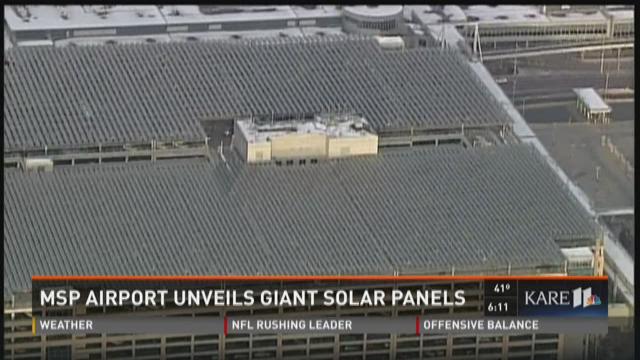 As it looks to reduce energy consumption, MSP International decided to build giant solar arrays on its parking ramps which are expected to produce three megawatts of power.
How much is three megawatts? It's enough energy to power about 600 homes and is about as much as what one wind turbine can produce.
The goal of the project is to reduce the use of fossil fuels.
"It gives us some stability in our energy costs as we look out into the future," said Dennis Probst, Executive VP Metropolitan Airport Commission.
This project also included adding energy-efficient LED lighting in the parking garages and more electric car stations in the Red and Blue long-term ramps.
"We also believe that consumers today are interested in the environment and are concerned about their personal carbon footprint so, as we do things here at the airport, we hope that they recognize that and it makes a different to them," Probst said.
Airport officials say they will save over $10 million in energy costs over the lifetime of the panels.