DULUTH, Minn. — When Debbie Wentzel bought a house with a view, she also got a show.
"The waves were lapping all the way up here," she said pointing to a sandy area on the beach in front of her home on Duluth's Park Point.
That storm Monday toppled trees, knocked out power to thousands, and brought Lake Superior's waves far onto shore. In Wentzel's case, the fierce waves took some of the dune along the beach. Where once there was a slope, she said, now there was a steep drop.
"When you get big waves, they come up higher, and they eat away at this," she said pointed to the drop.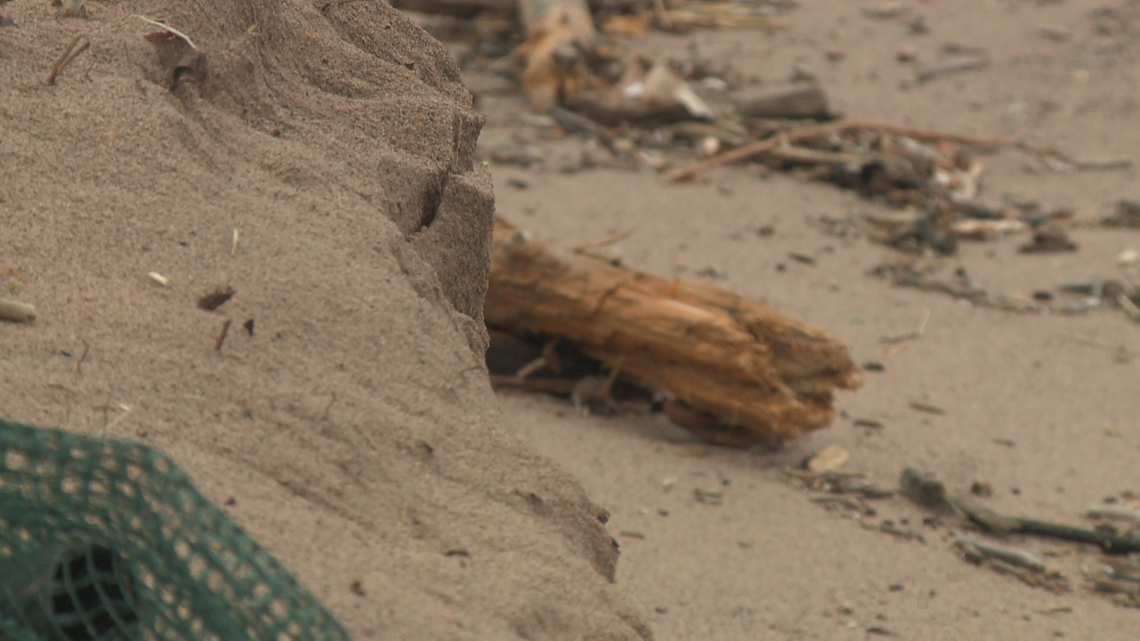 Wentzel isn't the only home owner on the shore with a close eye on the lake.
Tom Przybilla lost part of his dock in Monday's storm. His home, on the bayside of Park Point, sits a lot closer to the water.
"I've got a little bit of give yet, but there's going to be some properties out here that are going to be struggling if it keeps going up," he said of Lake Superior's rising water levels.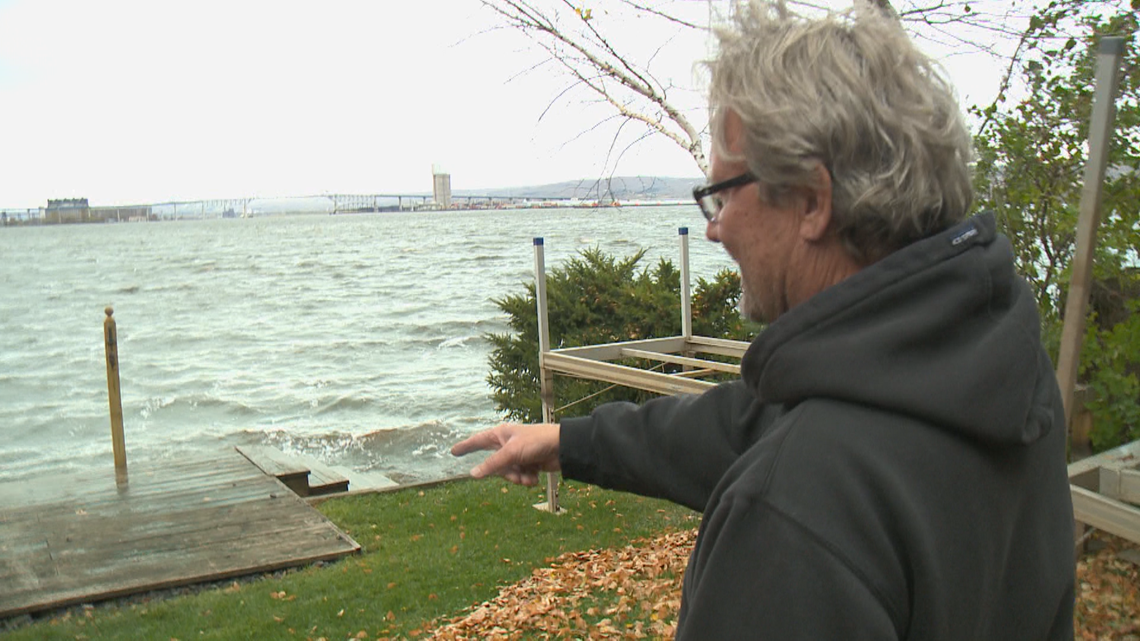 On Lake Superior this month, water levels sit 15 inches higher than they usually do in October, according to Jesse Schomberg, with University of Minnesota Sea Grant, which studies the lake and works to educate people about it.
"We have really high water levels," Schomberg said. "We're losing shoreline. That's the main effect. Folks that used to have a house that maybe had lots of land between them and the lake, they're having less and less land between them and the lake."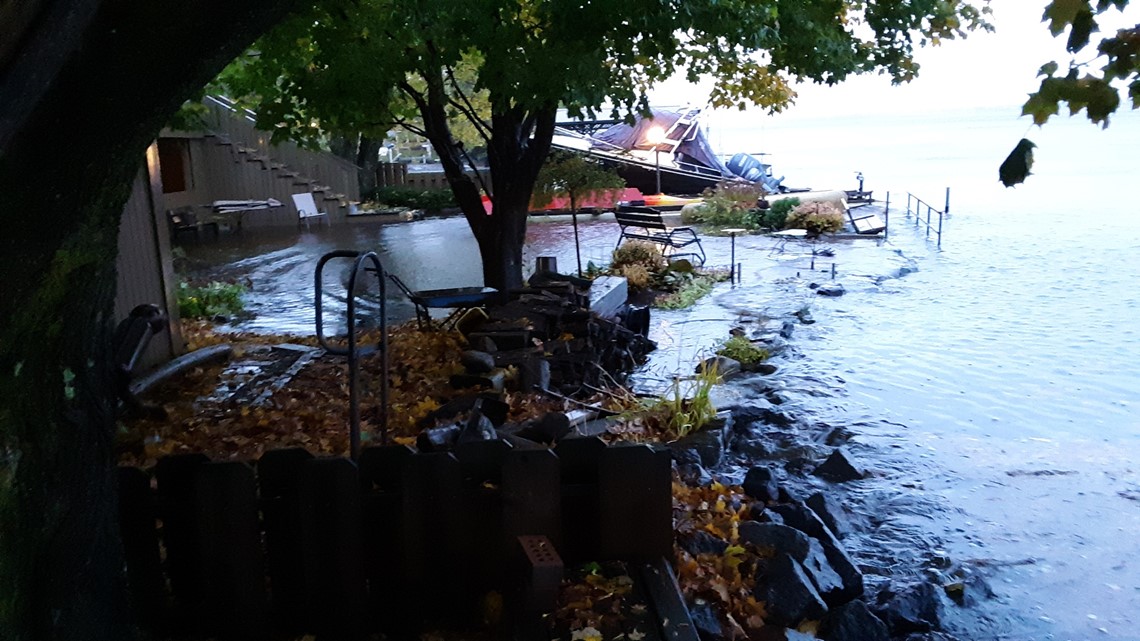 Schomberg says the high water levels, which became apparent in the last several years, aren't just on Superior. He says all the Great Lakes, and some rivers are also experiencing it.
"It's not just us. It's all around us and it's driven by precipitation," he said.
Schomberg says that high precipitation is the result of climate change.
"With the warming of the atmosphere, [that] will lead to greater precipitation. Warmer air holds more water," he said.
Schomberg says there is no evidence yet that the storms themselves are stronger, but the high water allows waves in a big storm to reach farther than they do when levels are down.
"So, they're reaching the bluffs, and the shoreline, and the tops of piers, and all sort of things that they shouldn't reach, and are causing a lot of erosion and damage to that infrastructure," he said.
That includes Duluth's iconic lakewalk, which was torn up in a strong storm in October 2017. Two additional strong storms hit in the next year, causing millions of dollars in damage. The City of Duluth is now working to rebuild the lakewalk in a way that will allow it to hold up against future storms. They said Tuesday the newly reconstructed part of the lakewalk appeared to have held up well in Monday's storm.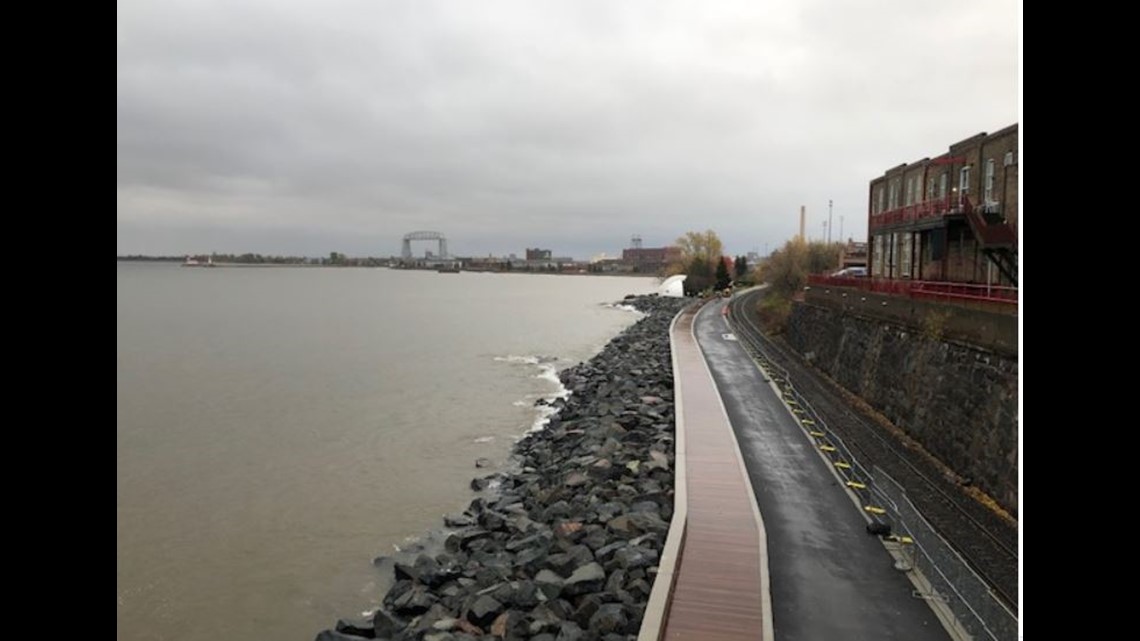 Schomberg noted that the weather is unpredictable, and while water levels are rising, that doesn't mean that will continue.
"The one constant seems to be rapid change, more rapid than we've seen in the past," he said.
Problems from the rising lake water have become so prevalent on Duluth's Park Point, that the Park Point Community Club created an Erosion and High Water Committee about six months ago to help find solutions. A recent survey by the Committee found 84 percent of people with homes on the Point had some sort of adverse effect on their property due to high water, with 29 percent reporting some of their property had washed away.
"How short is the backyard going to become? Is kind of what my concern would be," said Wentzel.