GRAND LAKE, Colo. — Colorado has received its first snow of the season.
Reports of the first snow for the season made their way to the Front Range on Monday morning.
Pikes Peak, Longs Peak, Loveland Pass, and Rocky Mountain National Park all reported snow early Monday.
The webcam at Rocky Mountain National Park's Alpine Visitor Center captured a winter wonderland at 11,796 feet.
The National Park Service (NPS) temporarily closed Trail Ridge Road Monday morning at Rainbow Curve on the east side and Milner Pass on the west side due to snow and ice on the road. NPS reopened the road around 9:30 a.m. Monday.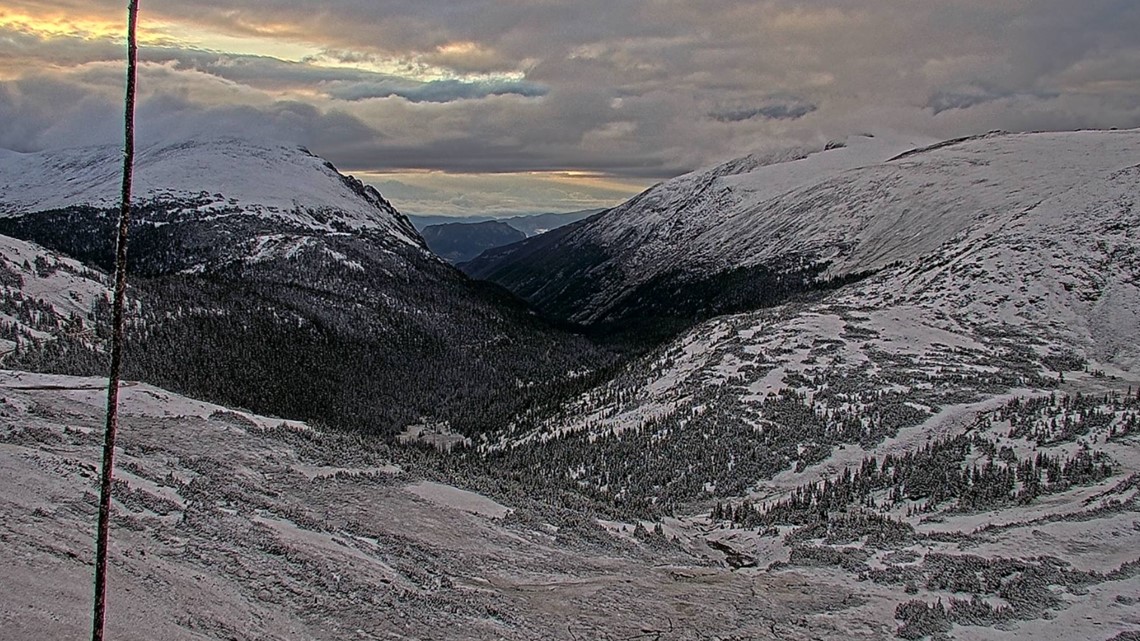 The cameras at the top of Pikes Peak, west of Colorado Springs, also revealed a solid amount of snow Monday morning.
Snow also fell on the peaks around Copper Mountain in Summit County.
Another round of showers and storms will push into Colorado Monday afternoon, hitting the high country, foothills and west metro, before moving into the southern counties, near the Continental Divide.
Monday's snowfall was several weeks later than when Colorado traditionally sees its first snow. It is normal for the first dusting to happen in the second half of August.
Last year, the first report was on Aug. 17 and the first snow in 2021 came on Aug. 20 in Colorado. In 2019, the first report of snow didn't come until Sept. 12.
Colorado's early dustings traditionally melt away in just a few hours. The snowpack accumulation for the season usually doesn't start until the first week of October. That is also when the Denver metro area gets its first snow accumulation of the season.
The average first snow in Denver is Oct. 18. In 2021, Denver did not get its first snow until Dec. 10. In 2022, Denver received its first trace of snow on Oct. 24.
9NEWS+
9NEWS+ has multiple live daily shows including 9NEWS Mornings, Next with Kyle Clark and 9NEWS+ Daily, an original streaming program. 9NEWS+ is where you can watch live breaking news, weather updates, and press conferences. You can also replay recent newscasts and find videos on demand of our top stories, local politics, investigations and Colorado specific features.