ST PAUL, Minn. — The long, dry summer continues to tighten its grip on much of Minnesota, with drought conditions worsening with each passing day.
An update from the U.S. Drought Monitor Thursday shows more than 35% of Minnesota is now experiencing severe drought, up from 22% a week ago. The areas under severe drought include much of north central Minnesota, and smaller swaths in the northeast and west central areas of the state.
"This is the largest coverage area of extreme drought since Feb. of 2007," explained KARE 11 meteorologist Laura Betker, "when 38% of our state was in extreme drought."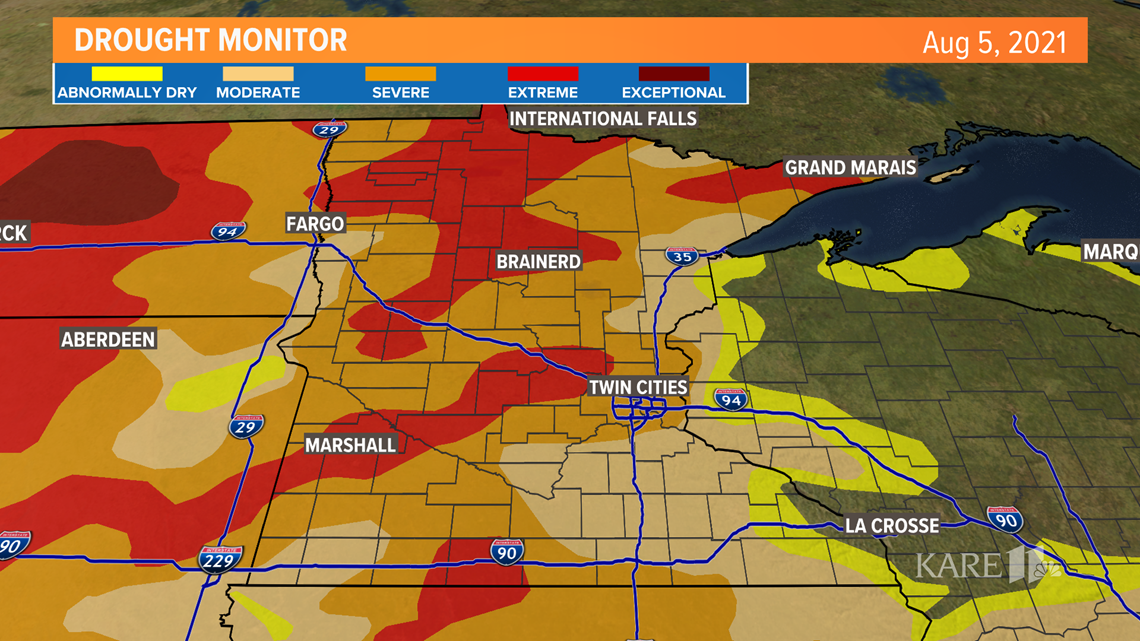 Historically, according to federal officials, impacts of severe drought can include widespread wildfires, record-low lake and river levels, and forced early harvesting of corn and crops to feed livestock.
Thursday's report says just over 78% of Minnesota is now experiencing severe or extreme drought (up from 75% last week), while more than 97% of the state is under moderate drought conditions.
The Monitor says an estimated 5,157,923 Minnesotans are now living in areas impacted by drought.
Minnesota's dry summer was the talk of Farm Fest 2021, which kicked off in the community of Morgan Wednesday after a year off due to the COVID-19 pandemic.
"If we don't break this pattern this fall, or winter or spring, or whenever it is, next year is really going to look tough," Gary Wertish, the president of the Minnesota Farmers Union, told KARE.
Justin Jerzak, who grows corn and soybeans near the town of Ivanhoe in far western Minnesota, said normally he can bank on snowfall but that didn't happen this year. And the rain has fallen well short of normal this spring and summer.
"I think we've had about less than an inch and a half since about June 1, and the biggest rain we've had is three-tenths of an inch at a time. So, it's dry."
Gov. Tim Walz made a visit to Farm Fest, and told farmers he is open to the idea of a special legislative session to provide assistance to Minnesota's struggling agricultural community. Walz also said he is urging the Biden Administration to provide farmers with more flexibility on how they can use land that's been set aside in conservation reserve programs.
"The president seemed genuinely surprised to hear about it because you're not seeing in the other farm states. He's hearing about wildfires and grazing. He said it seems so strange that the land of 10,000 lakes is in severe drought."
In a small piece of good news, recent rain has caused parts of Wabasha, Winona and Houston Counties to be removed from all drought classifications.