BALDWIN, Wis. — A slow-moving storm system overnight left roads closed and neighborhoods flooded in parts of western Wisconsin and southern and central Minnesota early Monday.
Images from the area of Baldwin, Wisconsin showed Highway 63 completely underwater near the junction with Highway 12, closing the heavily-used road in both directions. KARE 11 meteorologist Laura Betker says parts of the area received more than eight inches of rain in the overnight hours.
Glenwood City, just north of Menomonie, is reporting 9.11 inches.
One man was killed around 5:15 a.m. when he drove his van into floodwaters on County E just east of State Highway 63, lost control and ended up in a ditch where the vehicle became submerged. Rescue crews pulled 70-year-old Gary Parent of Emerald, WI out of the van and then rushed him to a local hospital, where Parent was pronounced dead.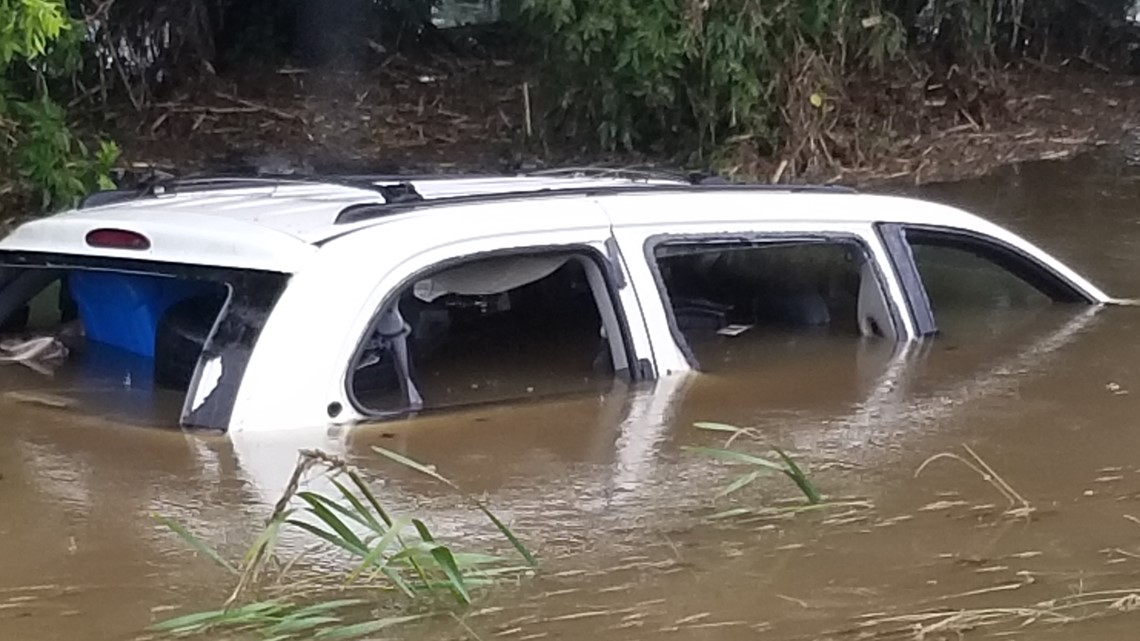 At least five motorists standing on the roofs of their cars were rescued from rushing water on Highway 63 in the Baldwin area, sheriff's officials said. Portions of Highway 63 north of Baldwin were washed out, officials said. Highway 12 is also impassable where it intersects with Highway 63.
In the nearby Pierce County village of Ellsworth, officials say many culverts have been overwhelmed by the heavy rain and that has caused localized flooding, including parts of Highway 10.
Highway 29 near Spring Valley is also closed, according to the Wisconsin Department of Transportation.
The St. Croix County Sheriff's Office warned residents in a social media post not to attempt to cross flooded roads, especially in the areas of Hammond, Baldwin and Woodville.
"The east side of our county has been hit pretty hard with these storms," sheriff's officials said. "The most significantly impacted areas stretch from Hammond to Woodville. We're mainly seeing flooded and washed out roads/bridges."
KARE 11 photojournalist Jason Rantala captured images of people wading through water well past their knees, and a creek well over its banks. One property owner told him it was the worst flooding he'd seen in 10 years time.
Residents in the same area posted videos on Facebook, including one that showed a torrent of water pouring through a basement window, leaving a family inside to scramble upstairs to avoid the deluge.
WARNING: The video below includes language some may find offensive.
In Lakeville, police took to social media to warn commuters to avoid driving near 167th and Gerdine after flood waters overtook an intersection and were pushing up into the yards of residents. Rain came so hard and fast that storm sewer systems simply could not keep up.
Lakeville Police also posted on Twitter that Cedar south of Dodd and 167th and Gladiola were flooded. As of 5:45 a.m., the roads are impassable.
Flash Flood Watches and Warnings remain in effect for a large portion of the KARE 11 viewing area running through central Minnesota into western Wisconsin until at least 10:30 a.m. You can find details here.
The rain also caused multiple mudslides in south central Minnesota near the communities of Mankato and New Ulm.
One of the bigger mudslides closed down Highway 68 for several hours while MnDOT crews worked to clear the road.
The rain also flooded farm fields and shut down county roads in the areas around New Ulm, St. Peter and Le Sueur.