MINNEAPOLIS — The line of deadly storms that ripped across Minnesota and western Wisconsin early Friday morning packed the punch of tornadoes and caused significant damage in both states.
National Weather Service survey teams say they've confirmed three tornadoes in areas where the damage was most severe: Savage, Apple Valley, & northeast Burnsville.
The NWS said all three tornadoes were rated EF 0, a category with wind speeds from 65 to 85 miles per hour.
Officials said the Burnsville tornado happened near Highway 13 and Cliff Road. The Apple Valley tornado was near Highway 77 and 145th Street.
The survey teams say they'll continue to investigate areas of storm damage in Lakeville, Savage and Henderson.
Tens of thousands of people were also left without power Friday morning as the storm brought down trees and power lines.
As of 8 a.m., Xcel Energy reported nearly more than 50,000 people are still without power from Bloomington to St. Paul and beyond the immediate metro into Wisconsin.
In a press release, the energy company said crews are out in Minnesota and western Wisconsin working to assess damage and restore customer powers as soon as possible. Xcel noted that top priority is given to situations that threaten public safety, like downed power lines, and that repairing transmission or feeder lines serving large numbers of customers will be addressed first.
Everyone is reminded to stay away from electric lines, and to assume that every one is live for their own safety.
Earlier Friday morning, the Bloomington Fire Department posted to social media that strong winds from the storm had them responding to multiple incidents citywide, and they also advised residents to avoid any downed power lines.
Burnsville Police also posted pictures of several trees that looked like they had been torn up by their roots.
Damage was also reported by viewer Mike Blair at the Minneapolis-St. Paul International Airport. Blair said that two Sun Country planes slammed into jet bridges around 3:15 a.m. According to the NWS Twin Cities, wind gusts up to 64 mph were reported at MSP.
A Sun Country spokesperson said the two planes have been taken out of service to assess damage and replaced with new aircraft to operate ongoing flights.
"We are currently investigating the incident and do not know the extent of the damage at this time," the spokesperson told KARE 11 Saturday.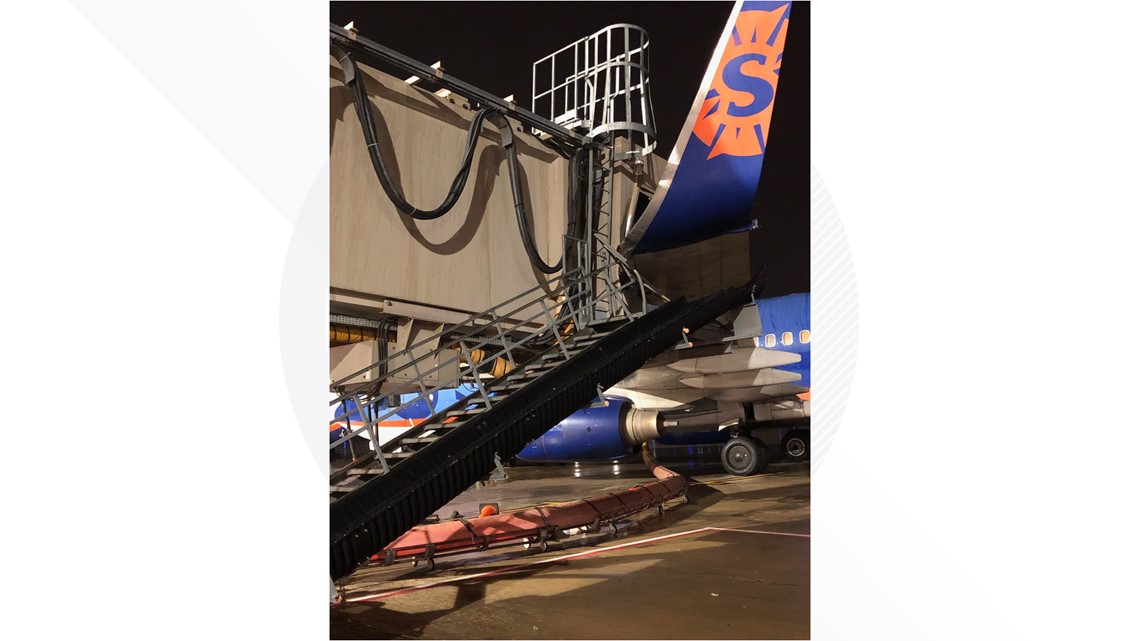 In Hudson, Wisconsin, the Hudson Area Library sustained major damage. Photos shared on the library's Facebook page show severe damage inside the building and on the roof. In what looks like the library's front lobby, windows were blown out and glass and plywood beams were scattered across the floor.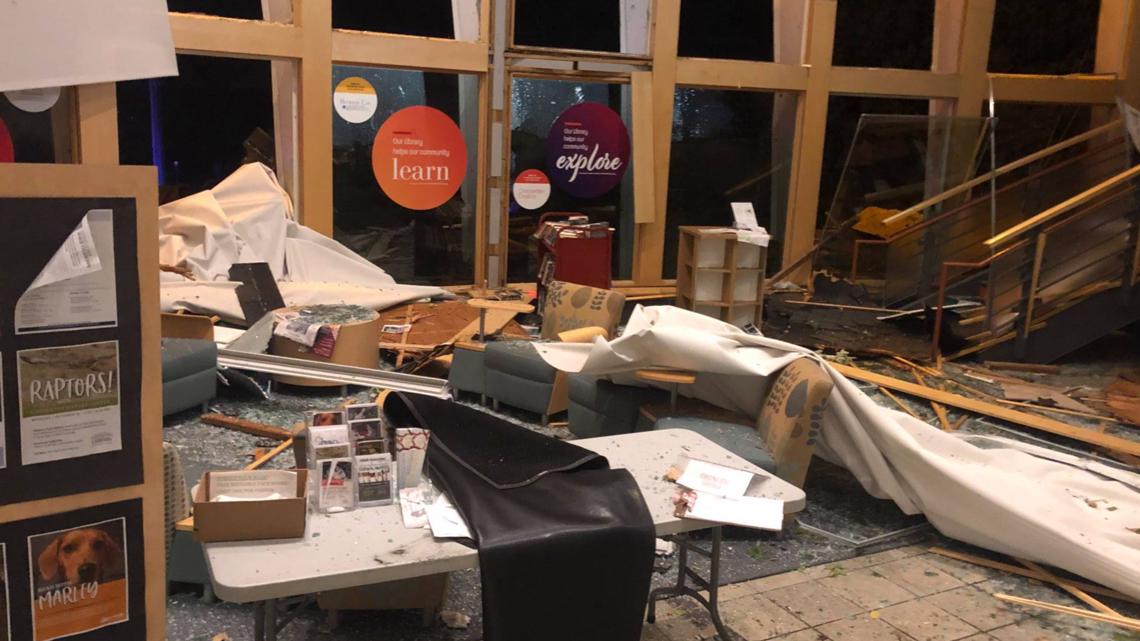 Photos of storm damage across the metro show trees toppled onto houses, roads and cars. ISD 196 (Rosemount-Apple Valley-Eagan) initially announced all schools would start on a two hour delay Friday because of the damage. Later Friday morning, the district canceled all classes at Rosemount Elementary and Rosemount Middle, along with all Connections Preschool and Early Childhood Special Education classes. The rest of the district is operating on a two-hour delay.
PHOTOS: Friday storm damage