MINNEAPOLIS — Wildfire smoke filled the sky on Tuesday as wildfires burning in northern Alberta and Saskatchewan, Canada reached northern Minnesota.
The Minnesota Pollution Control Agency announced an air quality alert Tuesday for the northern half of the state, saying the air would be particularly unhealthy for sensitive groups — e.g., those with heart and lung disease, as well as people with cardiovascular and respiratory issues.
According to the Minnesota Pollution and Control Agency, western and southwestern Minnesota are the only areas under "moderate" air quality index (AQI) ratings, while the rest of the state currently has a "good" AQI.
Bushfires and wildfires continue to burn across Canada and the U.S. though, and those are illustrated in the graphic above along with the fires recently burned.
The air quality alert ended at 4 p.m. for the areas affected by the wildfire smoke, but KARE 11's meteorologist Jamie Kagol believes there won't be a substantial clearing of the polluted air until closer to Friday.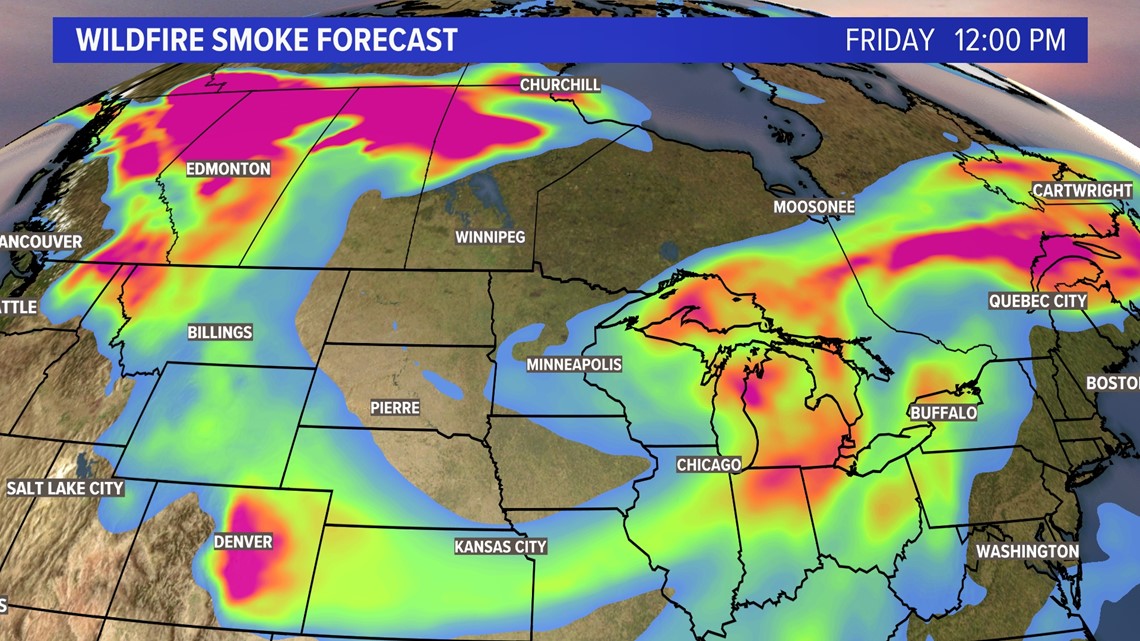 Breathing wildfire smoke can make anyone sick, but some people are at greater risk than others of experiencing health-related problems like heart and lung disease, the Minnesota Department of Health says.
Limit outdoor activities as much as possible.
Keep indoor air as clean as possible with a portable air cleaner.
Wearing an N95 mask, which can offer "some" protection.
WATCH MORE ON KARE 11+
Download the free KARE 11+ app for Roku, Fire TV, Apple TV and other smart TV platforms to watch more from KARE 11 anytime! The KARE 11+ app includes live streams of all of KARE 11's newscasts. You'll also find on-demand replays of newscasts; the latest from KARE 11 Investigates, Breaking the News and the Land of 10,000 Stories; exclusive programs like Verify and HeartThreads; and Minnesota sports talk from our partners at Locked On Minnesota.
Watch the latest local news from the Twin Cities and across Minnesota in our YouTube playlist: