GOLDEN VALLEY, Minn. — Southern Minnesota will be getting snow overnight and see anywhere between 1"-3" by Wednesday morning south of metro area.
A Winter Weather Advisory is in effect for parts of southern Minnesota into Iowa and Wisconsin from 9pm this evening through 9 am Wednesday morning. Take extra precautions for travel in these purple counties.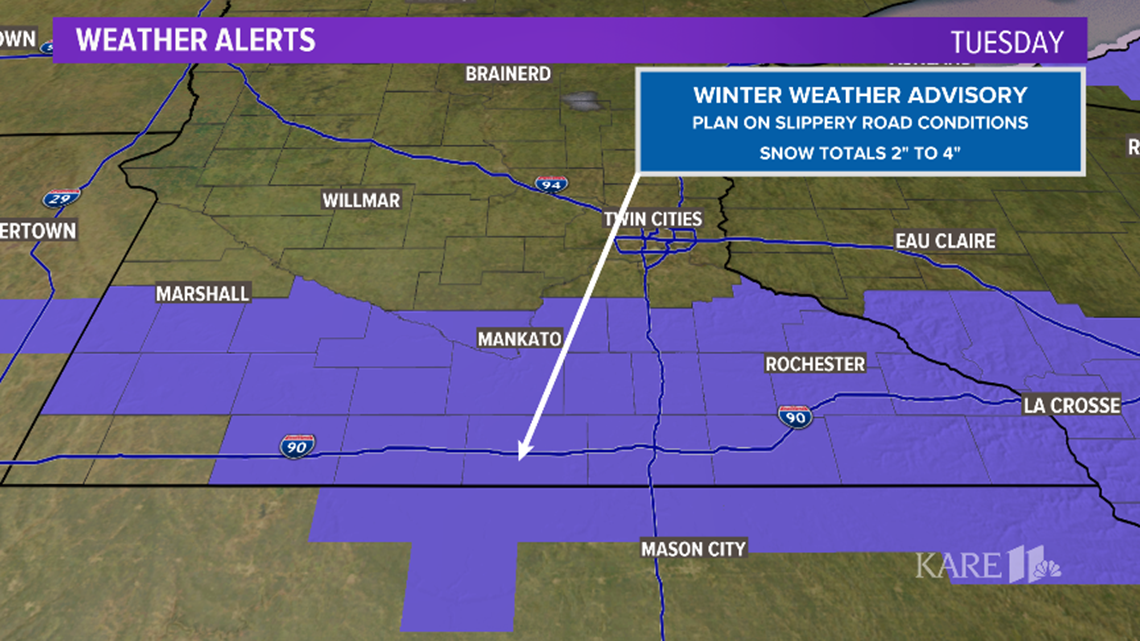 An accumulating snowfall event is still on track for tonight into early Wednesday morning. The metro is likely to end up on the northern edge of this snow: we can expect generally less than 1". The northern suburbs in Sherburne, Anoka and parts of Washington County can expect nothing more than a dusting at best. Even the central and southern parts of the Twin Cities shouldn't expect much in the way of accumulation. Generally, a dusting up to 1" is forecast for the metro.
Higher amounts south near 3" are forecast closer to the Iowa border.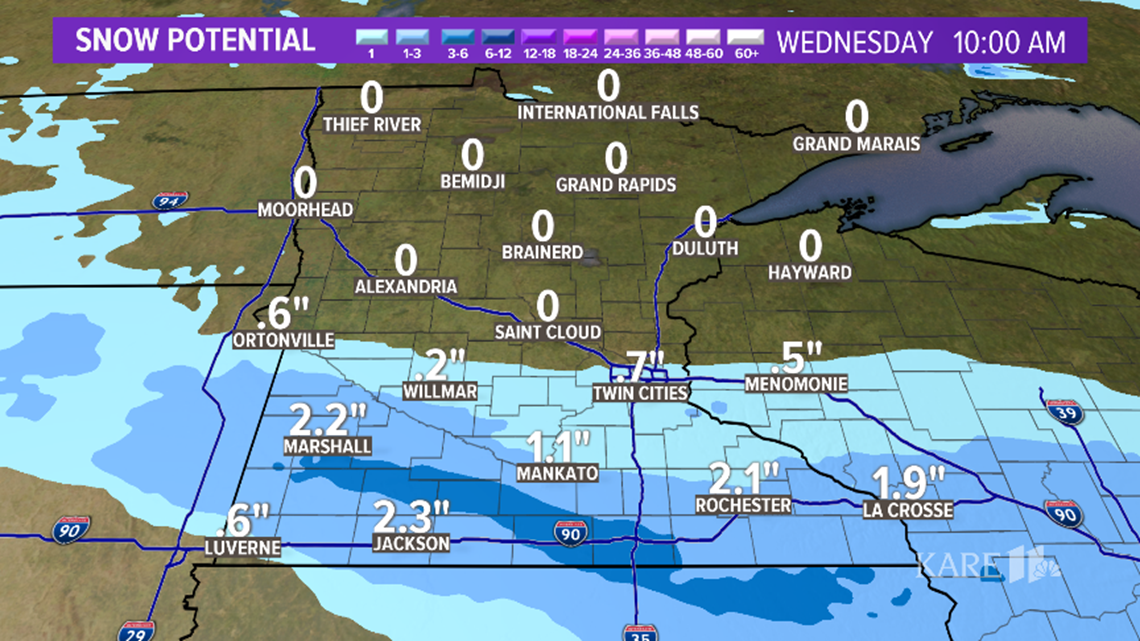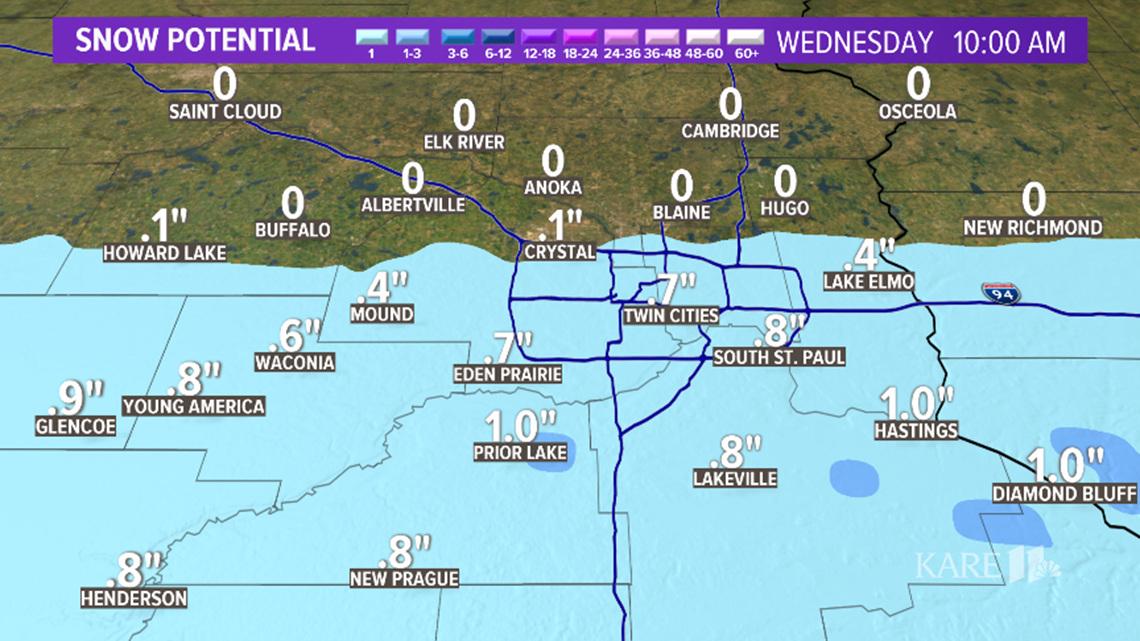 The snow holds off until after 10 pm in the metro, wrapping up around 5 am Wednesday. It could make for a crummy commute.
If we do get 1" in the metro it would be the first time for that this season. This falls slightly earlier than out average first 1" of snow at MSP, which is November 19th. The earliest 1" of snow came in 1942 on September 26. The latest was just a couple years later and held off until January 9, 1945!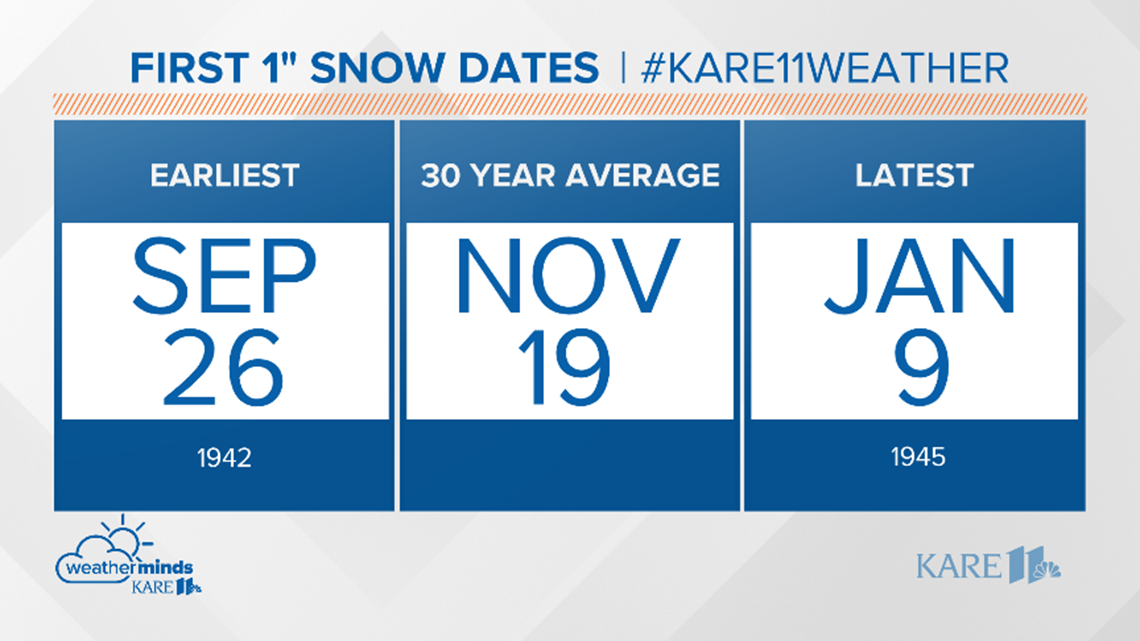 This will not be a 'big' snow for anyone, but the first snow of any significance for many, along with subfreezing temperatures and rusty early-season driving skills could cause some issues.
Want more good news? Behind the snow comes our coldest temps of the season, with the mercury dipping into the teens across the metro early Thursday and Friday mornings.