MINNESOTA, USA — Hot, dry weather and a lack of moisture in the air have prompted authorities to issue multiple warnings to Minnesotans on Sunday.
The National Weather Service has issued a Red Flag Warning for multiple counties in northwestern Minnesota, which goes into effect at noon on Sunday and will be in place through 9 p.m. The unseasonable temps and lack of rain we've experienced recently means that any fire has the potential to spread quickly.
According to the Minnesota Department of Natural Resources, the affected counties under the Red Flag Warning include:
Becker
Beltrami
Big Stone
Cass
Chippewa
Clay
Clearwater
Cook
Crow Wing
Douglas
Grant
Hubbard
Itasca
Kittson
Koochiching
Lac Qui Parle
Lake
Lake of the Woods
Mahnomen
Marshall
Norman
Otter Tail
Pennington
Polk
Pope
Red Lake
Roseau
St Louis County
Stevens
Swift
Todd
Traverse
Wadena
Wilkin
Yellow Medicine
A Fire Watch originally expected on Sunday is no longer in effect.
In addition to the Red Flag Warning, the Minnesota Pollution Control Agency issued an Air Quality Alert for counties in the northern part of the state down into the southeastern corner. The alert begins at noon on Sunday and will last through Monday, May 29 at 8 p.m.
The DNR said burning permits won't be issued or activated in affected areas.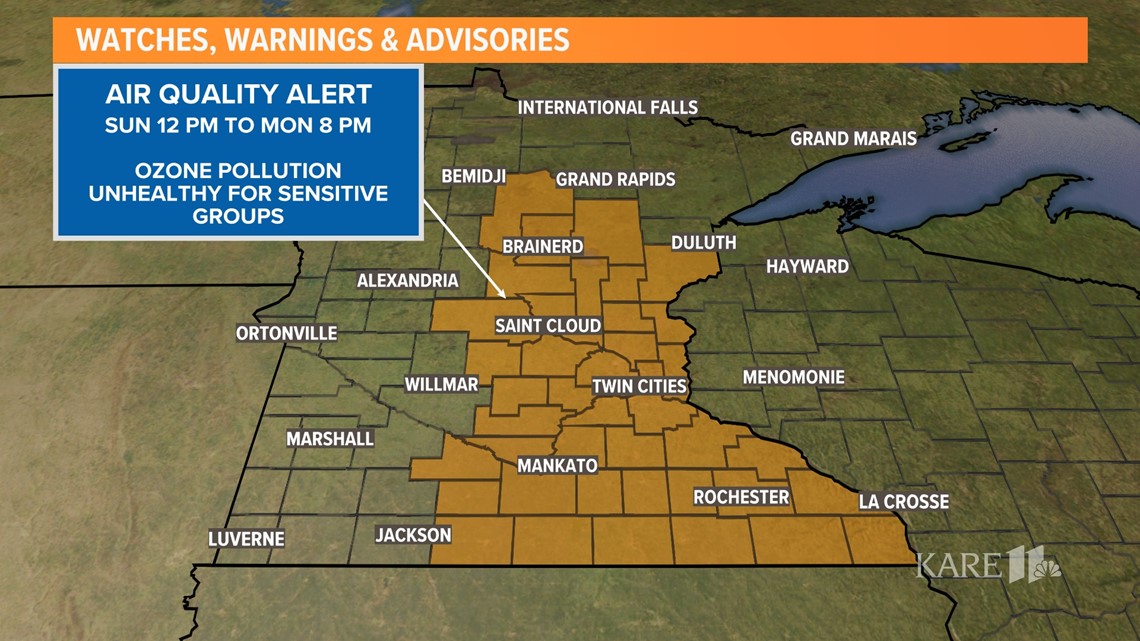 Watch the latest local news from the Twin Cities and across Minnesota in our YouTube playlist:
WATCH MORE ON KARE 11+
Download the free KARE 11+ app for Roku, Fire TV, Apple TV and other smart TV platforms to watch more from KARE 11 anytime! The KARE 11+ app includes live streams of all of KARE 11's newscasts. You'll also find on-demand replays of newscasts; the latest from KARE 11 Investigates, Breaking the News and the Land of 10,000 Stories; exclusive programs like Verify and HeartThreads; and Minnesota sports talk from our partners at Locked On Minnesota.