GOLDEN VALLEY, Minn. — If spring is indeed just around the corner, calendar-wise, old man winter is going to go down swinging.
KARE 11's weather team has declared Thursday a Weather Warn Day due to a significant winter system that will unleash everything from rain to freezing rain to sleet and heavy snow, impacting daily activities and the ability to get from point A to point B.
Meteorologist Ben Dery says the storm will elbow its way into the Twin Cities mid-to-late morning Thursday in the form of rain. Precipitation will transition over to heavy snow early in the afternoon, before Thursday's evening commute which could wreak havoc on the roads. There could even be a brief stint of sleet and freezing rain.
The snow that falls will be heavy and wet, and the misery will be compounded by a blustery north wind and dipping temperatures through the day. Thursday will start in the Mid-30s, but drop into the upper 20s by evening. The strong winds will make it feel even colder.
The accumulating snow should wrap up fairly quickly, probably before midnight Thursday, with just lingering snow showers hanging around for Friday. The end result should be between 3 and 5 inches of snow in the Twin Cities, not major considering the winter we've had but the timing will make this storm impactful.
If three inches fall, the winter of 2022-23 would move to Minnesota's 7th-snowiest all-time. If the storm drops 5 inches, we'd slide up into 5th place.
The main swath of the storm cuts from southwestern Minnesota to northwestern Wisconsin. Snow totals should be less northwest of St. Cloud and in southeast Minnesota.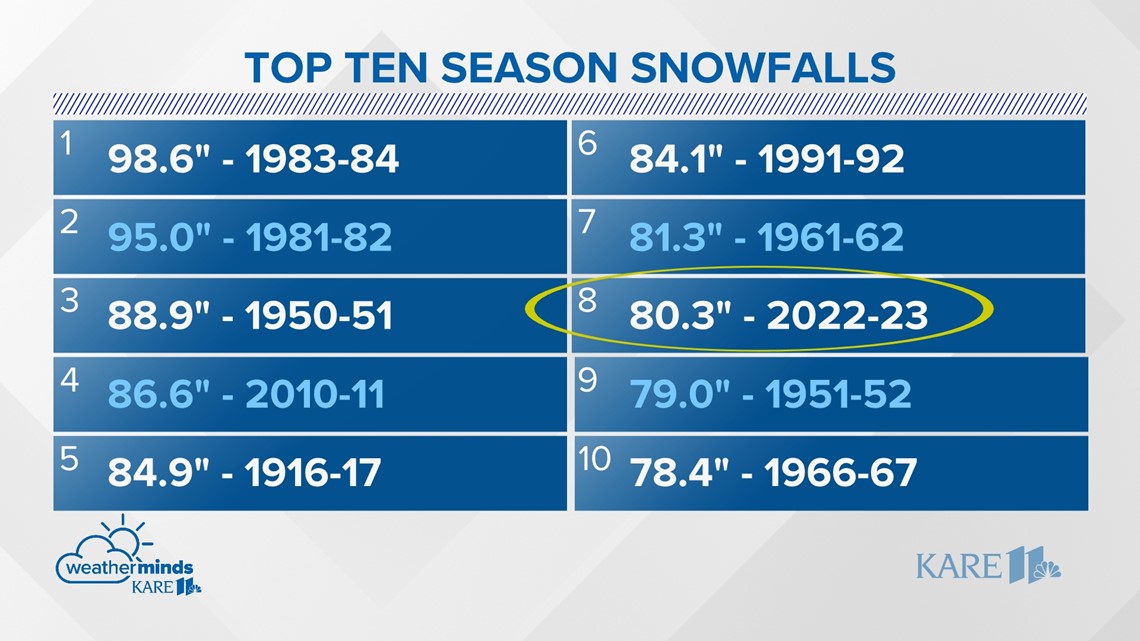 Friday's morning commute could be slick, with cooler temps causing refreezing overnight.
In fact, Dery says temps will remain roughly 20° colder than average throughout the weekend.
WATCH MORE ON KARE 11+
Download the free KARE 11+ app for Roku, Fire TV, and other smart TV platforms to watch more from KARE 11 anytime! The KARE 11+ app includes live streams of all of KARE 11's newscasts. You'll also find on-demand replays of newscasts; the latest from KARE 11 Investigates, Breaking the News and the Land of 10,000 Stories; exclusive programs like Verify and HeartThreads; and Minnesota sports talk from our partners at Locked On Minnesota.
Watch the latest deep-dives and explainers on weather and science in our YouTube playlist: