NEW ULM, Minn. — The sheriff of a southern Minnesota county is giving residents a not-so-subtle heads-up: The ice on lakes and rivers is too thin or inconsistent to be safe.
As proof, all Brown County Sheriff Jason Seidl and his deputies need to do is point at the tail end of a pickup sticking up through the broken surface of Lake Hanska, after the owner and a friend plunged through just before 2 p.m. Monday.
Both passengers scrambled out uninjured, but that doesn't mean there won't be any pain. The owner will have to pay the cost of having the vehicle dragged out of the lake, which can run hundreds, if not thousands of dollars.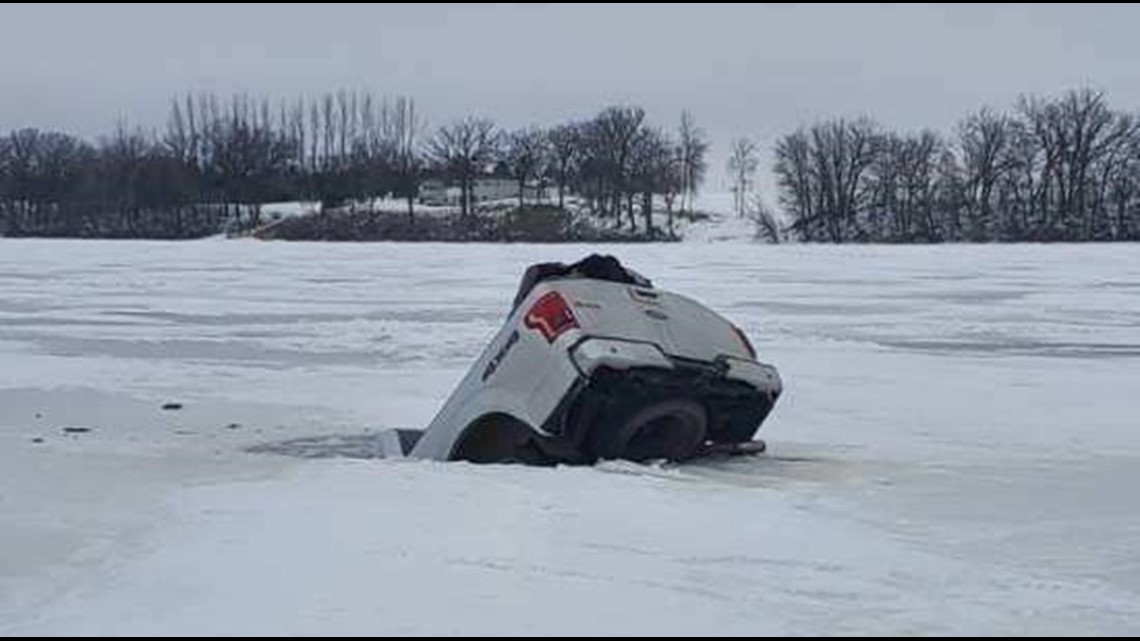 "While no ice is 100 percent safe, please use caution anytime you venture onto lake ice or river ice, especially at night," the Brown County Sheriff's Office warns in a written statement. "Refrain from driving on ice whenever possible. If you must drive a vehicle, keep your windows down and be prepared to leave it in a hurry."
Also, and this may be the most important thing... tell someone where you are going, and when you plan to return.
Finally, although you've likely heard them before, the DNR's guidelines for new clear ice are good to keep front and center. You need:
4 inches for ice fishing or other activities on foot.
5 inches for snowmobile or ATV.
8-12 inches for car or small pickup.
12-15 inches for medium truck.