MINNEAPOLIS — We're in the home stretch toward spring, but winter hasn't released its hold on Minnesota just yet.
After a little additional accumulation a day earlier, as of Sunday, March 19, total snowfall in the Twin Cities reached 81.2 inches, enough for the eighth snowiest season on record.
The National Weather Service initially estimated the Twin Cities had received 81.3 inches, which would have put this winter in a tie for seventh place with the 1961-62 season, but later retracted .1 inch.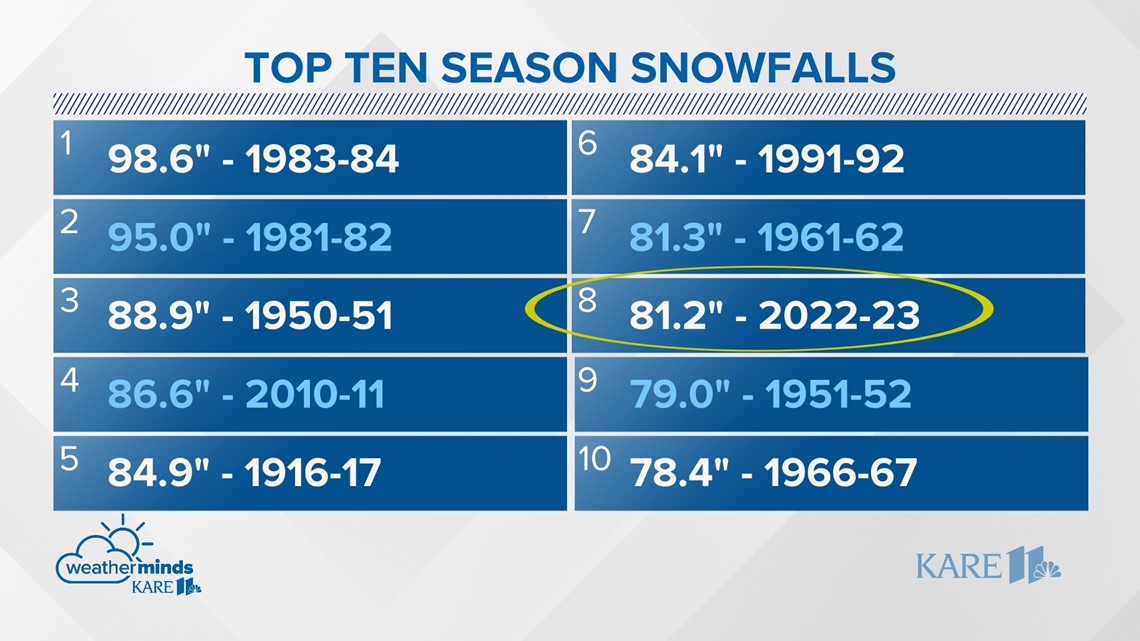 The only other Top 10 snowfall season to happen in the 21st century was in 2010-11, where 86.6 inches fell, making that year the fourth snowiest on record. The remaining records were all recorded in the 1900s, from 1916 through 1992.
Meanwhile up north, the 2023-23 winter season in Duluth continues to climb the top snow totals list. As of March 17, total seasonal snowfall is 121.3 inches, making this the sixth snowiest year on record.
And while spring is right around the corner, Minnesotans know we're not out of the woods just yet when it comes to snow this time of year. So exactly how much snow will we end up with before the seasons finally change? To be determined.
Watch the latest deep dives and explainers on weather and science in our YouTube playlist:
WATCH MORE ON KARE 11+
Download the free KARE 11+ app for Roku, Fire TV, and other smart TV platforms to watch more from KARE 11 anytime! The KARE 11+ app includes live streams of all of KARE 11's newscasts. You'll also find on-demand replays of newscasts; the latest from KARE 11 Investigates, Breaking the News and the Land of 10,000 Stories; exclusive programs like Verify and HeartThreads; and Minnesota sports talk from our partners at Locked On Minnesota.