NEW RICHMOND, Wis. — The National Weather Service (NWS) is confirming at least one tornado touched down in western Wisconsin Wednesday night, damaging homes and knocking down trees in the New Richmond area.
A NWS survey team shared that information with KARE 11's Heidi Wigdahl as they investigated damage and attempted to track the path of the tornado and determine its strength.
Preliminary results from the NWS confirm it was an EF-1 between rural New Richmond and rural Hammond with peak winds estimated at 95 mph.
"All this information helps us, not just for statistics, but it really helps us when we go back and study the storm on radar. We had a warning on this so that's good but we always want to learn something about the storm," said Todd Krause, a warning coordination meteorologist at NWS in Chanhassen.
The strong storms that hit eastern Minnesota and western Wisconsin were triggered by the day's heat, bringing high winds and and buckets of rain.
"I have never been so close to death in my life. I thought I was going to die last night," Jessica Castilleja said.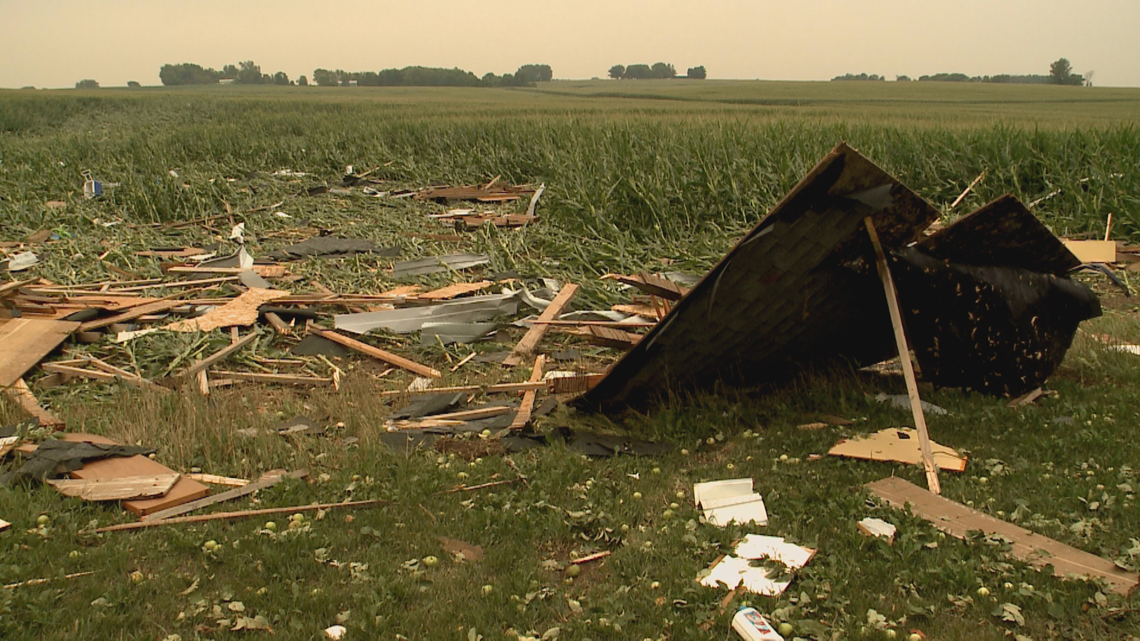 Castilleja lives on 160th Street near County Road E in New Richmond. She said she was inside her home around 9:50 p.m. when her mom called her, telling her to get to the basement.
"I reached the top of the basement and that's when I got sucked down. I just opened the door and then that's exactly right when the tornado hit and I got sucked down 15 stairs and ended up at the bottom of the basement," Castilleja recalled.
While under the mattress, Castilleja said, "Glass was flying; you could see branches flying. It was just like in the movies."
Castilleja said she's grateful her three kids (ages 7, 5 and 3) were staying at their dad's house that night.
"I swear that God protected my whole family. Definitely. It was a blessing," she said.
The tornado destroyed the garage. The home's windows were blown out and personal belongings could be found all over the yard and the surrounding cornfields.
"The best thing is I'm here alive, standing, bumps and bruises and that's it. Couldn't have asked for anything better," Castilleja said.
The family was renting the home. Red Cross is now helping find them a place to stay.
Castilleja said they do not have renter's insurance and Castilleja does not have full coverage on her car. A GoFundMe has been set up to help the family.
A portion of Highway 64 was closed for part of Wednesday night while crews worked to clear fallen trees from the roadway. Fortunately, the falling debris missed the nearby powerlines.
New Richmond is located about 43 miles east of Minneapolis.
Tree damage was also reported around Highways 65 and 63 Wednesday night.
Storm damage in western Wisconsin