MINNEAPOLIS — A new record has been set in the Twin Cities for daily snowfall.
The record also comes amid a new Winter Storm Watch that is in effect from Friday night through Saturday morning in the metro, much of central Minnesota and western Wisconsin.
According to the National Weather Service Twin Cities, between midnight and 1 p.m. Wednesday, 7.2 inches of snow fell at MSP Airport. That breaks the previous Nov. 27 record of 4.9 inches, set in 1983.
The storm total, including Tuesday's snowfall, is now 9.2 inches. That makes the this the biggest November snowstorm since 2001. Nearly 9 inches fell at the airport on the same dates that year, Nov. 26 and 27, oddly enough.
It's also the snowiest November in 23 years (1996). 2001 just saw that one big snowfall, while we've had a couple other minor snow events.
The storm has already pushed Minnesota into uncharted territory in terms of precipitation. Snow that fell Tuesday and Wednesday makes 2019 officially the wettest year on record with 40.83 inches of water equivalent precipitation, beating 2016. That precipitation mark will continue to go up, as there's an entire month left in the calendar year.
Of course, with another storm predicted for this weekend, there may be even more measurable snow.
Most of our snowfall is done for Wednesday. We'll see just a few flurries and light snow showers taper off and may even see some peeks of afternoon sun. Winds will continue to gust 30-45 mph, creating some blowing/drifting in open areas (mostly outside the metro).
Travel conditions should improve through the day and temperatures will remain near freezing.
Highs Wednesday will reach into the lower to middle 30s under cloudy skies. We will get a bit of a break before the next chance of light snow arrives late Thursday.
Thanksgiving travel conditions should improve through the day and temps will remain near freezing, great conditions for salt and other road chemicals to work.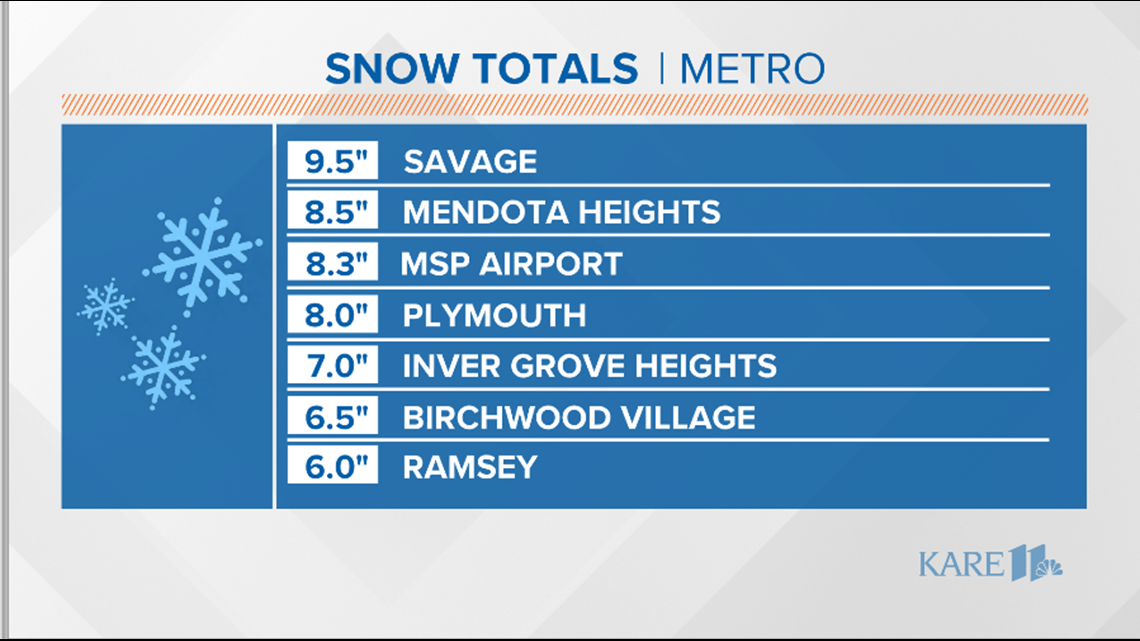 Thanksgiving Day is shaping up to be a gloomy day with highs near 30 and overcast conditions. We could see a coating of some light snow Thursday night/early Friday if you're going to hit up Black Friday deals early on.
Another storm is possible over the weekend starting up on Friday night and lasting until Sunday morning. Right now that storm looks like a mixed bag of rain and some snow for the metro with the best chance of heavy snow north.
Stay tuned for further updates on the weekend storm.