FOREST LAKE, Minn. - So a tree in your yard blew down in a storm ... no big deal, just plant another one, right?
Wrong. Not when that tree is front and center in your life. Just ask Jackie Loose of Forest Lake.
Jackie's story came to our attention after her neighbor urged her to send us a photo in the wake of the storm that tore through Forest Lake early Wednesday morning. The picture captures Jackie standing next to the root ball of a giant tree laying on its side, a towering mound of roots and dirt that is more than three times her height. That's approaching 20 feet tall.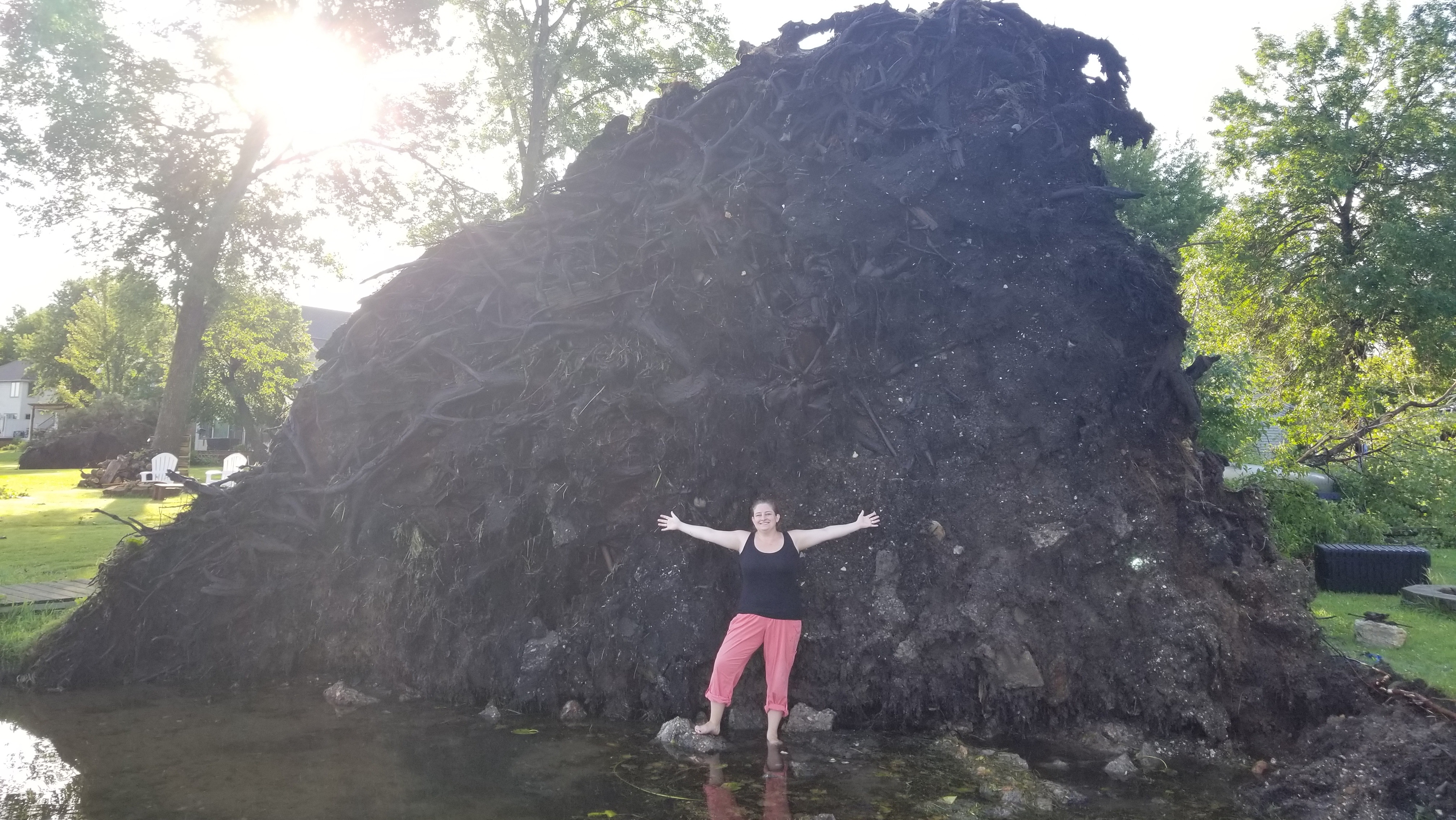 While the image is eye-catching, and somewhat entertaining on the surface ... the loss of the majestic tree is a wound for Jackie, her husband Jonathan, and their four children. A neighbor who knows the history of the place tells her the cottonwood is more than 100 years old. The Loose family wouldn't know, as they've only lived there just over three years. Jackie 'can' tell you about how when she and her husband were house hunting they stood on the main floor, looked out the big window and saw that tree towering over Forest Lake. A tree that let them know they had found a place that would be their home.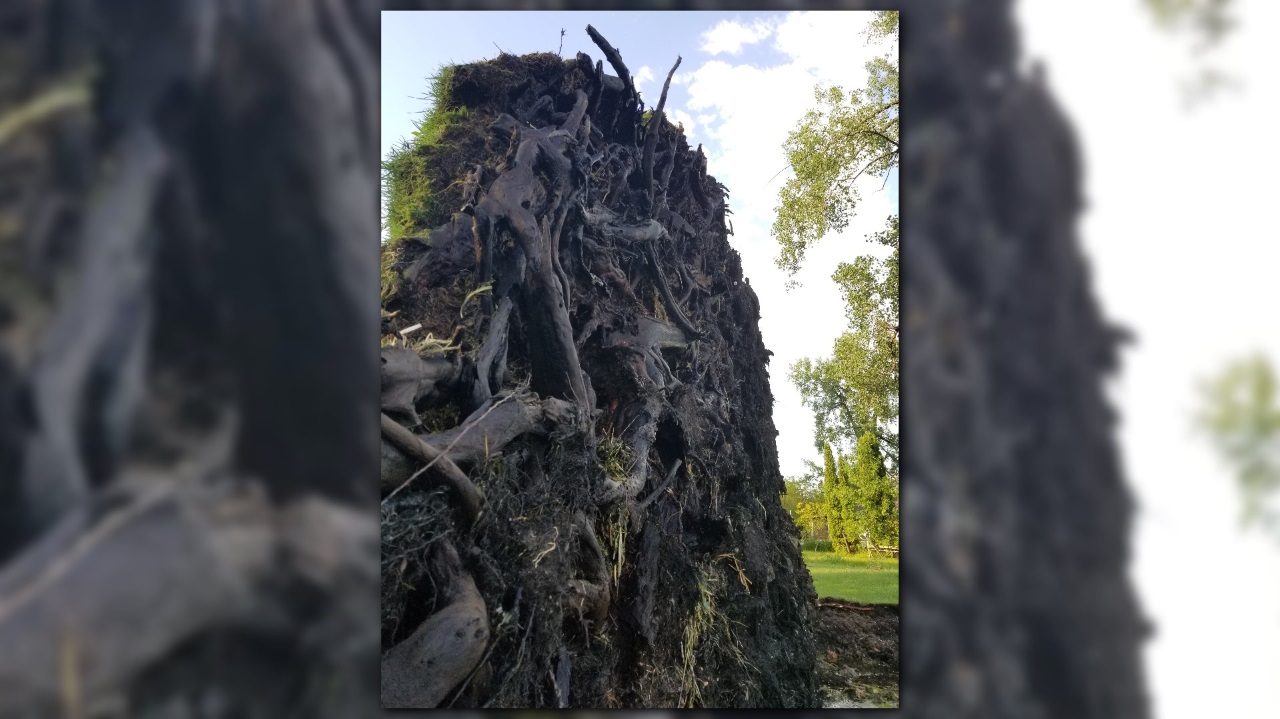 The tree was a place bald eagles would roost, gazing out onto the lake and swooping down to grab a fish for dinner. A muskrat lived at the base of the tree, another earthly inhabitant whose life and routine has been forever changed.
The past day and a half have been a whirlwind for Jackie -- rounding up the kids in the wee hours to huddle in the laundry room, the wind howling, the walls shaking and explosions of lightning making night seem like day. She describes walking down to the shore around 6 a.m., seeing the tree laying on the ground and immediately bursting into tears. Their son, 7-year-old Jacob, was very sad about the tree and just kept asking how he could help neighbors and start clean-up.
"It's SO good the huge tree didn't die people when it fell," said 5-year-old Aleiah, who hopes the tree's departure may make a sand beach possible.
Three-year-old Lydia just kept saying, "Oh no! Oh no BIG tree!"
On its way down the cottonwood bent a boat lift, fatally wounded a gazebo and flattened the family paddleboat. Insurance will take care of those things. It will not bring back their tree, a quiet sentry on the shore of Forest Lake for generations of residents and lake-goers. Jackie had hoped it could be righted and saved, but the DNR said the tree's stability was compromised, and it likely would not survive.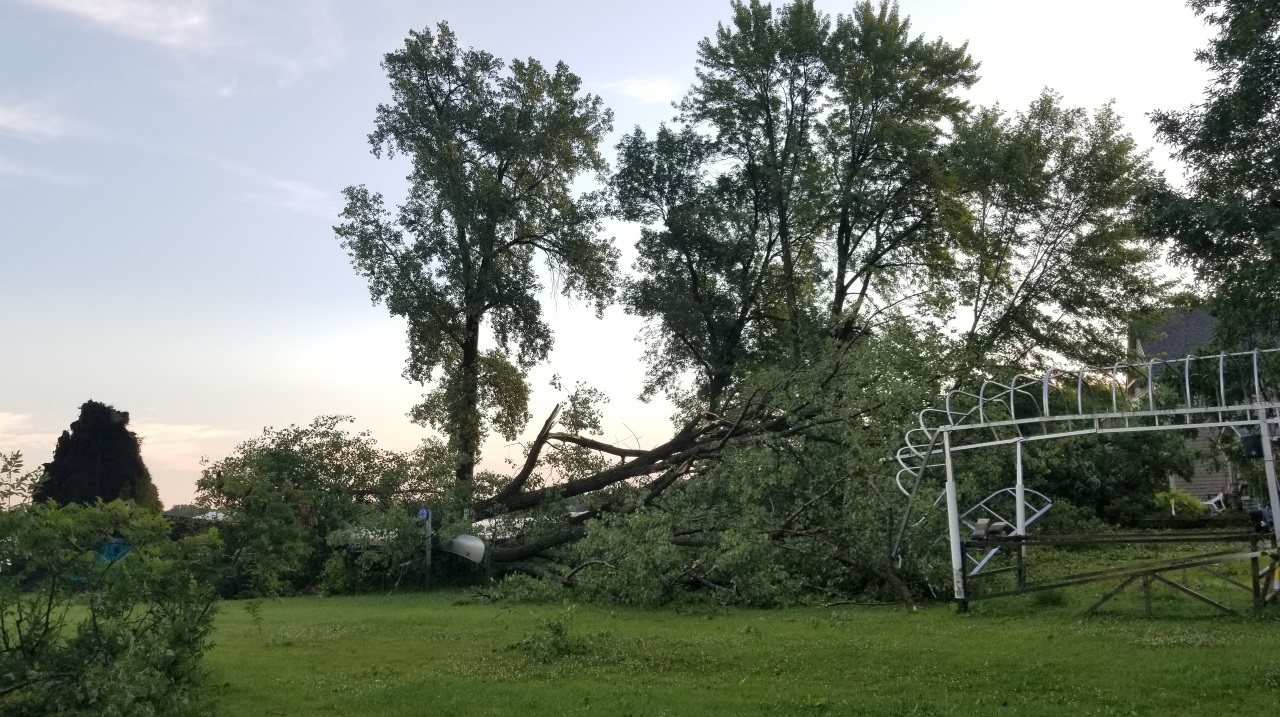 Like residents across Forest Lake, Jackie will schedule a tree service to come out in the next few days and cut up her casualty of the storm. She plans on having something made from the wood, perhaps a bench, to keep a lasting connection.
Here's the original Facebook post: