BELLE PLAINE, Minn. – What began as a humble monument for fallen veterans has turned into a battle over free speech.
And soon, a memorial featuring a kneeling solder praying over a grave marked with a cross at the Veterans Memorial Park in Belle Plaine will share space with a satanic, black cube with inverted pentagrams, a soldier's helmet and a plaque honoring veterans who died in battle.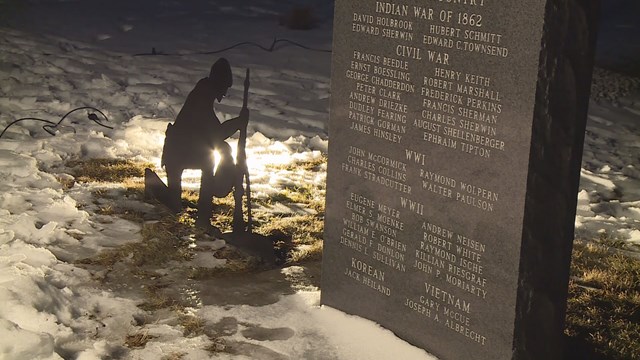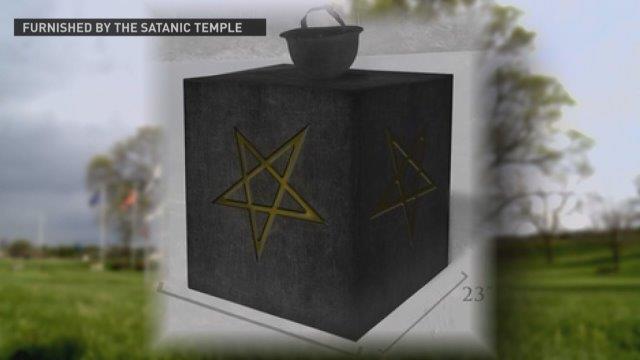 Both monuments will be placed in a newly designated "limited open forum" space where private citizens or groups can apply to put temporary monuments, as long as they honor veterans.The open forum, or free speech space, was created by the city council after the Freedom From Religion Foundation threaten to sue the city for allowing the display of a religious symbol on public land."They said it was a violation of the first amendment," said Mike Votca, city administrator of Belle Plaine. "We knew that our policy is going to be inclusive of anyone and any group could be a part of that."The second application received and approved by the city was from the Satanic Temple in Salem, Massachusetts."The application meets the criteria of the city policy, so it's approved to be in place," said Votca.
Doug Mesner—who uses the pseudonym Lucian Greaves—is the founder of the Satanic Temple and its non-profit group Reason Alliance.He says the group does not worship Satan, but its rather a non-theistic, religious group "that venerates the mythological narrative construct of the ultimate rebel against tyranny, best embodied, by Satan."
Mesner says the 2 x 2 x 3-foot steel monument is the temple's way of both honoring the sacrifice of vets but celebrating the protections of the First Amendment."It's certainly better to preserve the First Amendment than to preserve your notions of religious supremacy on public grounds. That's certainly not what America was founded on and certainly not what our soldiers fought for," said Mesner.Brett Holbrook, who operates a State Farm insurance business across the street from the park, says he understands the fight for free speech but doesn't understand why it needed to take place at a veterans memorial in Belle Plaine."To me it feels more like they are just trying to poke the eye of the community, and they are doing it just because they can do it," said Holbrook."These soldiers fought for our country, and you are going to put a satanic thing next to it," said Jessica Ellman while walking her daughter near the park. "It's like you are mocking them. I'm not a fan"The satanic monument is still in the works in Massachusetts, and it's expected to be shipped to Belle Plaine and installed likely in the next month, according to Mesner.