Editor's Note: This story originally ran in May of 2017. Last month Gary was named state director of Bugles Across America, an organization that finds volunteer buglers for the funerals of veterans. Gary has 137 Minnesota volunteers - more than 50 in the Twin Cities - waiting for assignments.

He says there is no reason a veteran in Minnesota should be laid to rest without a live bugler.
You can request one here.
EXCELSIOR, Minn. - Commuters are still rushing about on their way to work as a lone figure climbs a steep hill in an old cemetery.
Gary Marquardt spots a flag on a grave, raises his trumpet - and plays.
"I love to hear Taps echo through the cemetery," he says. "I'm doing something for these guys. It's kind of like being among friends.
Marquardt will repeat the routine a dozen times over the next 45 minutes: find a veteran, say his name and then play taps.
"I always think about the funeral, the people standing around here so sad at the loss of their loved one and then it's over and you're left with this," Marquardt says looking down at a grave.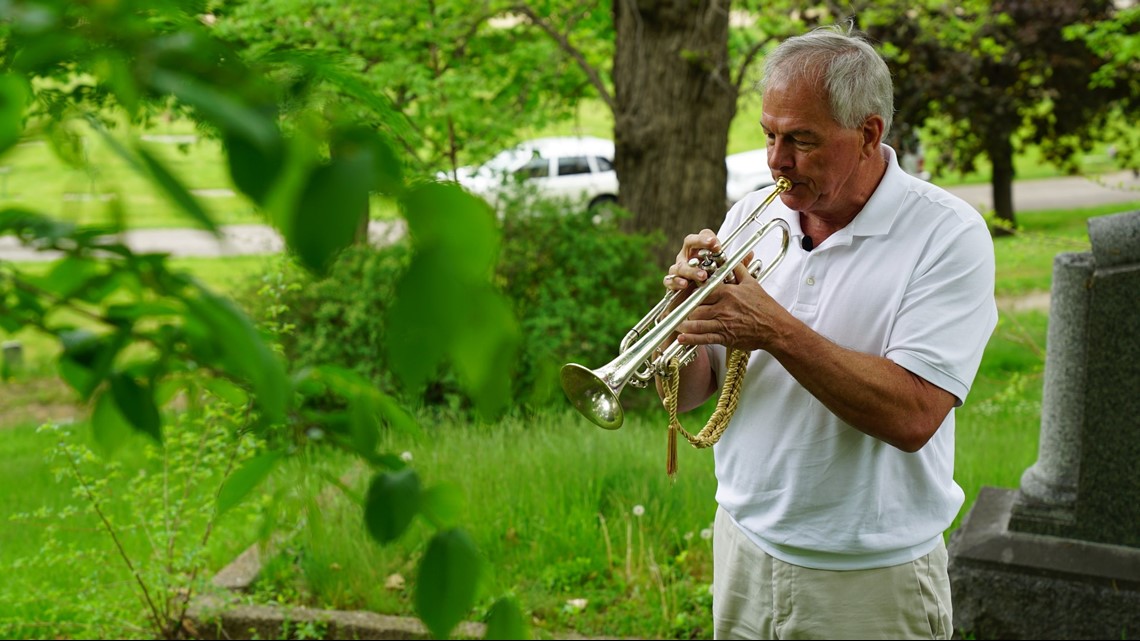 The cemetery visits started three years ago after Marquardt attended a military funeral and heard a mechanical bugle. It bothered him that a recording was being used for taps and not a live bugler.
"It just seemed that after what they've given that wasn't much to ask," he says.
Having never before played, Marquardt walked into a music store and bought his first horn.
Marquardt's wife Joanie is the best authority on his early attempts. "It was awful," she laughs.
The Marquardts' next door neighbors, Bruce and Carol Hedblom, were exposed to Gary's playing too. "No inhibitions," laughs Bruce.
"I would have given up," adds Carol.
"I would have moved out," chimes in Bruce.
Instead, Gary took lessons and kept playing.
"Seemed like every 15 minutes, it was all the time," says Joanie Marquardt. "We were all hoping he would get better. And then he did."
Nearly every day Gary Marquardt plays at the graves of veterans – always leaving behind a penny on their stones as his symbol of the pittance of his service compared to theirs.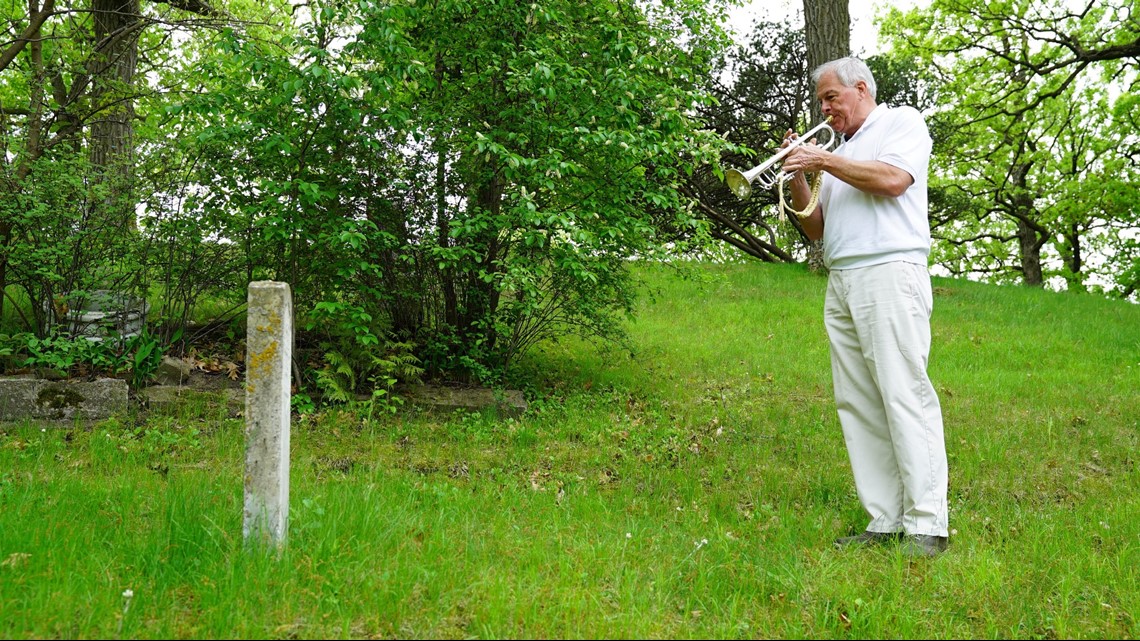 But why so driven? Turns out Marquardt - now 68 and comfortably retired after selling his company - got a pass in his 20s.
Marquardt was all but certain he'd be heading to Vietnam after college, until a bleeding ulcer intervened.
"I collapsed at work," he says. "And all of a sudden I was 4-F"
Marquardt's father had served during WWII, some of his high school friends had already died in Vietnam, and Marquardt was suddenly freed of his obligation.
"I think ashamed is the word," he says. "I was ashamed I was happy I didn't have to go."
Which is why four decades later Marquardt puts on the uniform of the organization "Bugles Across America" and volunteers, roughly a hundred times a year, to play at military funerals.
"I don't play perfect every time - I really try to," he says, "but I'm there representing all of us and it comes from the heart."
Not a day goes by that Marquardt does not play Taps. When he travels, his horn goes with him.
Many days he'll stop at one cemetery to play on his way to a funeral at another.
And every day as the sun sets over his Lake Minnetonka home, Marquardt walks to the railing of his third floor deck, points his horn toward the lake and plays Taps.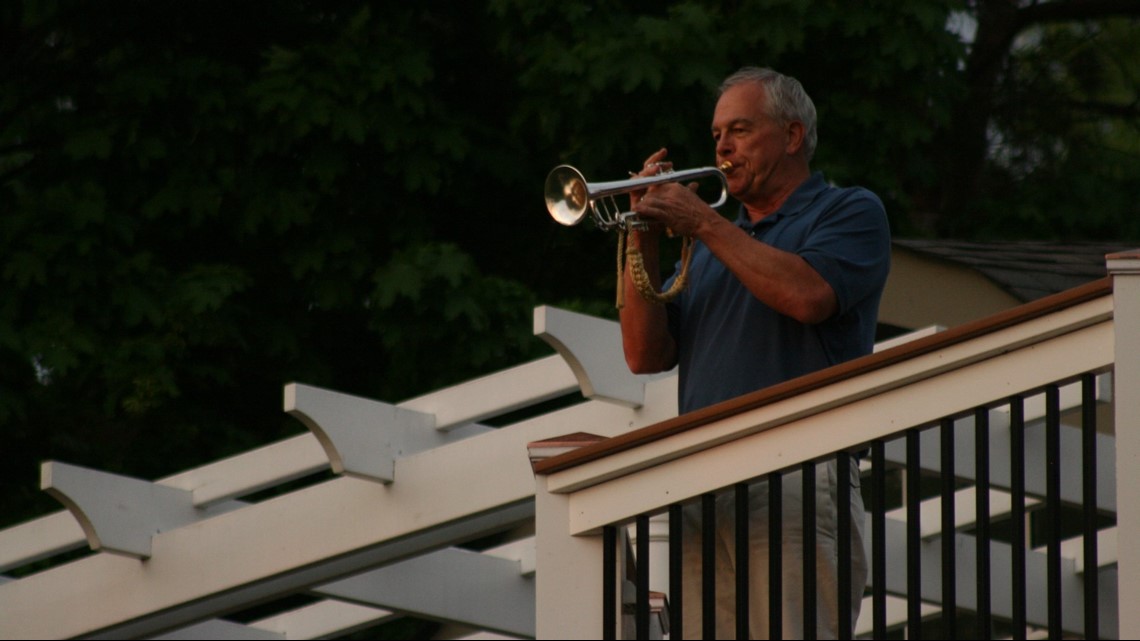 His neighbors no longer close their windows at the sound of Marquardt playing, but open them just to hear him. They stop what they're doing, stand at attention, and listen.
On some nights, from two doors down, Alan Greene emerges on his deck too, playing on his flute the echo to Marquardt's Taps.
"It's a last call, it's daily rest," says Marquardt. "It's a prayer, to me."
4-F, Gary Marquardt was spared the sacrifices of his friends. So for now, and as for as long as he is able, he'll be playing for 4-Them.
Note: For more information on how to donate or volunteer with Bugles Across America, click here.
PHOTOS: Land of 10,000 Stories: Taps