MINNEAPOLIS -- The University of Minnesota helped prevent what could have been a costly mistake for a major auction house.
Last month, Christie's auction house announced they had discovered a rare copy of a 510-year-old map dubbed "America's birth certificate." Christie's planned to auction it off on Dec. 13 for up to $1.2 million. But the artifact got pulled from the auction after experts questioned its authenticity.
The globe gores map by German cartographer Martin Waldseemüller is considered to be the first known map to use the name "America."
"This particular map is a woodblock print. It was printed in 1507 at a little town in eastern France," said Marguerite Ragnow, curator at the James Ford Bell Library at the University of Minnesota. "This is a globe gores map so it's designed to be cut out along these and then wrapped around a globe."
According to Ragnow, it's believed that 1,000 of them were originally produced. But only four (maybe 3) are known to survive. One of those belongs to the James Ford Bell Library.
"No one has ever questioned the authenticity of our map because it's been documented so far back. Certainly far enough back that we know it's not a photo reproduction," Ragnow said.
So it was no surprise when Christie's used the U's print to check a copy they had acquired in 2005.
"I mean they matched perfectly in every important aspect. The paper was the same, all of the details that one checks for these things were perfect, and that was clearly not the case with this new one," Ragnow said.
After Christie's announced it had discovered what it believed to be a fifth original, experts started questioning the authenticity of the artifact.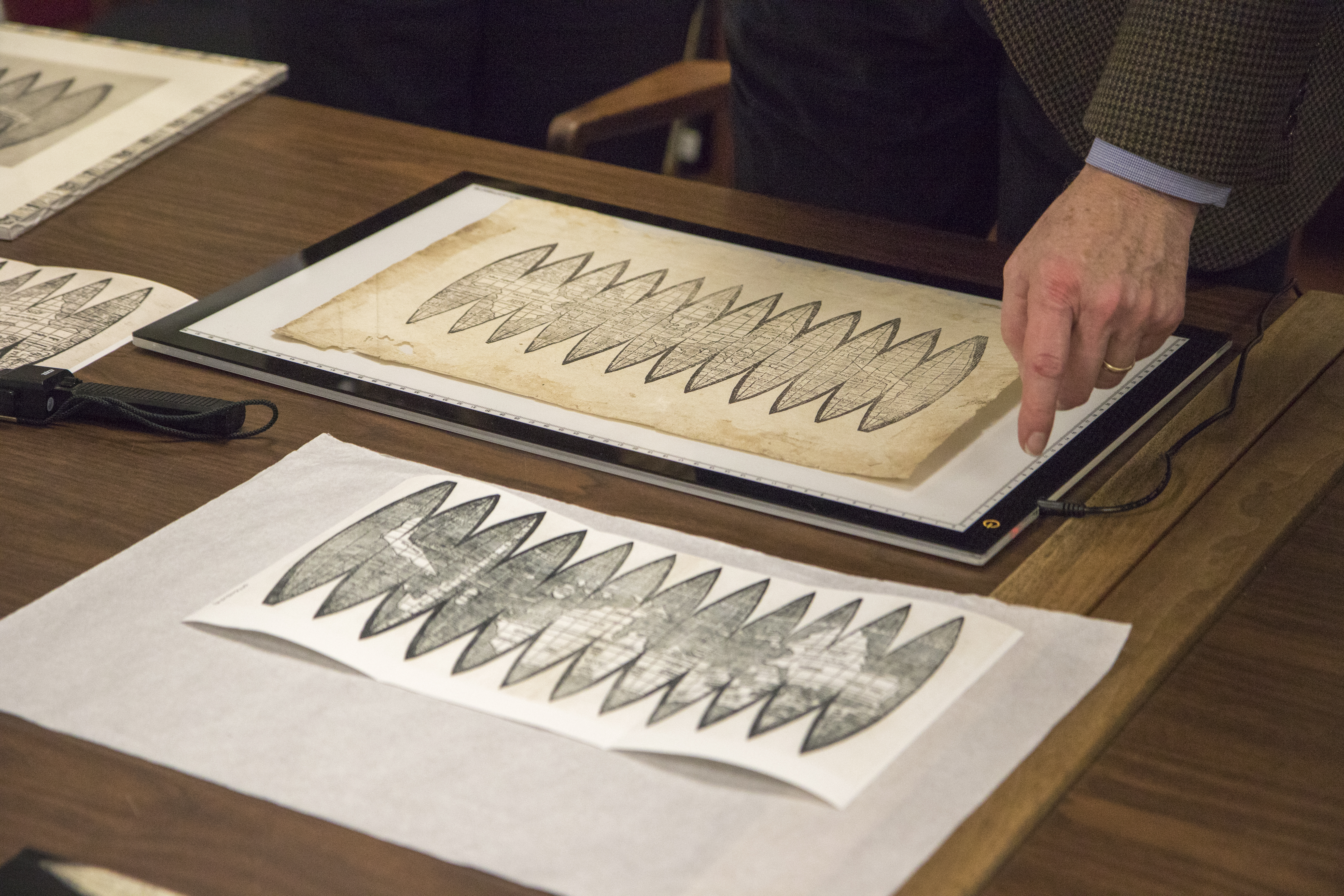 Last week, those experts and a Christie's specialist traveled to Minnesota to compare it to the one housed at the James Ford Bell Library.
"Everyone is pretty sure that the paper is either 16th or 17th century. So the paper is just a different quality of paper. It's a different type of paper. That doesn't mean forgery. That just means another printing," Ragnow said.
A major clue that something was off involved a white line in Christie's map. It matched a spot in the library's authentic print where extra paper had been added to repair a tear.
"The paper repair goes into the actual printed part and it's quite obvious once you know what you're looking for. The Christie's version had the part that went into the woodblock but the paper didn't have a mark there so that was a clear sign that there was a problem," Ragnow explained.
According to Ragnow, experts believe it's a photomechanical reproduction.
But Ragnow is hesitant to call it fraudulent, saying, "There are lots of reasons why somebody would make a copy and forgery to me says 'fraudulent' as opposed to it's a non-authentic copy."
During this process, experts also discovered that a copy at the Bavarian State Library in Germany may not be authentic, as well. Ragnow said that copy matches closely with the 2017 Christie's one.