MINNEAPOLIS — For many, including myself, a food allergy affects plans anytime you step outside the safety of your own kitchen. Searching menus online, planning to order "just a salad," or even bringing your own food to the family cookout: It's a struggle.
Gluten is a very common allergen, and is found in products containing wheat, barley and rye. That includes breads, cereals, and many, many everyday foods. Dairy can be milk, butter, ice cream... the tasty list goes on. People with food allergies can experience them differently, with reactions ranging from an upset stomach to a severe headache.
Fortunately, there are so many vendors with allergy-friendly foods. Most of the items I sampled are gluten free, because that's my life, but there are also many dairy-free alternatives I found wandering the grounds. In terms of peanut allergies or other life-threatening concerns, the overwhelming consensus I heard when speaking to vendors was "Eat at your own risk." Even if the food does not contain nuts or other allergens, it could still be in the presence of those foods.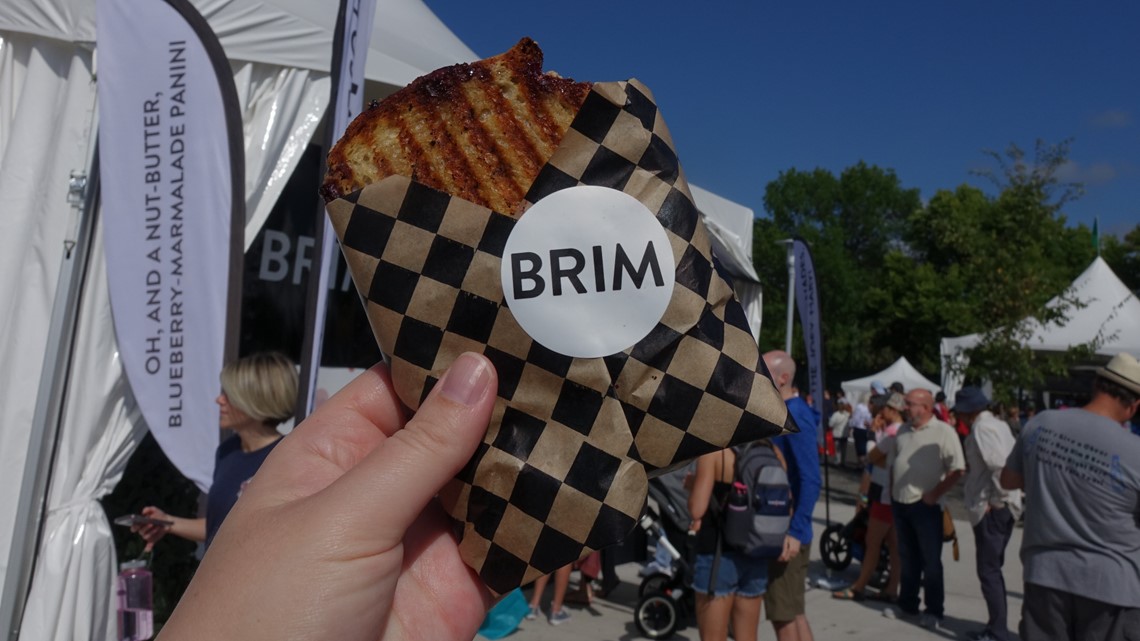 The main offering from this stand is a Grilled Sota Sandwich. It's cinnamon nut butter, and Minnesota blueberry marmalade served warm on Irish soda bread. Crisp and a little melty and perfectly gluten and dairy free. Everything the stand offers, including coffee and juices, is gluten free and dyed with plant-based dyes.
The owner said their mission at the fair is to continue the mission of their Minneapolis restaurant - good food that feels good. Even three years ago, they said, gluten-free food did not taste good. But based on the line for sandwiches, I think people are starting to notice how delicious allergen-friendly food can be.
It's also worth noting the abundance of seating options, since their booth is close to the Launch Pad. It's a bit of a walk to the far north corner, and being able to easily find a place to sit for a minute was great.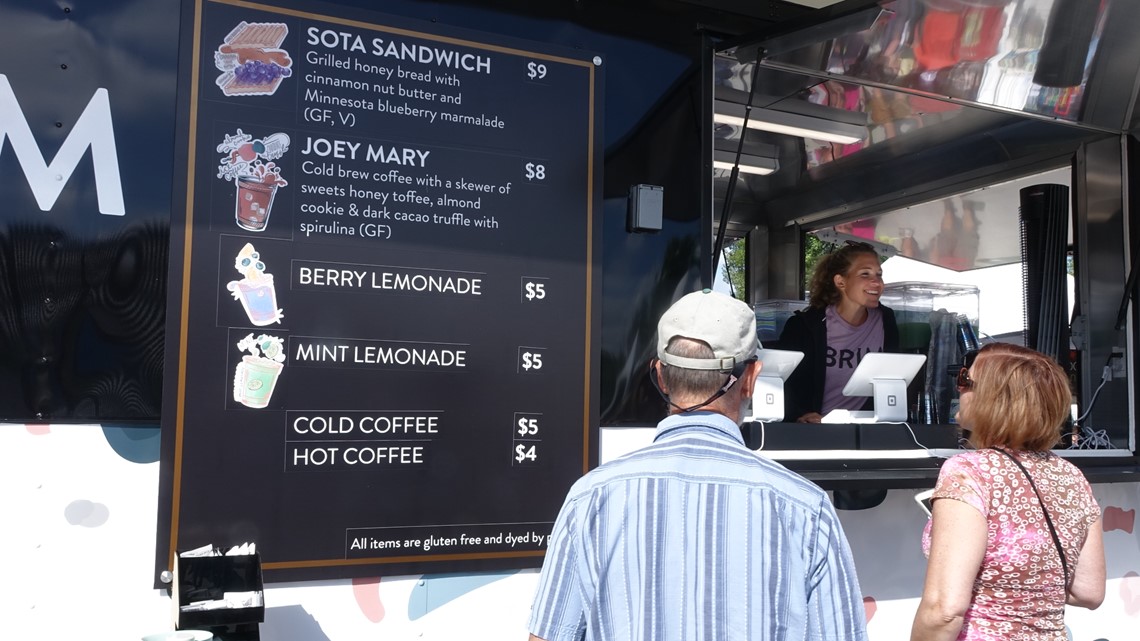 Second stop: The Ballpark Cafe
I think most adults would agree: walking around the fair can be thirsty work. And it was a great relief to see The Ballpark Cafe offering such a wide variety of ciders, a great gluten and dairy free beverage.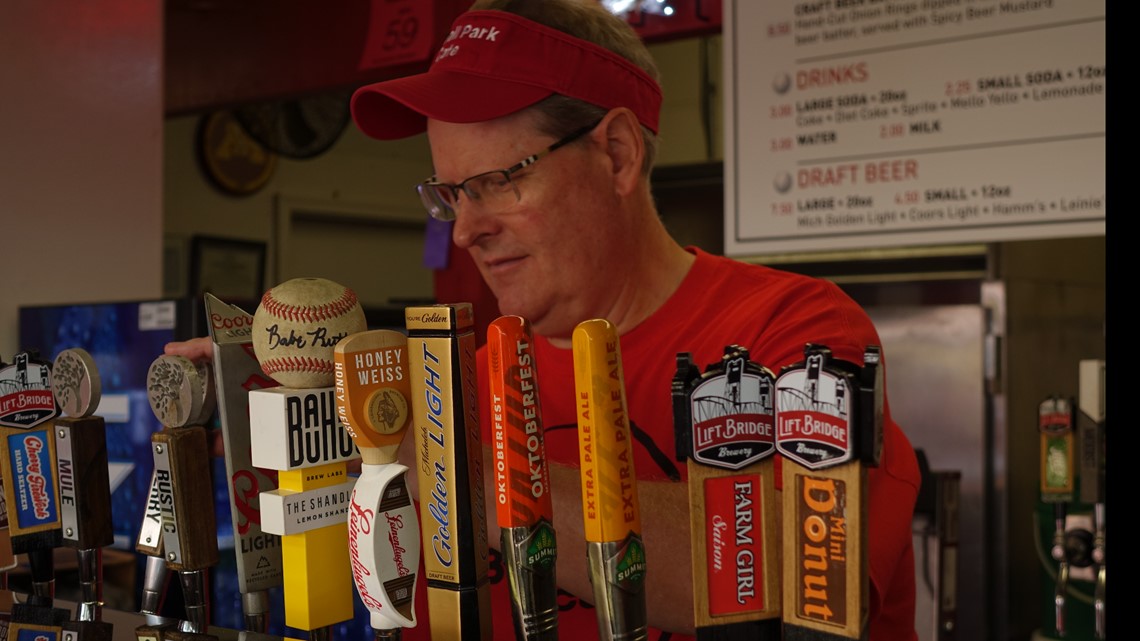 I tried a glass of the Cherry Rhubarb Hard Cider. First off, it was fantastic to find a glass of cider that tasted like something other than apples. Not to disparage apples in any way, but when you're seeking a great GF beverage, it is almost always a big glass of apple drink. This pull, though, nothing like your average cider.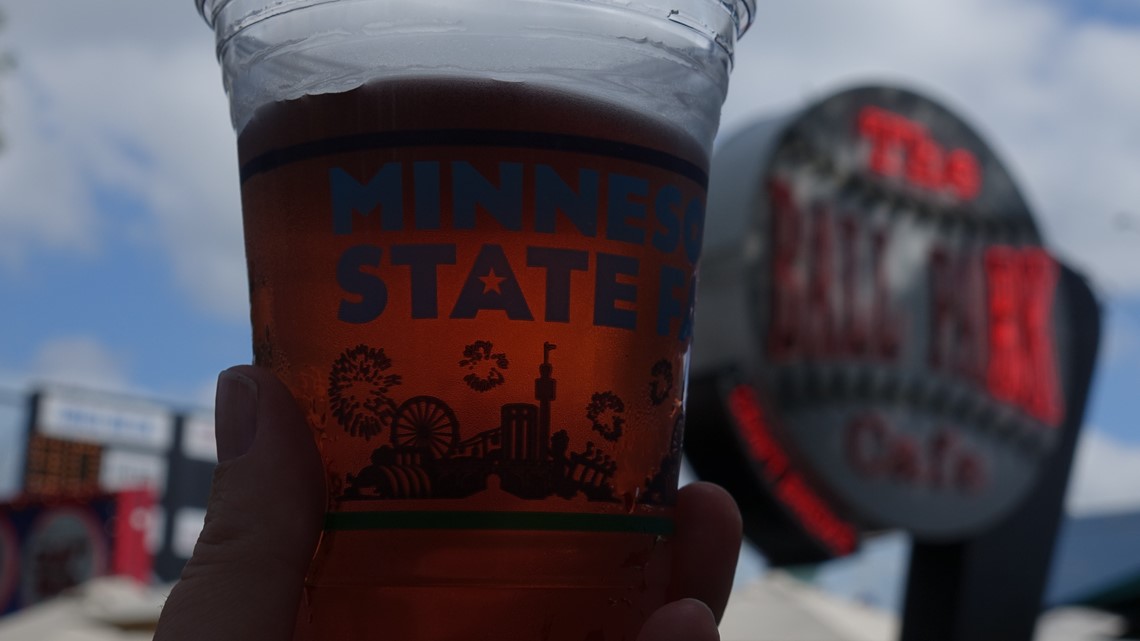 Third stop: Cinnie Smiths
Speaking of getting tired and needing a pick-me-up... coffee time. Coffee in and of itself contains neither gluten nor dairy, but both can easily find their way in. I ended up at an unexpected spot for my coffee, Cinnie Smiths.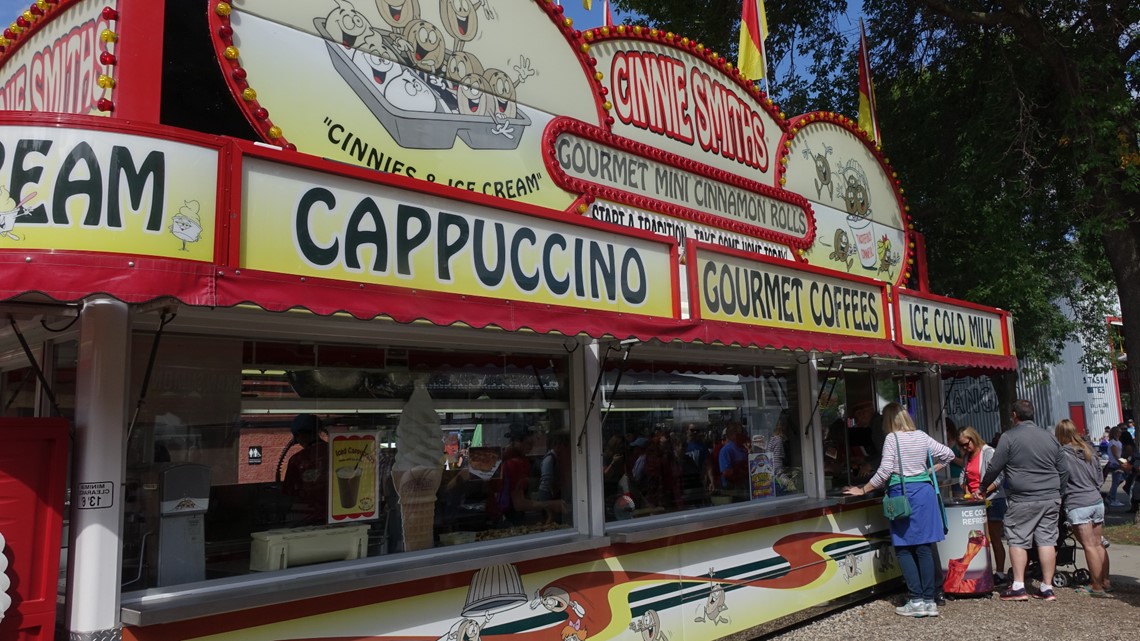 Better known for cinnamon rolls and other gluten-filled foods, they also offer a delicious iced cappuccino. It's a blend of coffee and ice cream, for those times when you're tired, but also need a milkshake. The employees assured me that the drinks don't come into contact with the foods, so the chances of cross-contamination were minimal. So sorry non-dairy folks, this was delicious and worth a stop.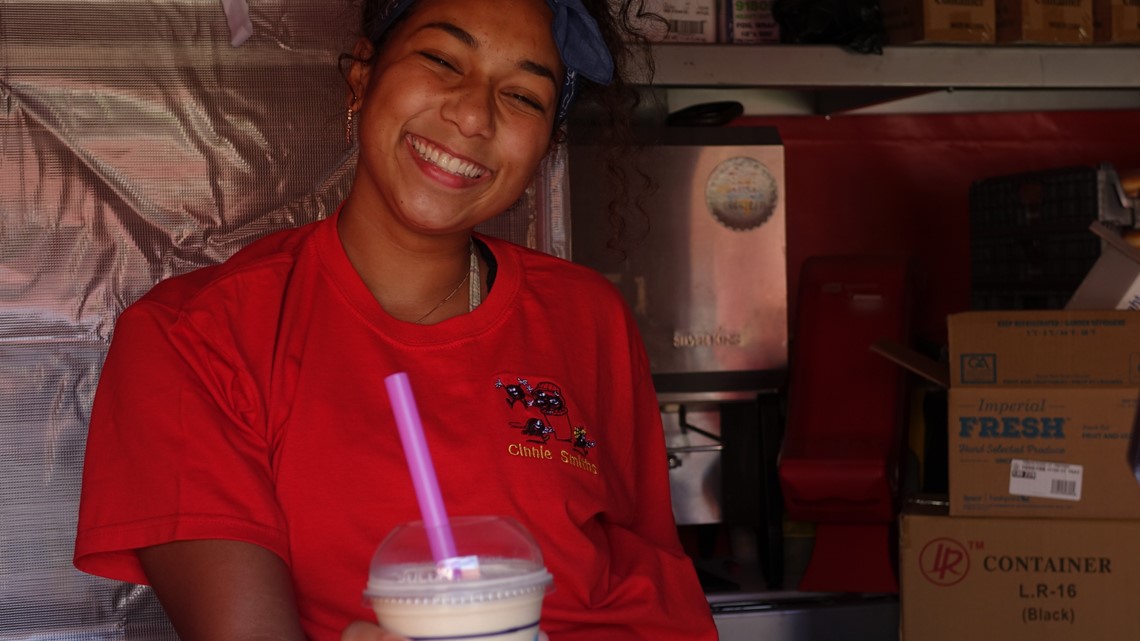 Fourth stop: Sonny's Fair Food
After all the sugar, I needed to stop for some "real food." In the Food Building, I found Sonny's Fair Food and the beer-battered brat on a stick. This definitely checks most of the state fair boxes - meat, battered, and on a stick. Perfect.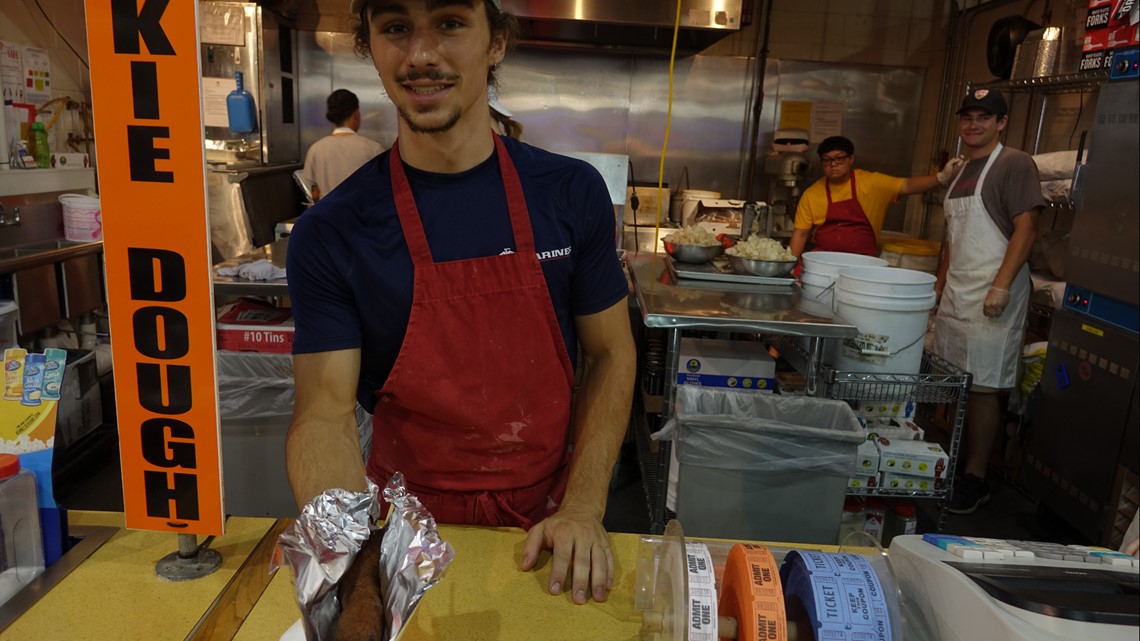 Employees told me that the owner had stumbled upon the gluten free batter several years ago. He liked the texture and the flavor. They said that at first the owner had hesitated to advertise the "gluten free" batter, afraid that people would assume that meant a poor flavor or a weird texture. But responses have been good, and they've seen more people appreciate having another food option.
I can confirm that the brat was amazing with a good snap, and the breading was a little sweet and not too doughy. I didn't think it needed sauce or any dressings. Because of other foods produced at the stand, it might be a little risky for those who avoid dairy, but personally I would take the chance.
After all the heavy (but yummy) foods I was eating, I thought it would be time to take a break for something fresh. Fruits and veggies are always gluten and dairy free, and an excellent healthy choice. I was lucky enough to grab a First Kiss apple from the students at the U of M. These apples were developed by students, and are bred to ripen earlier than most other apples. They have a great red color, and the sweetness of a Honeycrisp.
The stand also offers apple cider, applesauce, and frozen cider pops. The cider pops in particular were flying out of the stand.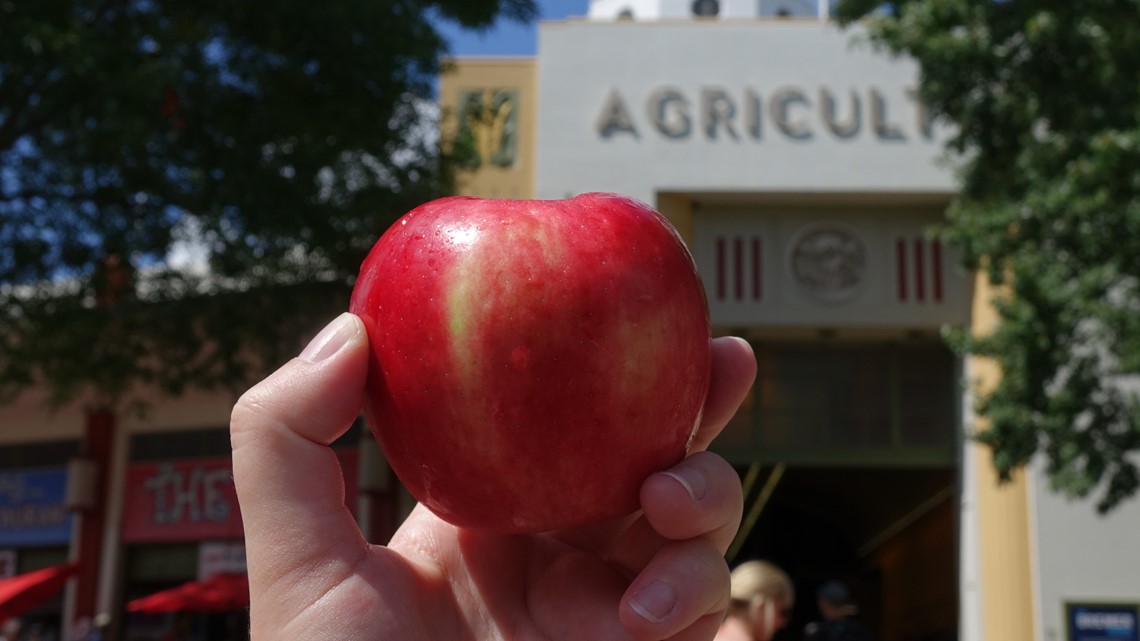 Final stop: Thelma's Handmade Ice Cream Sandwiches
Thelma's isn't new to ice cream sandwiches, but they have a new offering this year - Gluten Free Snickerdoodle Ice Cream Sandwiches.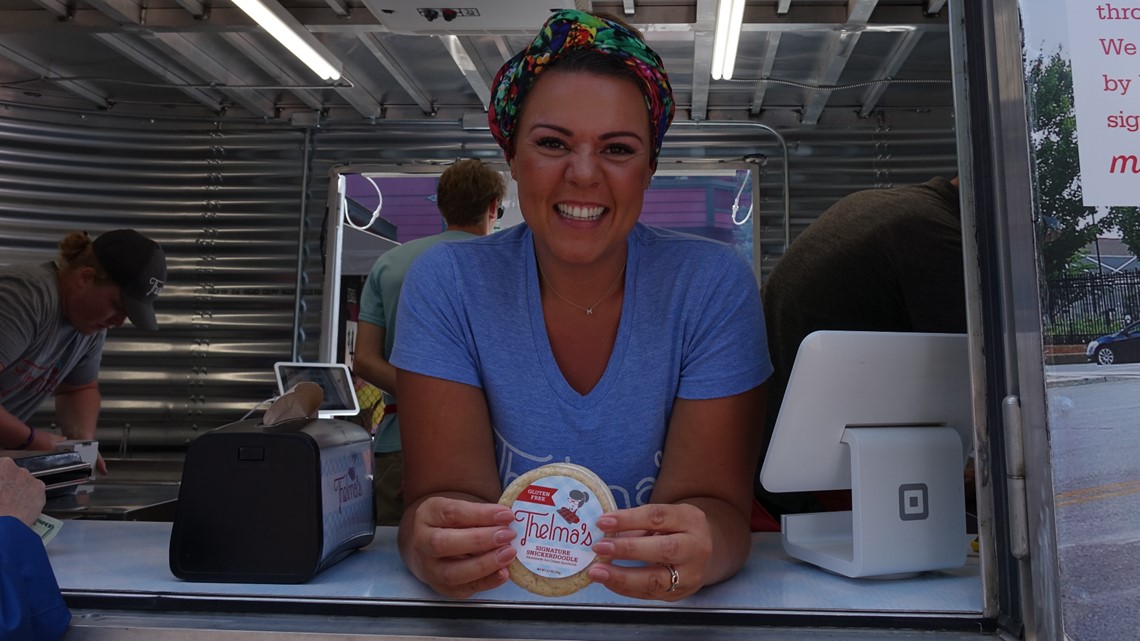 The owner told me about their cookie recipe, based on her grandma's cookie recipe. Clearly grandma was a sharp lady, these cookies are GREAT.
Thelma's has been asked over the last three years or so for a gluten free offering, and they've had to weigh if people were asking because they needed a GF alternative, or if they were asking because of a gluten free preference. This year they decided the need was there, and so the gluten free snickerdoodle was created.
Unfortunately, they don't yet offer a dairy-free offering.
Overall, I didn't find any shortage of things to eat and drink at the Minnesota State Fair. With a bit of planning and an ounce of caution, it isn't too difficult to eat to your gluten or dairy free heart's content.