SHAKOPEE, Minn. — It only took a minute — well, 1 minute, 11 seconds — for some to see Two Phil's was special.
The 2-year-old Kentucky colt stepped on the track at Canterbury Park last September for the Shakopee Juvenile and blew away the rest of the field in impressive fashion.
"The day he won, he won by almost 10 lengths and he looked incredible doing it," said horse racing analyst Kevin Gorg. "It was a good field. It was a stakes race and he did it with absolute ease. I remember going to the winner's circle — I had a chance to pet him and watch them get their picture taken and interview the jockey — and as he left the track, I turned to (Canterbury Park media relations manager) Jeff Maday and I said, 'That is a really special horse.'"
This weekend, the rest of the world will get a chance to see just how special Two Phil's is. Now three years old, Two Phil's will be among the 20-horse field in Saturday's Kentucky Derby at Churchill Downs.
It's the second straight year there will be a Minnesota connection in "the most exciting two minutes in sports" after two local horses ran in the Kentucky Derby last year, including one of the betting favorites leading up to the race — Zandon. Zandon's bid for the first leg of the Triple Crown came up short, finishing third, but it stirred up plenty of buzz around Minnesota.
"I think the difference this year with (Two Phil's) is that the horse actually ran at our race track last year," said Gorg. "It's one thing to have owners from Minnesota, and that's really cool, but we very rarely — and I've worked at Canterbury for 23 years — we very rarely see a horse that ran at Canterbury as a 2-year-old qualify for the Derby as a 3-year-old."
Two Phil's will be ridden by jockey Jareth Loveberry, who has even more of a history orbiting the track at Canterbury Park. Loveberry made his Canterbury debut in 2017 where it took him just two days before getting his picture taken in the winner's circle.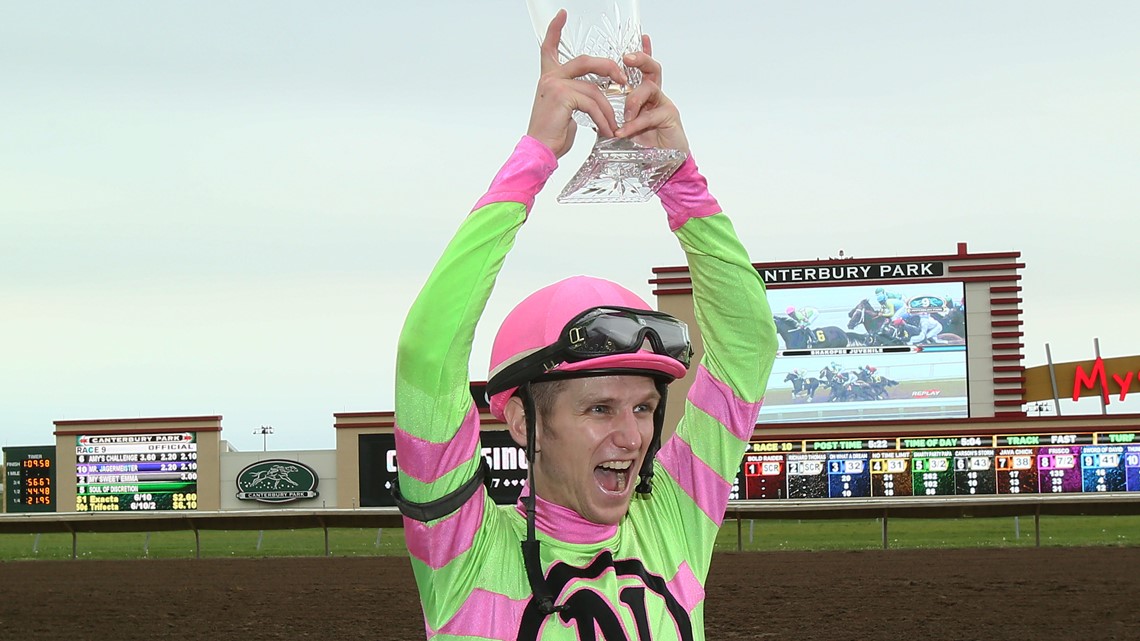 Loveberry won 77 times in 2017 on his way to being the track's leading rider. He went on to race two more seasons at Canterbury and was on Two Phil's back for last year's ride in the Shakopee Juvenile.
This will be Loveberry's first time racing in the Kentucky Derby, but Gorg said Two Phil's speed figures match up with the best horses on the field, so their finish will likely be determined by how well Loveberry can navigate the traffic.
"It's the only race in America we run with more than 14 horses... my take on this race is that you can run this race 10 times this weekend, and get seven or eight different results," Gorg said. "... I think (Loveberry) is going to be holding all the cards as to whether this horse has the chance to win or not. If he can keep that horse out of trouble, he's gotta be inside saving ground. I think the pace will be honest enough and I think this horse will come with a run.
"The only thing that it'll come down to is can Jareth Loveberry, who for the first time in his life is going to be on the stage in front of 150,000 fans, if he can keep it together and just let the horse do the work, this horse could absolutely win."
Two Phil's will be in the No. 3 post for the race, which Gorg says can be difficult because of how crowded the field is.
"He won't have a chance to go outside and go around horses, he's going to have to sit inside and he's going to have to wait for something to open up," Gorg said. "Sometimes it does and sometimes it doesn't when you get 20 horses, so there'll need to be some racing luck there, but what an opportunity for this kid."
The Kentucky Derby will air Saturday on KARE 11 with coverage beginning at 11 a.m. Coverage will also be available to stream live on NBCSports.com, the NBC Sports app and Peacock.
Canterbury Park will be hosting its annual Minnesota's Biggest Kentucky Derby Party Saturday starting at noon. The track will be open at 8 a.m. for gamblers looking to bet on any of the races happening at Churchill Downs. Canterbury Park's live racing kicks off May 27 and will run through Sept. 16.
For more information on Canterbury's live racing schedule, click here.
WATCH MORE ON KARE 11+
Download the free KARE 11+ app for Roku, Fire TV, Apple TV and other smart TV platforms to watch more from KARE 11 anytime! The KARE 11+ app includes live streams of all of KARE 11's newscasts. You'll also find on-demand replays of newscasts; the latest from KARE 11 Investigates, Breaking the News and the Land of 10,000 Stories; exclusive programs like Verify and HeartThreads; and Minnesota sports talk from our partners at Locked On Minnesota.