DASSEL, Minn. — Highway 12 will never be mistaken for the yellow brick road.
But in Dassel, Minnesota, both roads intersect.
"This one, right here," Tom Nelson says as he walks toward a small, flat, grave marker at the Dassel Community Cemetery.
As the cemetery's caretaker, Tom is used to being queried by visitors about the stone's location.
"Basically, they just say, 'I'm looking for the Munchkin's grave, do you know where it is?'"
Like the stone, the woman buried beneath it has been overlooked for decades.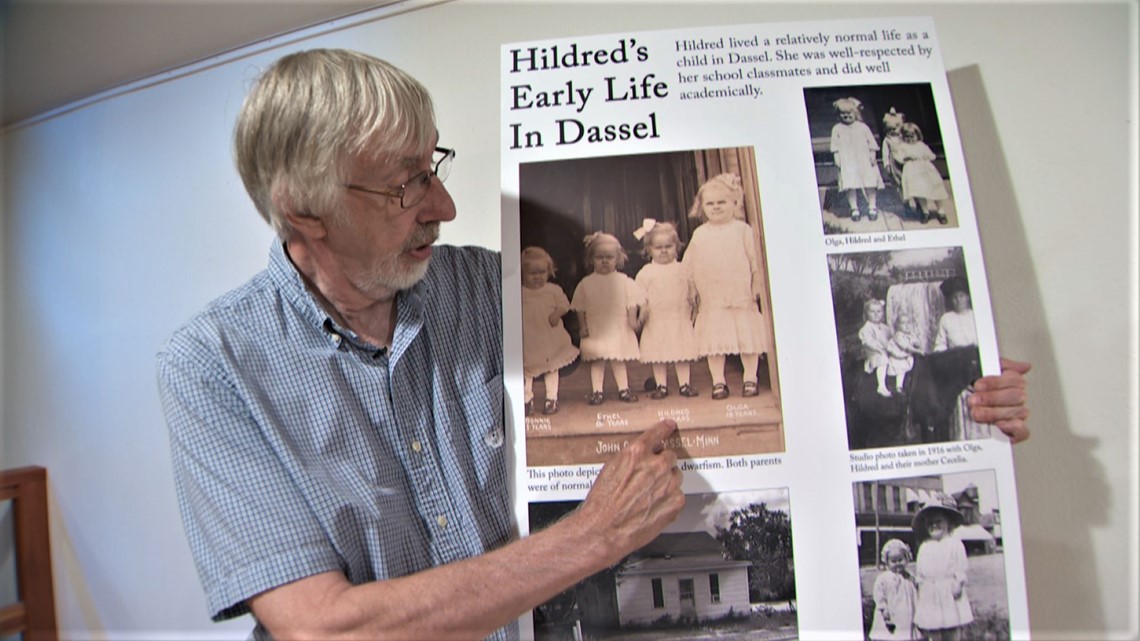 Even in Dassel, few people could tell you Hildred Olson was part of Hollywood history.
Hildred was a Munchkin in the iconic 1939 film, "The Wizard of Oz."
Three blocks from the cemetery, at the Dassel History Center, Bill Ward is an exception. He's studied every frame of the Munchkinland scene from "The Wizard of Oz."
"Right there," Bill points, as Hildred, 36 inches tall and dressed in costume, emerges with more than 120 other little people cast as Munchkins.
Bill, a history center volunteer who stumbled on Hildred's story by accident, has spent the past two years exploring every detail of her 52 years.
On Saturday, Bill's work culminated with the opening of an exhibit at the Dassel History Center's Museum.
Among the dozens of photos on display is one of the Dassel High School class of 1931, with Hildred front and center – half the height of many of her classmates.
"She's a true Dasselite," Bill says.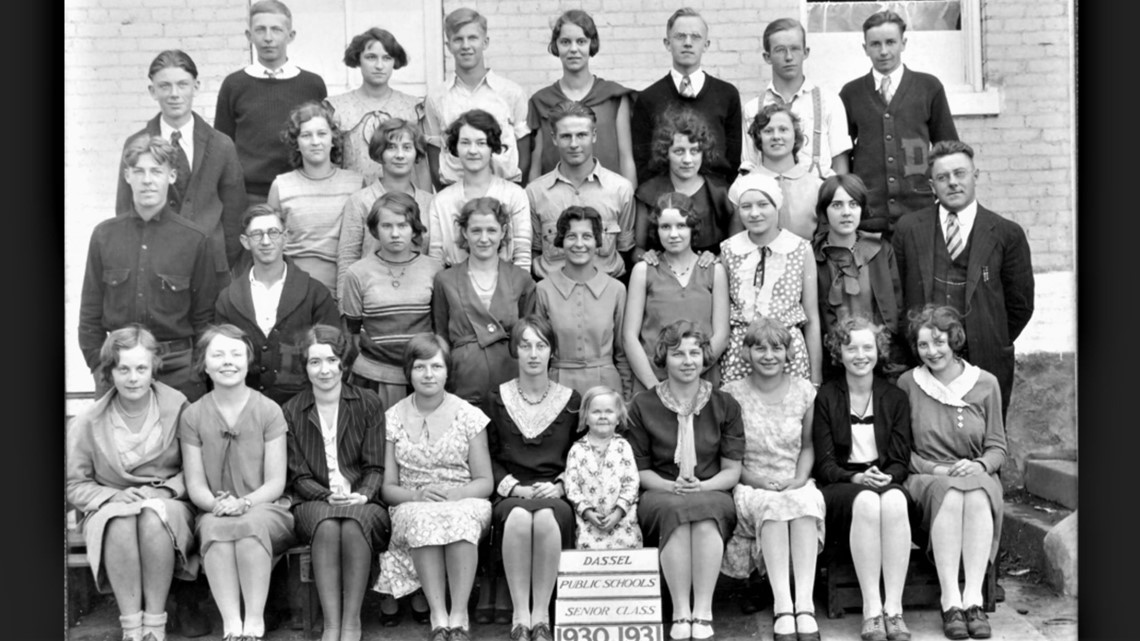 Hildred was the second oldest of four girls in her family born with the genetic condition known as dwarfism.
After high school, Hildred performed vaudeville with a company of little people.
But Hildred's biggest break came when she was recruited in 1938 to play a Munchkin in the Metro-Goldwyn-Mayer production of "The Wizard of Oz."
Hildred had no speaking part, but it's not difficult to spot her in the film.
"Thirty-six inches made her the smallest Munchkin on the stage," Bill says.
A local seamstress recreated Hildred's red felt costume for the exhibit.
"She probably is the most viewed Dassel resident that has, or will ever, live," museum director Carolyn Holje says.
But Hildred didn't live long enough to know the extent of it. She died before "The Wizard of Oz" gained iconic status during annual CBS television re-broadcasts.
Mary Couser, Hildred's grandniece, was 15 years old when Hildred died in 1958 at the age of 52.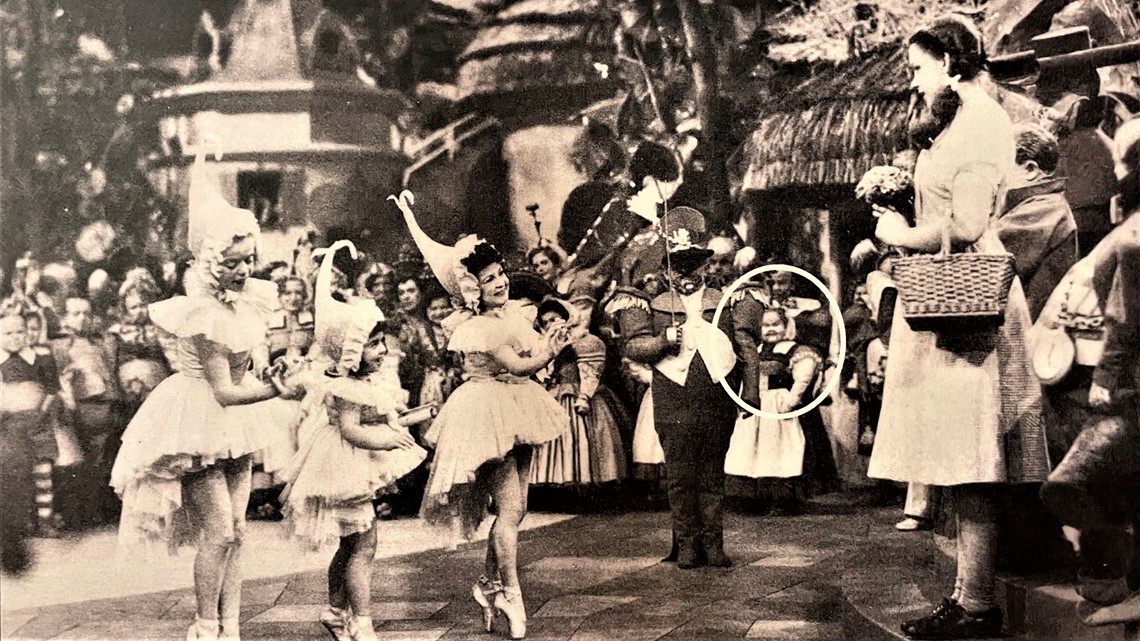 Mary remembers Hildred sharing stories about her Hollywood accommodations and the friendship she struck up with another Minnesota-born actress, Judy Garland, who played Dorothy.
"If she was living today," Mary says about her great-aunt, "she would be utterly amazed at how many years that movie has been played and people have watched it."
In 2007, the Munchkins got their own star on the Hollywood Walk of Fame.
"Hildred missed it all," Bill says.
Hildred's obituary in the Dassel paper failed to even mention the movie.
But it was that meager cemetery stone, half covered by grass, that Bill decided to address.
"We knew right away we need to do better," he says.
Last month, Julia Gustafson of Two Rivers Monuments began etching on black granite an image of Hildred in her costume placed at the start of a spiraling yellow brick road.
Julie is the perfect wizard of granite for the job.
"I bet I've seen it 150 times," she says of the movie. "It's childhood memories; it's all that attachment to it."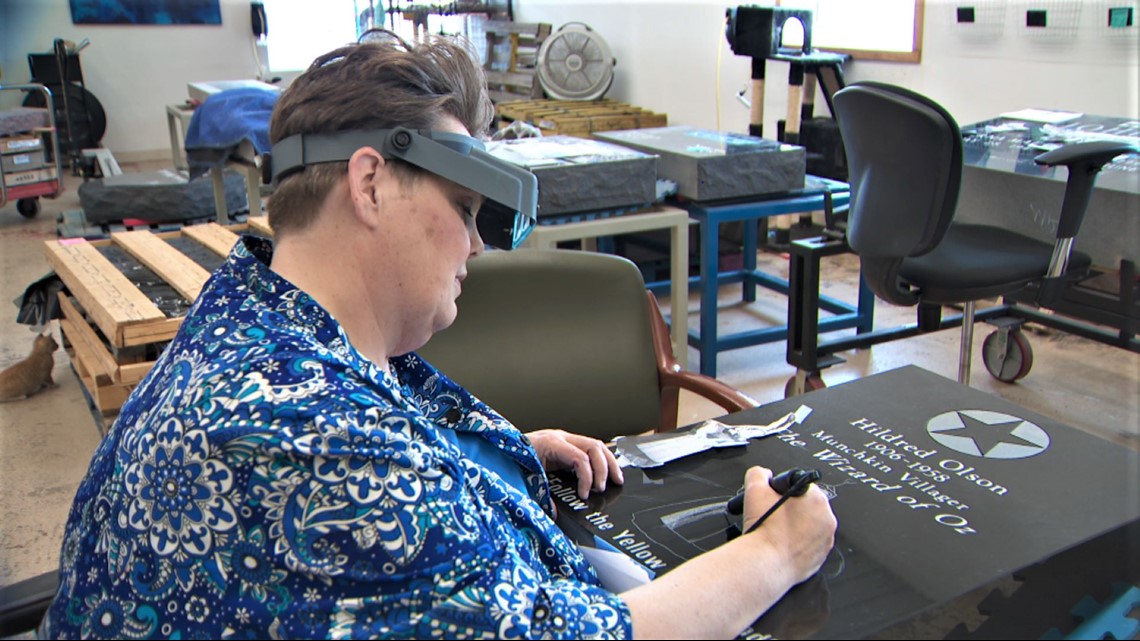 A week before the opening of Hildred's exhibit, a truck from the Darwin Monument Company carries Hildred's new stone to her gravesite.
"From 1958, overdue," Bill says as he watches a hydraulic boom lift the stone and its base off the truck.
In place, the monument stands exactly 36 inches tall, the same height as Hildred.
"I think she'd say that's pretty cool," Bill says.
Tom, the cemetery caretaker, looks on with interest and a sense of satisfaction.
"Now they'll find her," he says.
Hildred Olson may have been largely forgotten, but there's no place like home to finally get it right.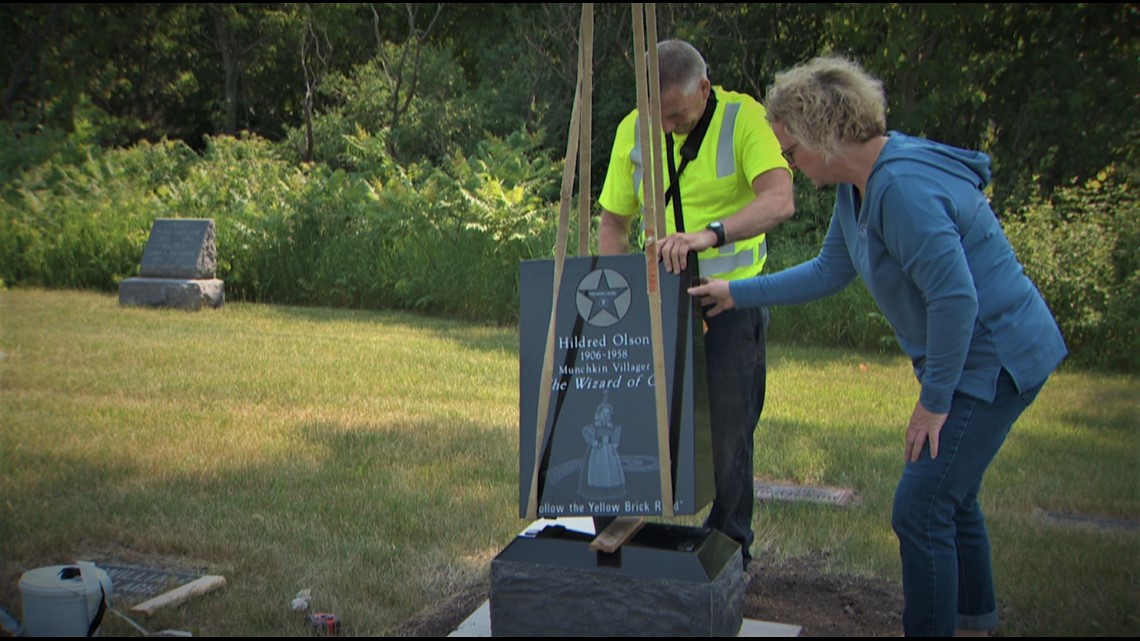 Boyd Huppert is always looking for great stories to share in the Land of 10,000 Stories! Send us your suggestions by filling out this form.