HAYWARD, Wis — It's a challenge for any skier to finish the American Birkebeiner, North America's largest cross-country ski race.
But two Minnesota skiers just upped the ante.
On Saturday, Chris Parr and Joe Dubay skied the entire 55-kilometer race on a single pair of skis.
"We did it!" the friends proclaimed in unison after crossing the finish line in downtown Hayward — with a respectable time of just over four-and-half hours.
Chris and Joe first started talking about tandem cross-country skiing in jest.
"Skiers kind of joke about it," Joe said. "Yeah, it would be funny to put two people on skis."
As an experiment, the friends bought the longest pair of skis they could find and had them mounted with two sets of bindings.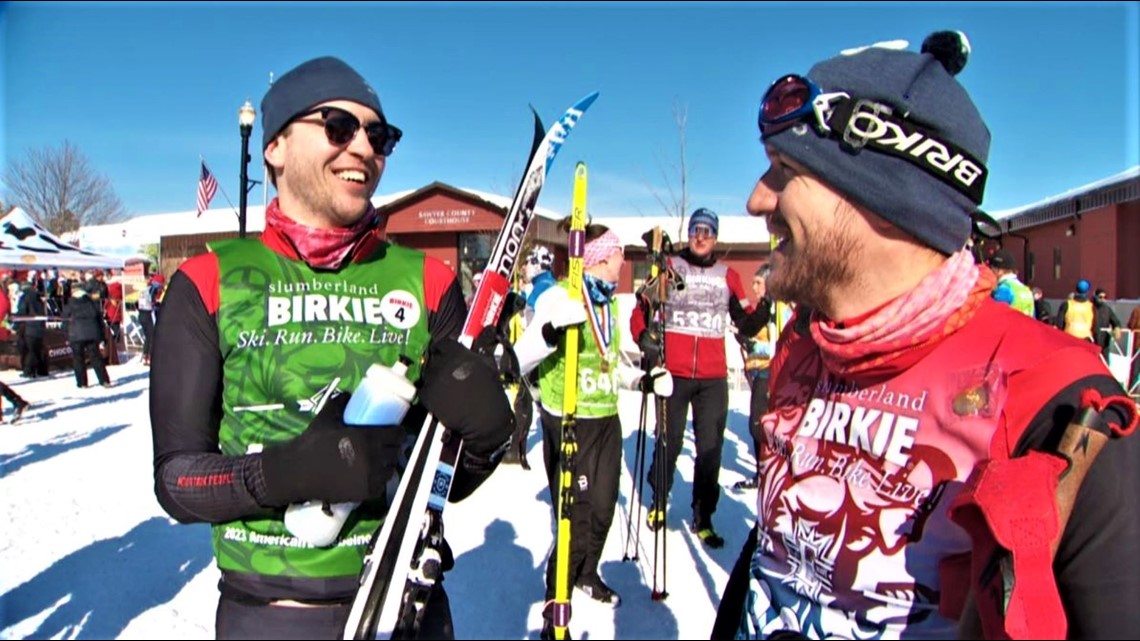 "I think the hardest part is the constant communication," Joe said. "If I forget to tell him what we're doing, we crash – and we've done that."
In November, the friends started practicing around the Twin Cities, drawing the immediate interest of other skiers.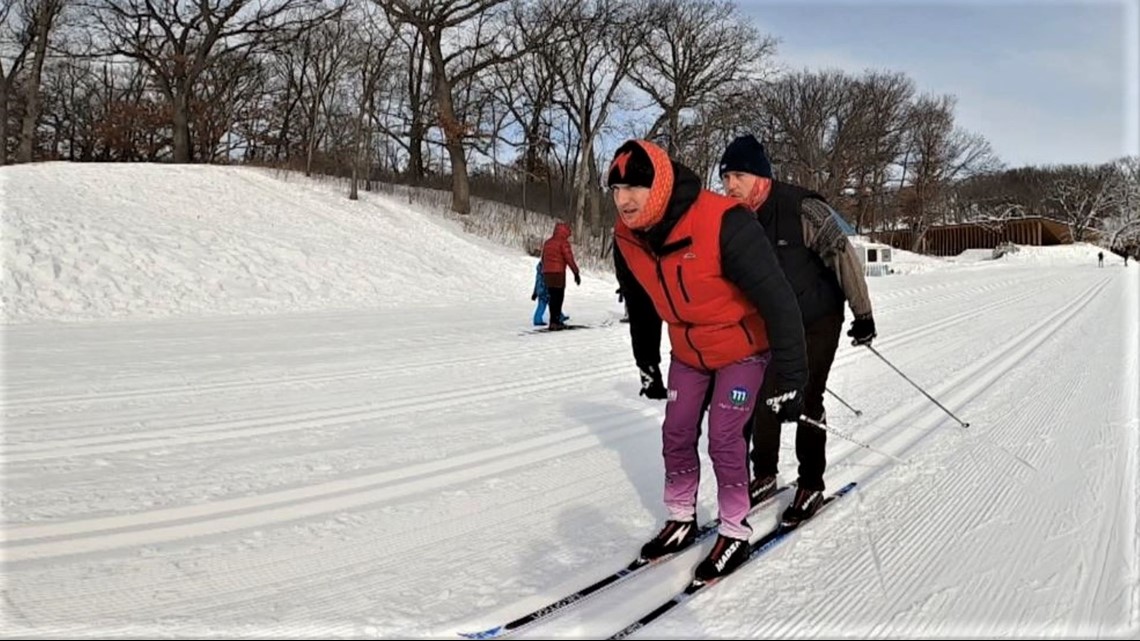 "People are curious," Joe said.
People are curious about how they do it, but the better story is why.
"My first college class, I met Joe," Chris said.
Chris met Joe freshman year at St. Scholastica in Duluth but was already well acquainted with his name.

"Everybody knew who Joe Dubay was," Chris said.
As a high school sophomore, Joe won the state Nordic skiing championship.
As a junior, he did it again.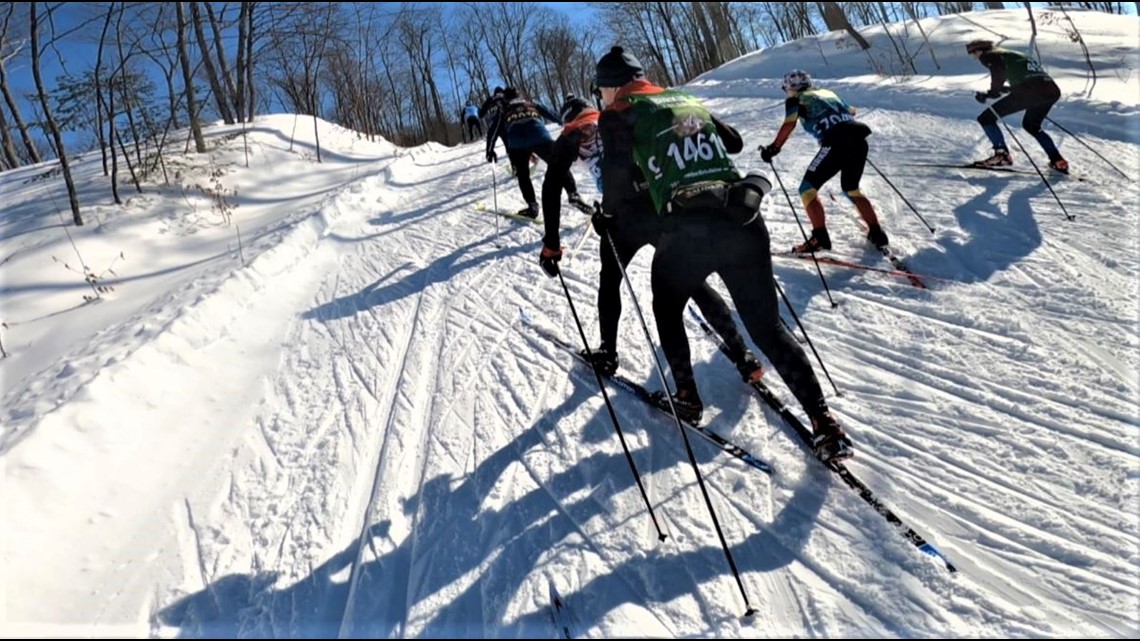 As a high school senior, Joe studied abroad and became the junior national champion of Finland.
Then, weeks later, a broken ankle sent the Nordic skier downhill.
"Got prescribed medication, at the time it was Oxycontin," Joe said. "The switch kind of flipped pretty quick to needing pain medication to get through the day."
Joe went from being a hero in headlines to a young man in trouble.
"I started skiing less; performance and skiing continued to just drop off," Joe said. "Had a lot of difficulties just being able to take care of daily responsibilities — spent probably close to two years in active addiction."
Joe sought help at Hazelden-Betty Ford.
Then, fresh out of rehab, Joe arrived at St. Scholastica where he joined the Nordic ski team with his new friend Chris.
"I'll never forget you showing up at practice the first day, so incredibly out of shape," Chris said to his friend. "Like, worst on the team by far."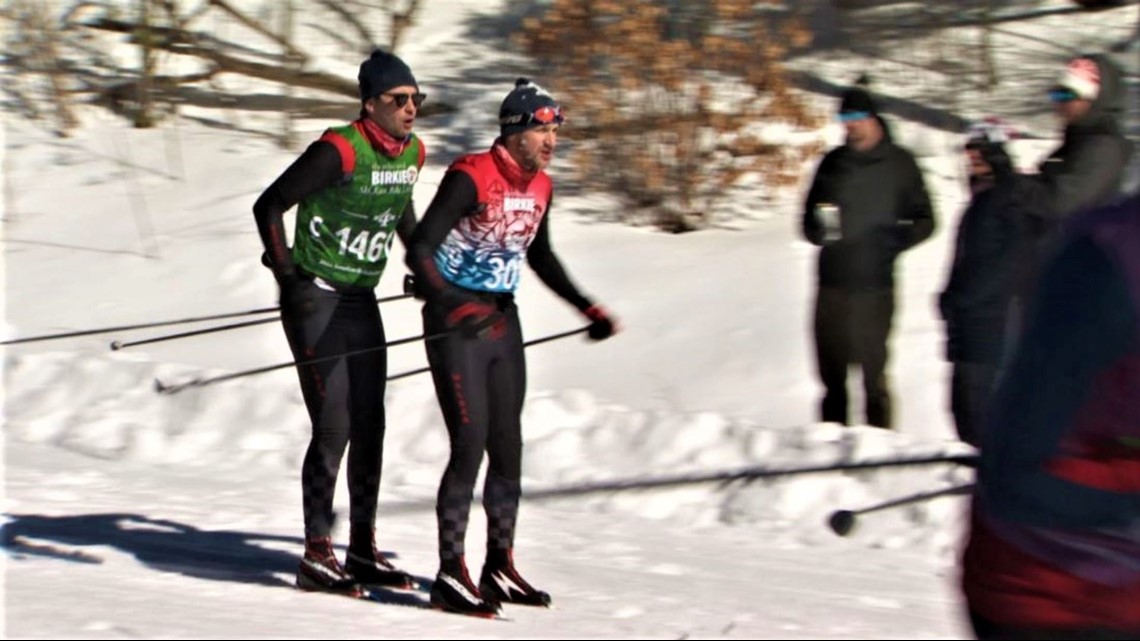 Seemingly in no shape to compete in the Birkie, Joe didn't even bother registering.
"I wasn't skiing well," Joe admitted.
To which Chris added, "You hadn't skied well in three years."
Chris, however, wanted in. He registered months before the race, only to have his coach scratch his race plans due to a Junior National race the following weekend.
So, with his Birkie race bib in hand, Chris turned to his friend Joe.
"Take mine," Chris told him.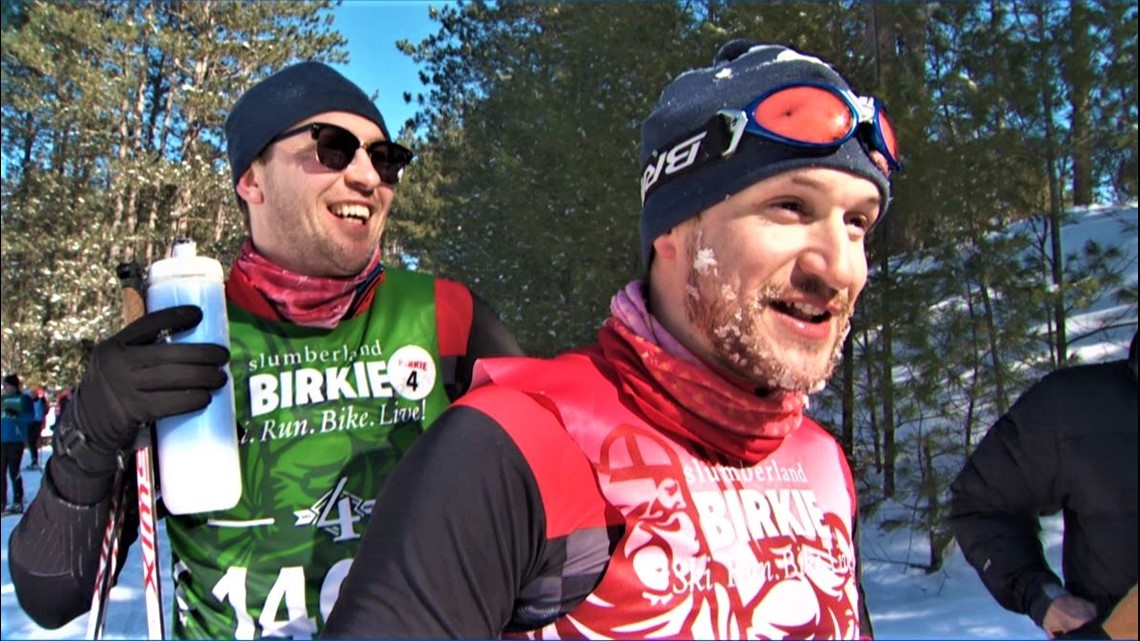 "When I handed Joe my bib, I said jokingly, 'Just don't win it,'" Chris said before both friends busted out in a laugh.
Some things in life are difficult to explain.
The 2012 classic Berkie race is one of them.
Midway through the race, Joe was somehow keeping up with the leaders. It was as if he'd rediscovered something inside he'd lost.

Chris was waiting at the finish line in downtown Hayward when his friend emerged among a small group of frontrunners.
"I couldn't believe it," he said.
"Long story short," Joe said, "it came down to a sprint."
Then, Joe crossed the finish line in first place.
"The thought of the bib didn't cross my mind," he said.
"I forgot about the bib, too," Chris added. "I was, like, so excited and so happy. Yeah, Joe won the Birkie!"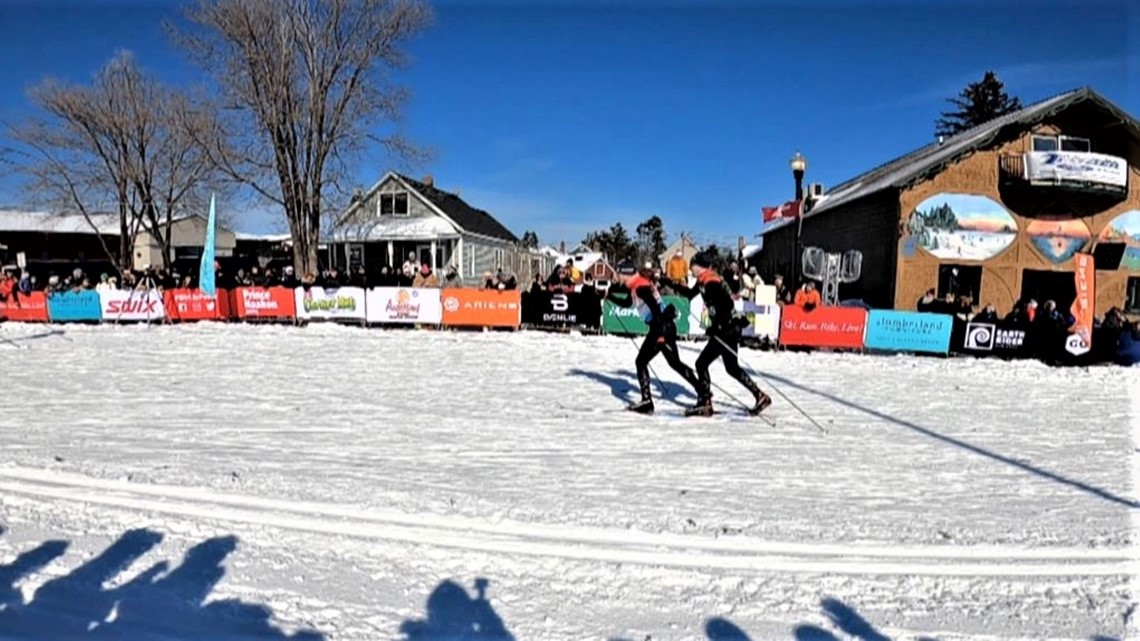 The excitement didn't last long. When Joe crossed the finish line, Chris' name - not Joe's - was displayed on the digital board in first place.
Joe stood atop the winner's podium, still wearing Chris' number.
"And then it hit the fan," Joe said.
Race officials disqualified Joe, giving the win to the second-place finisher.
Joe and Chris were fined.
They were banned from skiing the Birkie for two years.
They co-wrote a letter of apology.

So, who do you suppose showed up again at the Birkie this year to challenge conventionality?
"Oh man," Chris said, clutching the single pair of skis he and Chris planned to ride for more than 30 miles. "I've never been more nervous for any race in my life."
As he had in 2012, Joe headed to the start with no expectations of winning.
"Having fun, that's the goal," he said.

Chris and Joe didn't exactly ask if they could ski the Birkie in tandem. At least they both had registered this time around, though as individuals.
A nasty crash midway through the race, in some ways, settled the score. Their only punishment for skiing tandem would be self-inflicted.
The friends dusted themselves off, got back on their skies, and continued, insisting this was still a good idea.
"It's a great idea," Joe said as Chris smiled in affirmation.
There would be no first-place finish this time. Chris and Joe finished the classic race in the upper half of the pack at 4:33:10.
"We did it!" they said in unison, exchanging laughs and fist bumps.
Joe and Chris hope they've started something that might one day be an official Birkie race category.
"I would say the tandem Birkie was, by far, a lot more fun," the 2012 disqualified winner said.
Joe paused, ever so slightly, then added, "Less nerve-wracking, too."
Boyd Huppert is always looking for great stories to share in the Land of 10,000 Stories! Send us your suggestions by filling out this form.