MINNEAPOLIS — An ALDI spokesperson confirmed Monday that the grocery chain's location in the Jordan neighborhood of north Minneapolis will close later this month.
In a statement, ALDI said that the company made the decision to close the store at 3120 Penn Avenue N. in Minneapolis "due to the inability to renovate the store to accommodate our larger product range and our current lease term expiring... We thank our customers for their years of loyalty at this location and look forward to seeing them in nearby stores soon."
The Penn Avenue location will close on Feb. 12 at 5 p.m., according to a flyer posted at the store.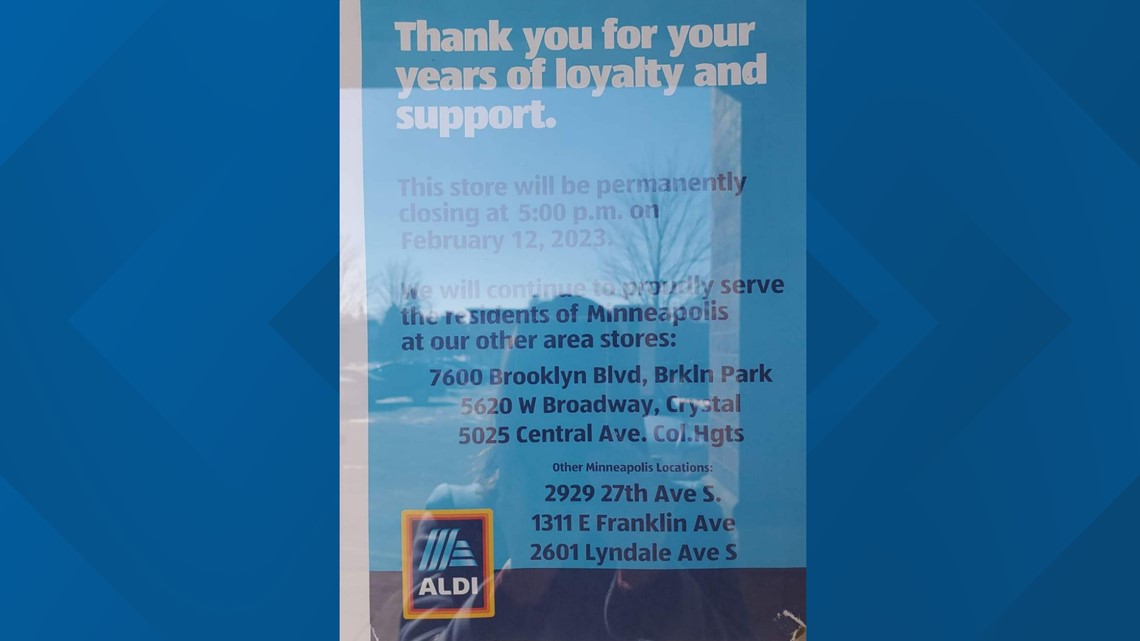 The closure will leave shoppers like Jarrod Jackson with only one grocery chain to buy from in north Minneapolis, the Cub Foods at 701 W. Broadway Avenue.
"Can't afford too much out of Cub," Jackson said. "The price is sky-high."
Jackson questioned whether the store considered expanding to Subway next door before making a decision.
"Subway is closed now," he said. "That's an empty space. I was thinking, 'Why didn't they expand over? Why couldn't they stretch it out to Subway?"
Jackson said he'll likely shop at So Low Grocery Outlet on North Emerson and Lowry Avenues. Other people have pointed to North Market on North Humboldt and North 44th Avenues.
The north Minneapolis ALDI is located at the border of the city's Ward 4 and 5. Ward 4 council member LaTrisha Vetaw says she learned of the closure last week and says had the chain announced it sooner, she would have fought for it to stay.
"I would have loved to intervene as a council member and have the entire council step in and figure out what we could do," Vetaw said. "It's just such a great loss."
Vetaw says both Minneapolis and its residents, especially those without reliable transportation, will feel the impact of losing the store.
"I fear that people are going to go to suburban grocery stores. We're going to lose that business inside of Minneapolis," she said. "One of the things I think of is the access to fresh fruit and vegetables that we always talk to people about having and this ALDI provided that … It's going to be a huge inconvenience to those folks. I spoke with a man over the weekend who said he bought his house because the ALDI was right across the street."
"It's always been a big part of the work that Minneapolis has done, that corridor right there," Vetaw said. "Even getting the ALDI in there, there was a big push from the city to make sure that we had things that we needed in that area."
Council member Ellison sent KARE 11 this statement:
"We are as shocked as everyone is about the news of ALDIs closing. By the time I heard about their closure and reached out to ALDIs, they insisted that their plans were final. My plan is to work diligently with Mayor Frey and my colleagues to find a grocer willing and excited to serve North Minneapolis."
Other nearby ALDI locations include:
17600 Brooklyn Blvd. in Brooklyn Park
5620 W. Broadway in Crystal
5025 Central Ave. in Columbia Heights