MINNESOTA, USA — Summer may be over, but the outdoor fun might not be quite yet.
The Aurora Borealis, or Northern Lights, are forecast to put on a fantastic show late Monday into early Tuesday, according to KARE 11 Meteorologist Jamie Kagol.
"The aurora activity will strengthen after 10 p.m. Monday night, remaining strong through the overnight hours, making it possible to enjoy the show anywhere in Minnesota or Wisconsin as long as you are away from the city lights," said Kagol.
There may even be a chance for an encore show on Tuesday night, but it probably won't be quite as magnificent as Monday's show, added Kagol.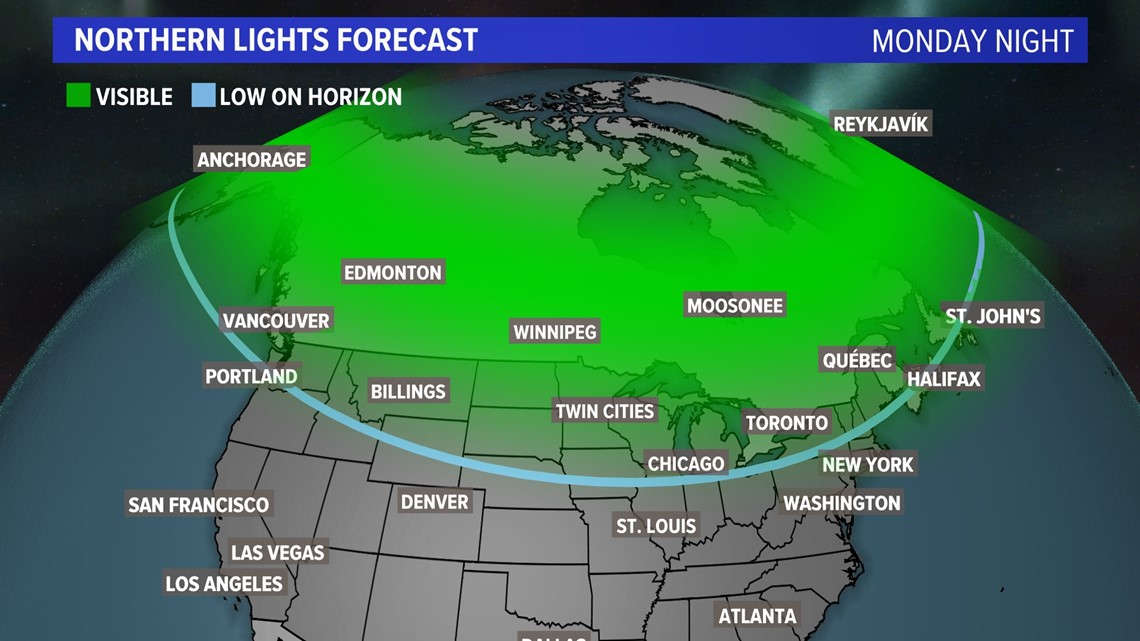 Watch the latest local news from the Twin Cities and across Minnesota in our YouTube playlist:
WATCH MORE ON KARE 11+
Download the free KARE 11+ app for Roku, Fire TV, Apple TV and other smart TV platforms to watch more from KARE 11 anytime! The KARE 11+ app includes live streams of all of KARE 11's newscasts. You'll also find on-demand replays of newscasts; the latest from KARE 11 Investigates, Breaking the News and the Land of 10,000 Stories; exclusive programs like Verify and HeartThreads; and Minnesota sports talk from our partners at Locked On Minnesota.