OWATONNA, Minn. — As kids, we were all into something.
For Darrell Caldwell Jr., that "something" was trucks. He loved garbage trucks and delivery trucks. The Texas native would egg on drivers to blow their horns on the highway while driving to visit family in Houston.
"I was that guy, I was that kid," he said.
A love so strong, Caldwell still fondly refers to the rig his grandfather used to haul pipes across oil fields as his first "girlfriend."
For years, whenever he would visit his grandfather, Preston Callegari, Darrell would run in to say hello before hopping into the truck, known as Engine Room, a moniker painted on the side of the hood.
"I would just sit in it for hours in the blistering sun," he said. "Sweating, imagining, you know, going somewhere, actually driving it not being able to see over that hood."
And then one day in the early '90s, Darrell rounded the corner to his grandfather's house, and Engine Room was gone - sold so Preston could buy another truck.
"I was devastated," Caldwell said. "Pretty much my first love, it was gone. Like, I didn't get to say goodbye... I didn't get that chance, that closure."
"It was like one of those deals where, you know, life goes on, you have to, you know, get over it," he said.
So for the last 30 years, Darrell assumed Engine Room was gone for good. Sold for parts or repainted, never to be seen again in the same condition Darrell grew up with.
Until about two years ago, when he saw a photo of his grandfather's truck in a Facebook group for Little Window Peterbilt enthusiasts.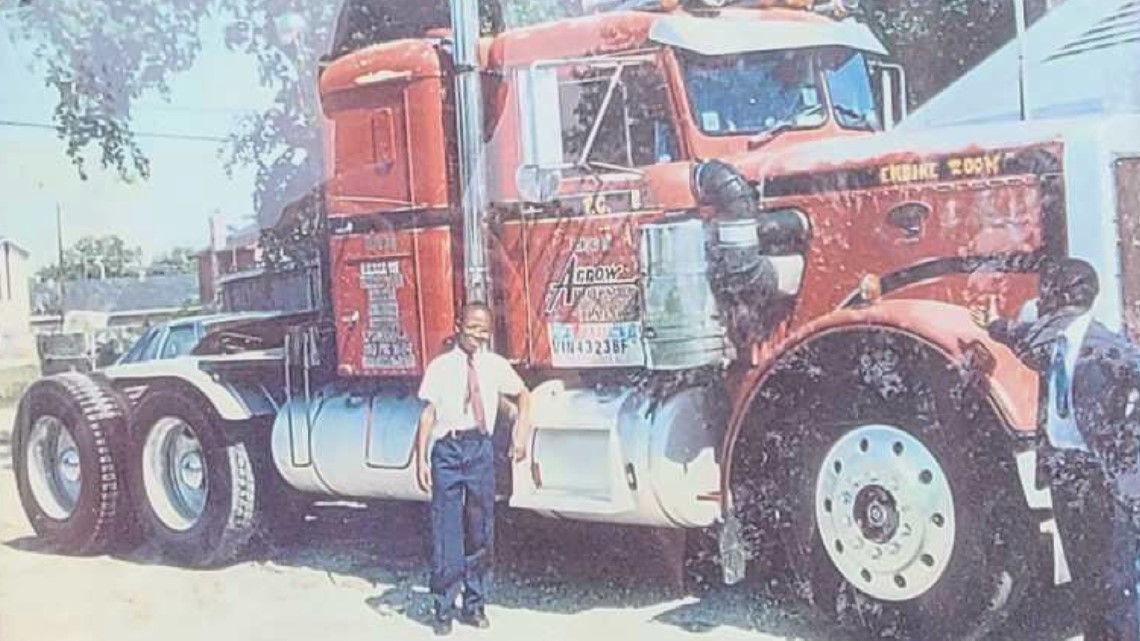 "It's almost like seeing a ghost, right? I dropped my phone," Darrell said.
A fellow truck enthusiast was looking for a truck to fix up and repair and had shared the photo of Engine Room for reference.
"I was like, where is this truck? How long ago was this picture taken? Like, who has it?" Darrell said. He was quickly inundated with messages and learned that someone in Baton Rouge, Louisiana had owned the truck - but recently sold it.
"So now I'm in the process of hunting for it like, 'Okay, where's this truck?' And people were sending messages out, 'Does anybody know where this truck is?'"
Enter, Minnesotans and fellow truckers Nick Nelson and Charlie Parvi.
Last fall, Nick came across those Facebook posts - both the original photo from someone looking for a truck to buy, and Darrell's posts that he was looking for his grandfather's old truck.
"Never really thought anything of it," Nick said. "I thought that's pretty neat, this guy's looking for his grandpa's truck."
Never thought about it, until Charlie sent him a photo of the 1970s Peterbilt.
"I'm like, Where did you find that truck?' And he goes, it's sitting out at Josh's."
The realization sent Nick down the Facebook rabbit hole, and after a few minutes, he found the original post and photo of Engine Room, and Darrell's comments that he was looking for the truck.
"None of the comments showed that it had been found, so I made a comment, 'If you haven't found that truck yet I know where it's sitting,'" Nick said.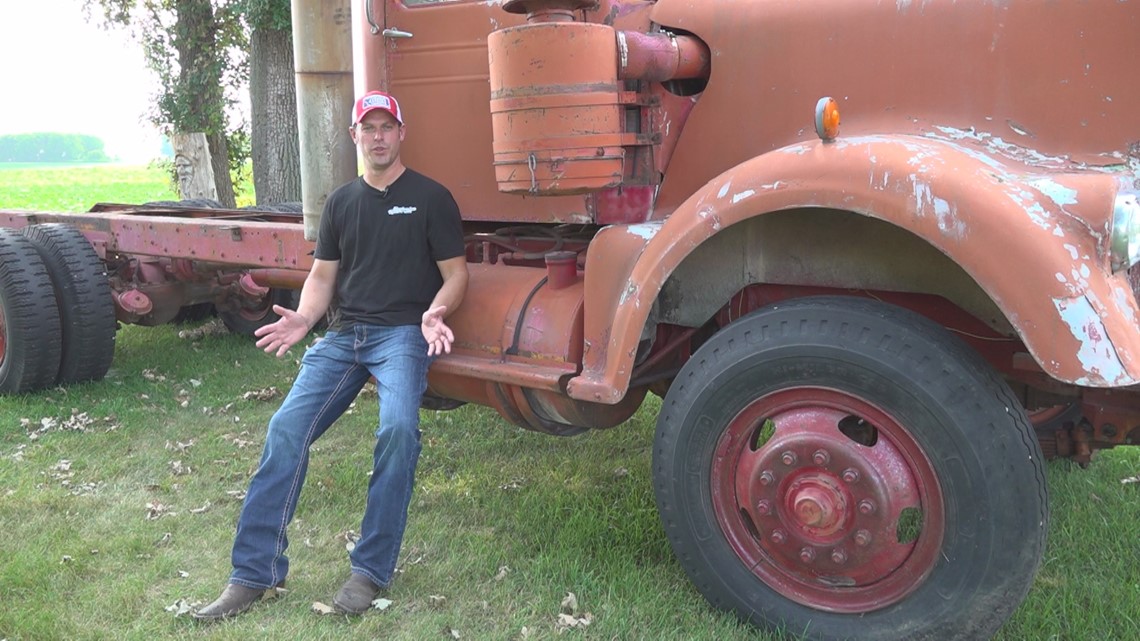 Nick then passed the proverbial torch to Charlie, who reached out to Darrell directly.
"When I first heard from Charlie... he was telling me, you know, I have a good buddy of mine who owns that truck," Darrell explained. "And I was like... Okay, is it still the same? Because at this point, I still don't know if it's in the same condition. I just know that he has a good friend of his that has it."
After messaging back and forth, Charlie explained to Darrell that friends were going to bring the truck to an annual party Nick and his wife host on their farm near Owatonna and that Darrell should come up from Texas and see it.
"My initial thought was I did not want my reunion with the truck... to take away from you know, the bash," Darrell said. "If anything, I was just gonna go up on the side, you know, and have my reunion and do it like that, but he was like, 'No, we're gonna bring it. We would love for you to come.'"
"I was hoping for the best of it," Charlie said. "A high school kid sells his car, and 40 years later he gets to see it again. The emotions, everything that happens, only this is happening with a semi. It's unheard of."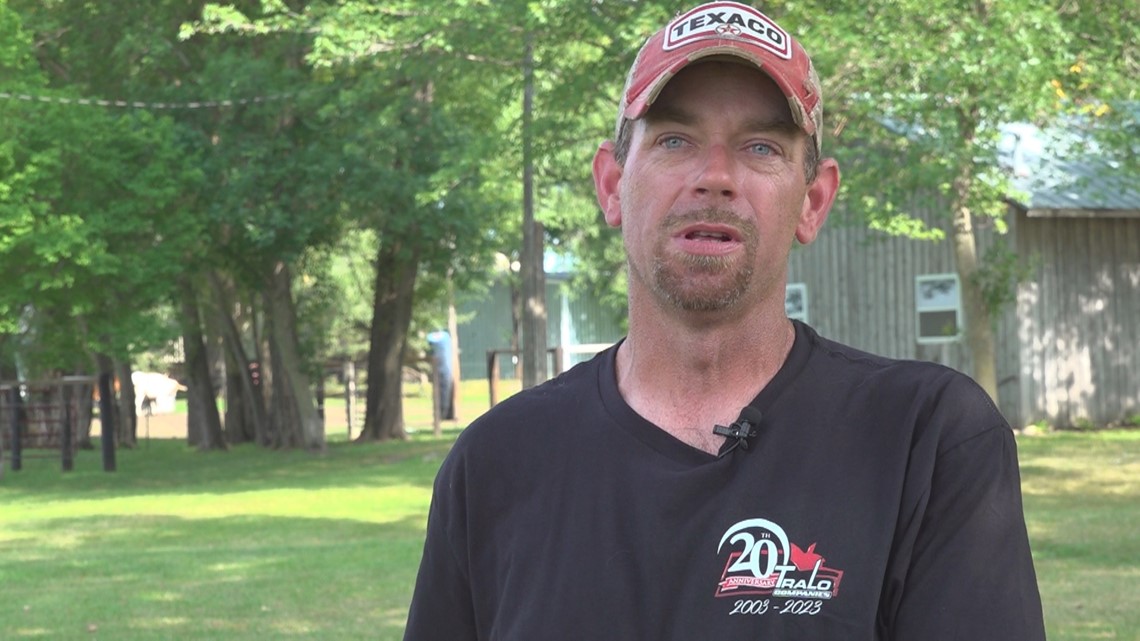 Convinced to make the trip, on July 14 Darrell and his wife Amber flew to Minneapolis from Texas, then got in a car and hit the road to Owatonna.
"We turn left on this dirt road. And I'm like, all the memories of just you know, dirt roads and in the country. It's some of the places that I would go in the summer, all that just came back," Darrell said.
And there, parked among a sea of even bigger big rigs, was Engine Room.
"I don't believe it, I still don't believe that it's intact," Darrell remembered thinking as he walked up to the truck. "It's the same."
Which is part of what makes Darrell's reunion so unique. Engine Room is in the same patina it was in decades ago when Darrell's grandfather owned it.
The paint job is the same. In the truck's bed, you'll find outlines from where Darrell's grandpa hung posters and stickers. The license plates are from 1987. The steering knob that Darrell used to play with as a kid is still intact.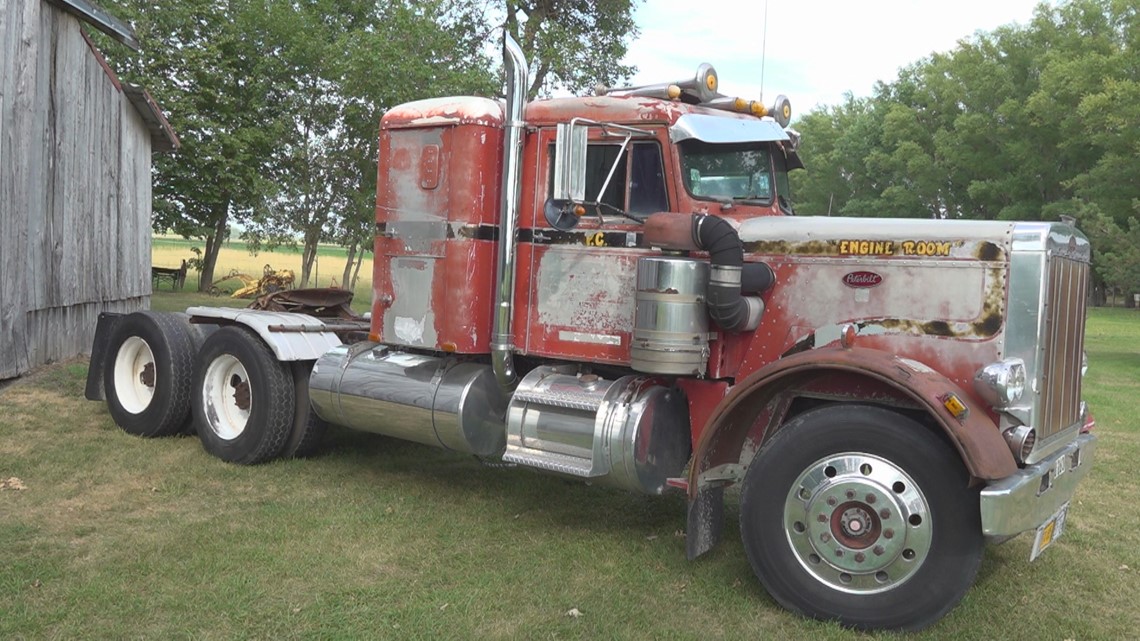 "It still had the same shimmy, you know, vibration to it, the actual tone of it was exactly the same of what I remember," Darrell said. "So now I'm over 45 now sitting in the same seat in the passenger seat, and this truck is alive."
"I just lost it. I couldn't hold it anymore," he said. "I was trying to fight it because I didn't want, you know, people to see me emotional about it and crying about it. But at that moment, I just, I just couldn't hold it back anymore."
And Darrell wasn't the only one.
"I bet you there was 10 people around, you know your hardened truckers with Harley shirts on you've never seen shed a tear, standing here with Darrell giving him a hug," Nick said.
Preston passed away right before Darrell got his truck driver's license. So while Darrell never got the chance to take his grandpa for a ride as a "thank you" for the years of memories with Engine Room, he was able to make new ones with a farm full of fellow truckers thousands of miles away.
"When I kind of composed myself, I looked around and everybody else was crying too," Darrell laughed.
"I think if you have a love for whatever, but in particular trucks and it's all that you've been a part of and wanted to do, you get it. And I think it's real rare to find and meet other people who share your same passion. But when you do, it's beautiful," Darrell said of the brotherhood he met in Minnesota.
"I think it's a lifelong friendship from here on out," Nick said. "It was a true blessing for him to come down here and just be a part of what we do, and what we could do for him."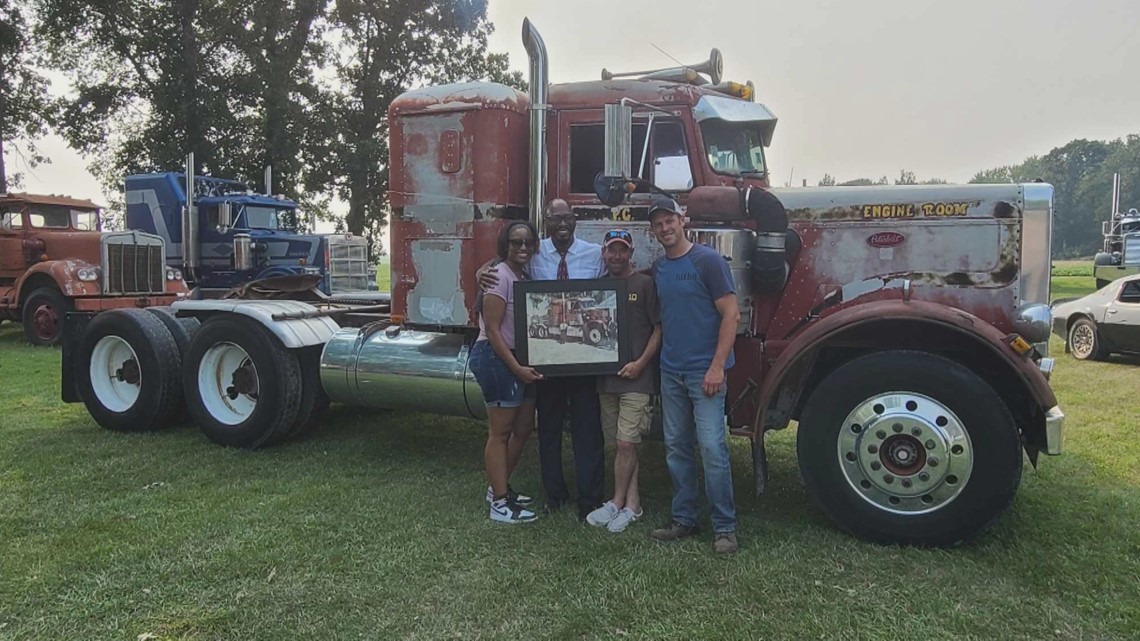 "I know this stuff happens, but I never thought I'd get to do it firsthand and be part of it," Charlie added.
So of course the next question is, did Darrell buy the truck?
If his luck continues and he wins the lottery, Darrell said he'd definitely buy it back, "But as of right now, no. I think it's in a good spot. And the story behind it, and everything... you can't make it up. So hopefully, if we get that lottery, you know, maybe, but as of right now, that's not the plan."
Watch the latest local news from the Twin Cities and across Minnesota in our YouTube playlist:
WATCH MORE ON KARE 11+
Download the free KARE 11+ app for Roku, Fire TV, Apple TV and other smart TV platforms to watch more from KARE 11 anytime! The KARE 11+ app includes live streams of all of KARE 11's newscasts. You'll also find on-demand replays of newscasts; the latest from KARE 11 Investigates, Breaking the News and the Land of 10,000 Stories; exclusive programs like Verify and HeartThreads; and Minnesota sports talk from our partners at Locked On Minnesota.