She left behind three houses and 300,000 books, but who was Saint Paul's 'Book Lady'?
A St Paul bookstore is holding a special pop-up sale in May, one that has been 97 years in the making.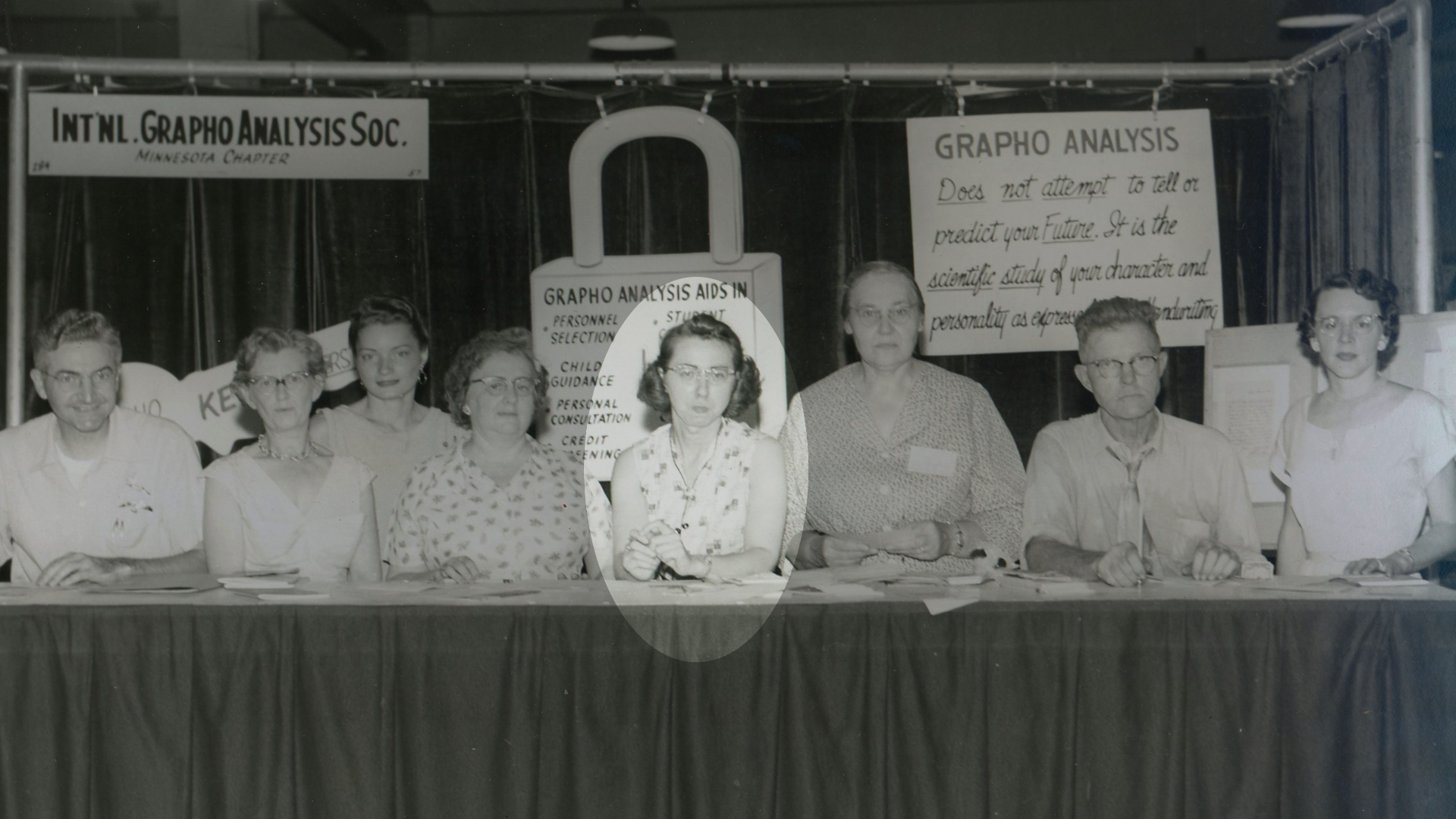 There are three houses standing in St Paul's Cathedral Hill neighborhood that once upon a time, held a book collection that numbered in the hundreds of thousands. But all that is known about these books, and their collector, is being pieced together from papers found by people coming to clear everything out of the houses, ahead of a rebuild and eventual sale.
The Book Lady's collection
:
Jeanette Kamman spent her whole life adding to her library, starting in a small Saint Paul apartment. When the books became too numerous for that space, Jeanette bought her first house and continued filling it with books. Soon that one house turned into two and then three. But Jeanette doesn't appear to have lived in these houses; instead, they were two-story bookcases.
Bookcases. Stacks of books cover the floors and reach toward the ceilings.
At one house, even the bathtub was filled to the brim with Jeanette's collection.
"Her bedroom closet was stacked floor to ceiling with about 5,000 books… packed tight on their sides and every one of them was signed by the author," said Joe Whebbe, a professional house flipper who bought one of these houses.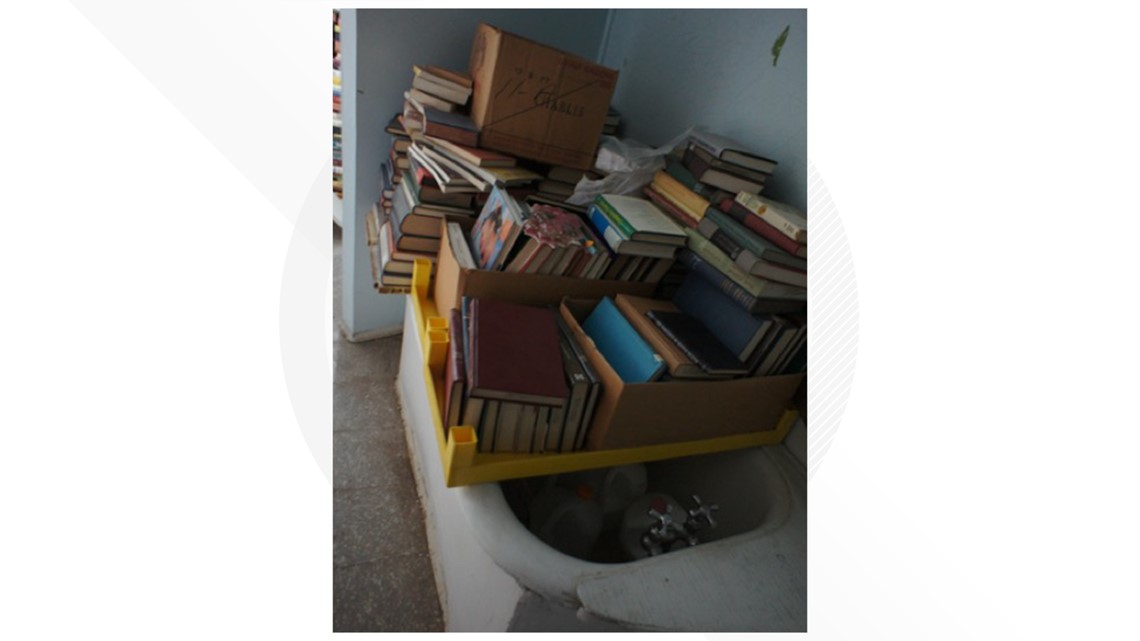 The Book Lady was often seen around Saint Paul with a book in hand. But in the 1990s, her health started to decline and the pace of her collecting slowed. It appears when she moved to a retirement home that she left her massive collection behind.
Joe said Jeanette seems to have taken some personal effects, but left behind pictures, papers and what amounted to a memoir.
Joe, his wife Rhonda and their crew came into the story in 2012 when they purchased one of Jeanette's houses. An investor had already bought the house on either side of theirs, but the repairs needed by this third old house meant others weren't willing to take on the task of restoring the property.
"We saw the house, and we knew that it was bad. It was all balloon framing. So I knew just how to fix it, but it scared away a lot of people," Joe said proudly.
In addition to the books, the floors in the house were starting to bow, some sagging as much as a foot from the weight of the thousands of printed texts.
The investor who owned the other houses hired Joe and Rhonda to fix them up, Joe said. Another contractor had started hauling books out in a dumpster, but Joe saw the potential in all those books.
'Even I underestimated what it was going to take'
:
In the beginning, the idea of selling the books floated to the surface, but the sheer scope of all those books was intimidating for people whose previous experience was in house flipping, not bookselling.
"And it's just at first glance, you think, oh, we'll just get these books and we'll start selling them right away. But it's a major undertaking, even I underestimated what it was going to take," Joe chuckled.
Their crew got to work, sorting, packing and negotiating a deal with the contractors that had started the job and already hauled away a storage unit's worth of Jeanette's collection.
Weeks and weeks later, the lion's share of the library of books had been reunited at a climate-controlled storage unit.
"Mostly books, but there's yeah, there's a big variety of stuff, posters, some newspapers, some old magazines, some really interesting old magazines from the 20s and 30s, like Fortune Magazine and Life magazine, things like that, you know, the magazines as big as a poster itself," Joe said.
He estimates they have around 300,000 pieces.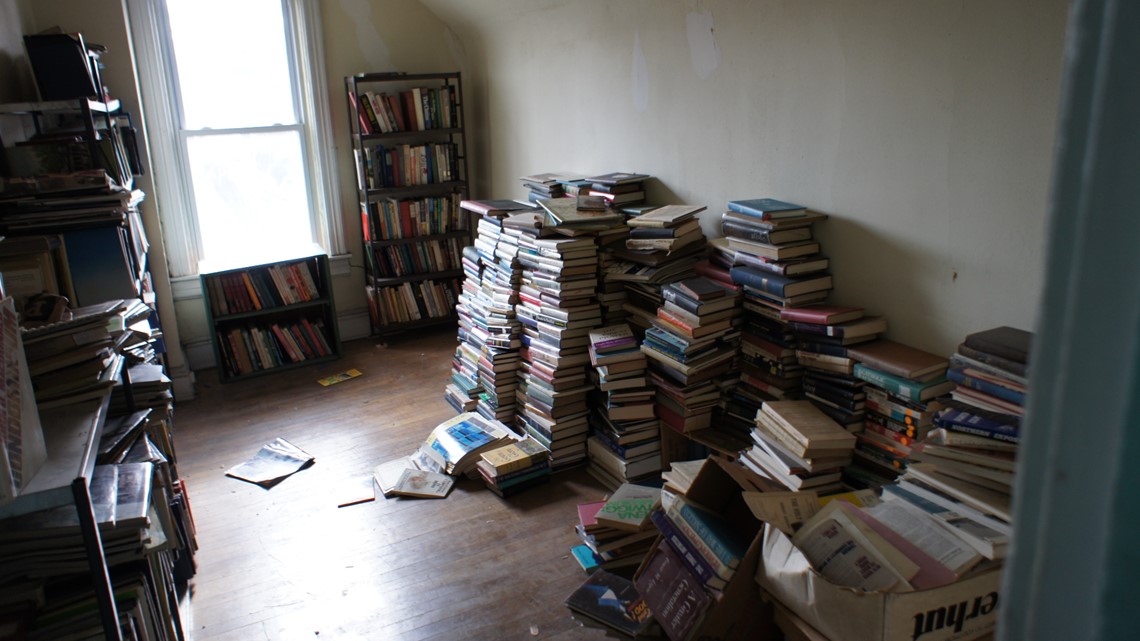 So imagine the pain involved in moving your own personal library from one place to another. Now multiply that by around 100,000, and you can start to feel the backaches Joe and Rhonda have undoubtedly been nursing for the past few years.
Jeanette's books were waiting in storage until February. That's when graphic designer and furniture flipper Kendra Buro met Joe and Rhonda. She was fascinated by the houses and mountains of books and started pouring through the collection.
"I think the oldest book that we found dates back to like the 1820s, which is, you know, it's a miracle that we can even still be able to hold that book in our hands," Kendra said. "So I think that that's probably like some of the most fascinating things in this collection, is how old [some of it is]."
The Book Lady's Library was getting closer to opening its doors.
Who was Jeanette Kamman?
: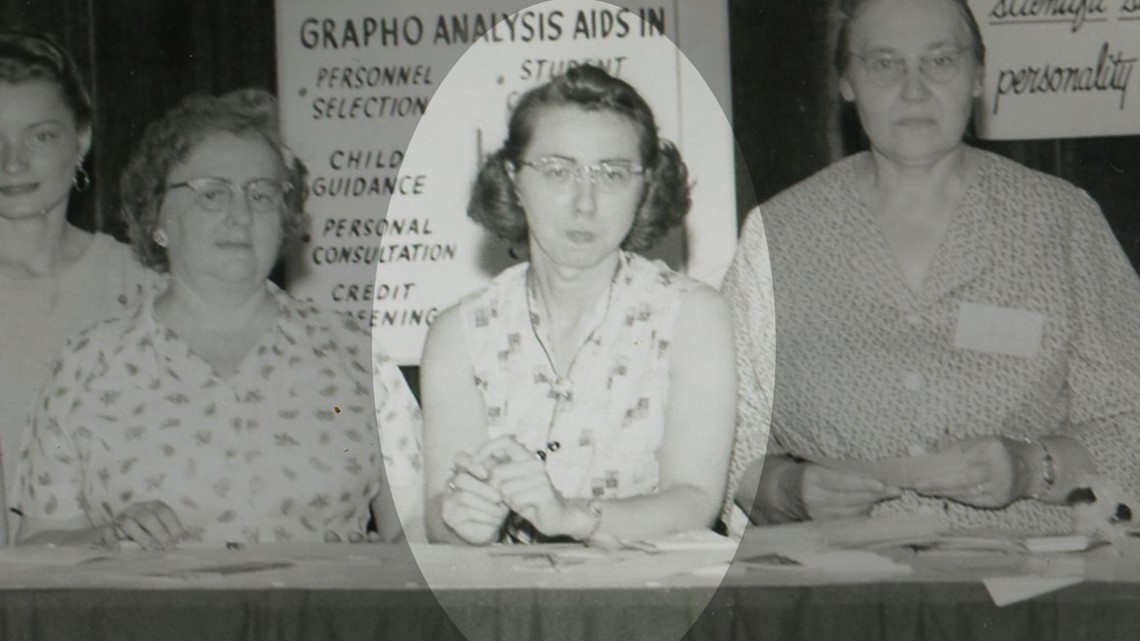 Going through all of the books, with subjects ranging from religion to cooking to history to the lives of presidents, it's hard not to wonder about the woman who gathered this wealth of written knowledge.
From what Kendra has been able to piece together, Jeanette Kamman was born in 1926 and adopted as a baby by a family in Hastings, Minnesota. The family moved to Saint Paul, where Jeanette lived for the rest of her life. She had a foster sister named Jeanella. The two were considered "twins" since they were the same age.
Jeanette attended and graduated from Humbolt High School in 1944 and over the next 10 years, earned a bachelor's degree from the University of Minnesota by going to night school.
"Her co-workers would often ask Jeanette to recommend books, leading her to a scavenger hunt to find just the right books to complement her colleagues' passions and interests. Those that worked with her in the county office deemed her as a 'fixture' to the workspace, always with her book cart nearby," reads a website Kendra built about The Book Lady.
The houses that were home to the growing collection of written works were called "The Library of the Orphaned Books" by their guardian Jeanette.
"She didn't feel the pressure to have children. She didn't feel the pressure to get married," Kendra said. "She just wanted to live her dream of having all these books and being surrounded by books, which is so amazing and just having the guts to, you know, buy three homes on her own is fantastic."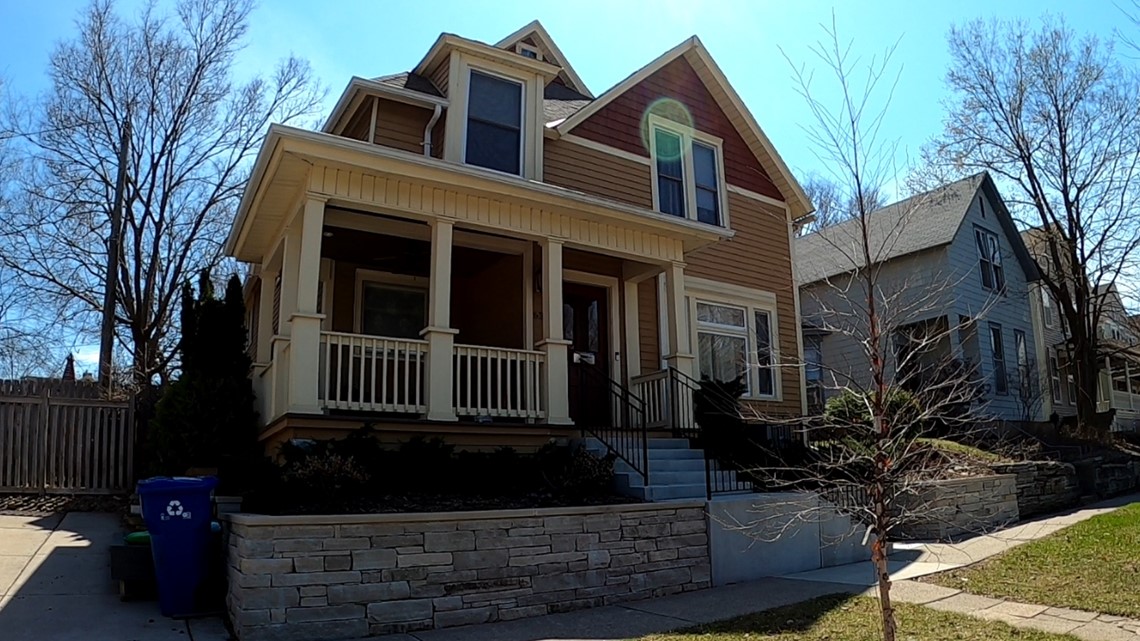 But how did Jeanette pay for her houses and her library? Kendra, Joe and others who have helped research have asked this question again and again, but haven't been able to find a satisfactory answer. Jeanette doesn't appear to have inherited any money, her family wasn't well off, it doesn't appear that she was married, nor has evidence of any children surfaced.
Joe noted that they had found information indicating that Jeanette's home was registered as a library in Saint Paul, and he theorized that she may have been selling books as well.
According to the U.S. Census Bureau, the median cost for a house in 1940 was just over $3,000 in Minnesota. That number jumps closer to $8,000 in 1950. Historical data from FRASER, a digital library of economic and financial history, shows a woman working as a clerk in Minneapolis in 1951 brought home around $69.50 a week, or a little over $3,600 every year. With careful scrimping and saving it would be possible to save up and buy a house. It does seem like a stretch, though, for a single woman to be able to purchase one house, let alone three.
This mystery is part of why when the team opened The Book Lady's Library on West 7th Street in Saint Paul. They wanted to make this woman's collection and story part of this chapter of their lives.
"I really do think that Jeanette did it out of just a passion and a love for books in general. And being able to help people find a book that they would want to read," Kendra said. "I know that the people that she worked very closely with and met and had a personal relationship with, she tried her best to find specific books that would fit their needs, and ones that she would think that they would really want. And I think that was really a special quality about Jeanette."
The Book Lady's Library
: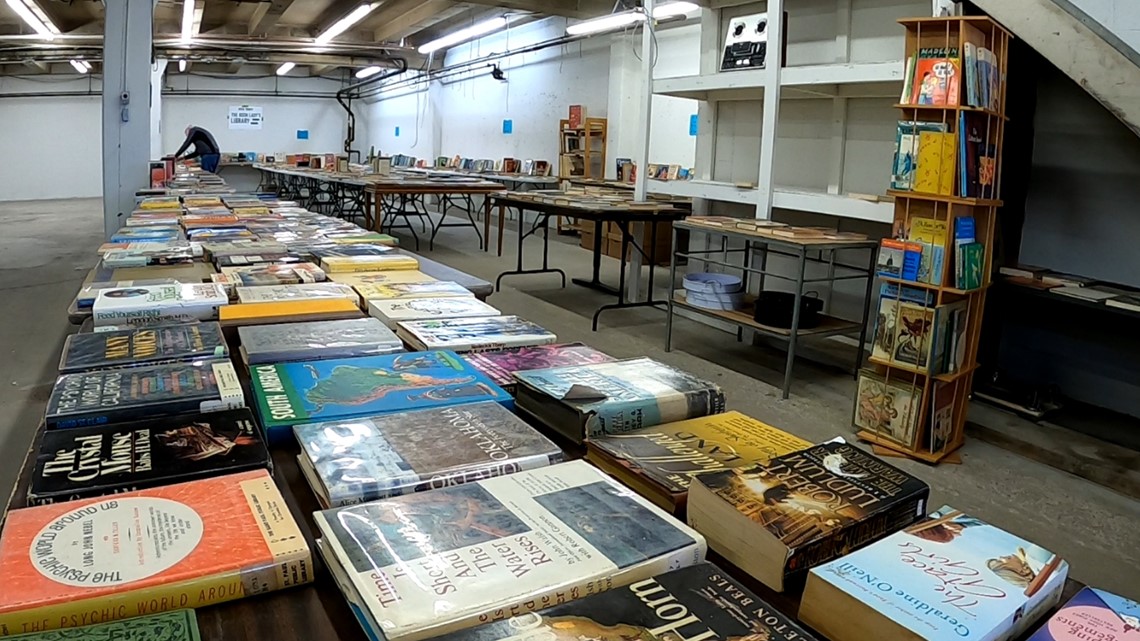 On the last weekend in April, Joe, Rhonda and Kendra opened the dark green doors of their pop-up bookstore to start selling Jeanette's books.
Tables line the walls of their lower-level selling space. They'll be open on weekends through the end of May, with a constantly-rotating selection of Jeanette's library for sale.
Stacks of brown cardboard boxes stand watch, reminiscent of the towers of books that used to fill three houses in a Saint Paul neighborhood.
Kendra estimates only a 20th of the collection has made it to the store so far, with the rest still waiting in a Minneapolis storage unit.
But The Book Lady's Library isn't only trying to sell books from their new pop-up location, they've got another goal in mind.
"I'm hoping that people at the sale will come that have personally known her, so we can learn more stories about her and more about her as a person."
Watch the latest local news from the Twin Cities and across Minnesota in our YouTube playlist:
WATCH MORE ON KARE 11+
Download the free KARE 11+ app for Roku, Fire TV, Apple TV and other smart TV platforms to watch more from KARE 11 anytime! The KARE 11+ app includes live streams of all of KARE 11's newscasts. You'll also find on-demand replays of newscasts; the latest from KARE 11 Investigates, Breaking the News and the Land of 10,000 Stories; exclusive programs like Verify and HeartThreads; and Minnesota sports talk from our partners at Locked On Minnesota.