REDWOOD COUNTY, Minnesota — Blizzard conditions have forced the closing of a major interstate and additional roads in southwestern Minnesota as the second wave of a powerful winter storm elbows its way into the state.
MnDOT posted on Twitter shortly after 2 p.m. that I-90 from Worthington west to the South Dakota border and state highways from Worthington south to the Iowa border are now closed due to blizzard conditions and significantly reduced visibility.
The closures follow no-travel advisories issued by MnDOT earlier in the day warning drivers to stay off Highway 14 and state roads south in Lincoln, Lyon, Redwood, Pipestone and Murray counties due to blowing and drifting snow, intermittent whiteout conditions and pavement that is snow and ice covered.
A snow totals map from the National Weather Service shows the impacted area received between 4 and 6 inches of snow Tuesday into Wednesday and is hours away from getting hit by another wave.
Additionally, a no-travel advisory was issued on all state highways and I-90 in Nobles and Rock counties in south-central Minnesota, also due to blowing and drifting snow and blizzard and conditions. Motorists are advised not to travel in these areas until conditions improve.
A statewide map on 511 Minnesota shows most roads across the southern swath of Minnesota are currently reported as completely or partially covered in snow and ice.
In the metro, multiple crashes shut down roadways and slowed traffic for a period of time Wednesday morning.
A multiple-car pileup on northbound Highway 77 over I-35E is currently being investigated by Minnesota State Patrol. According to the patrol, two cars were traveling northbound when they crashed and moved to the left-hand side of the highway. A truck lost control and rear-ended the vehicles before another car hit the truck, making it a four-car pileup.
In a report on its website, the State Patrol said a person was outside one of the cars at the time of the crash and was struck by the vehicles. The victim's condition is considered serious.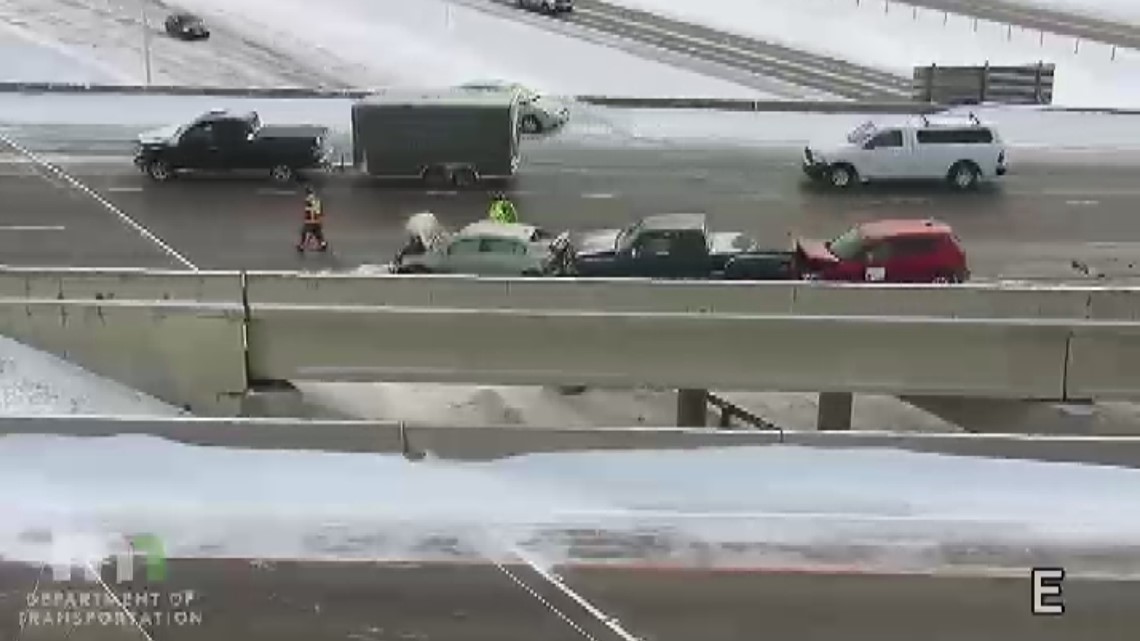 Interstate 35W at Exit 22 in Minneapolis was closed for about 30 minutes due to a jackknifed semi truck and on eastbound Interstate 94 near Broadway, a semi-truck struck a FedEx vehicle that had veered into the semi's lane. Traffic was slowed but continued moving in the far right lane.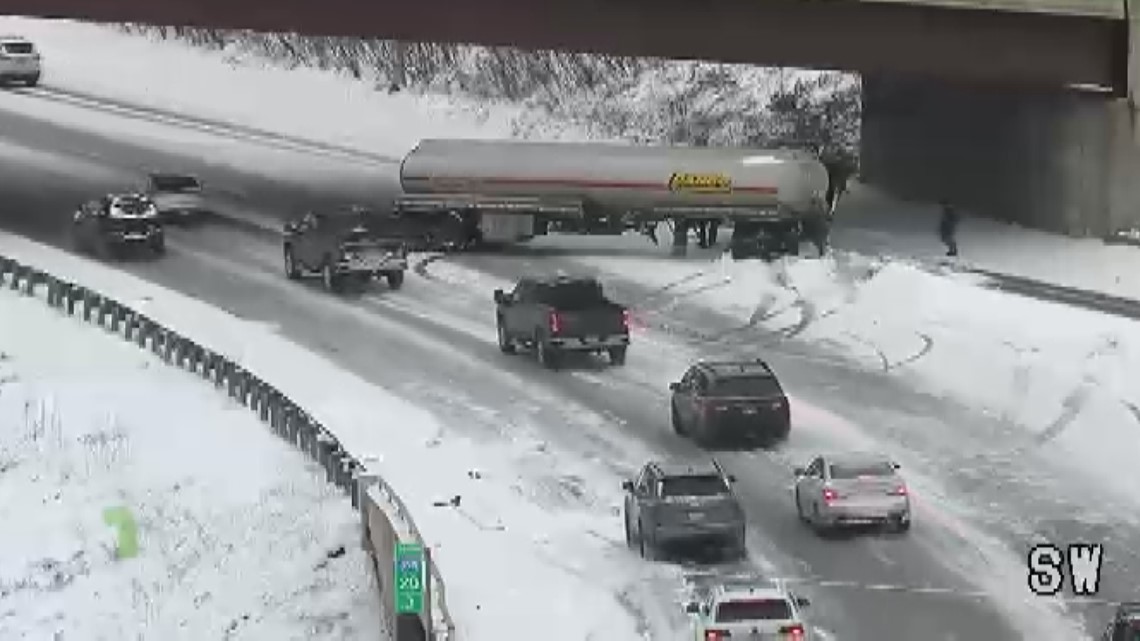 The State Patrol said 92 crashes were reported statewide between 7:30 p.m. Tuesday and 7:30 a.m. Wednesday (eight with injury), and troopers responded to an additional 52 vehicles spun out or off the road and one jackknifed semi. Between 7:30 a.m. and 7:30 p.m., troopers responded to another 166 crashes, including 15 with injuries. There were also 90 spinouts and three jackknifed semis.
Driving conditions are expected to become progressively worse Wednesday afternoon when the heaviest snow of the 3-day winter storm event moves in. The State Patrol is urging everyone to stay home if possible and to be well-prepared if they have to travel.
Get familiar with the forecast and sign up for personal weather alerts.
Pack a winter survival kit, that includes boots, extra jackets, gloves, blankets, a cell phone charger, flashlight with spare batteries, bottled water and snacks, booster cables, basic tools, sand or cat litter, a red bandana, a pencil and paper.
Clear snow and ice from vehicle windows, hood, headlights, brake lights and directional signals.
If the conditions are too poor, do not travel unless it is necessary.
Increase stopping distance between vehicles.
Use extra precautions when driving near snowplows by keeping at least 10 car-lengths behind plows. Stay alert as they may turn or exit frequently and often with little warning.
Move over for flashing lights, as law enforcement, tow trucks and other emergency vehicles will be assisting motorists who are involved in crashes or become stranded.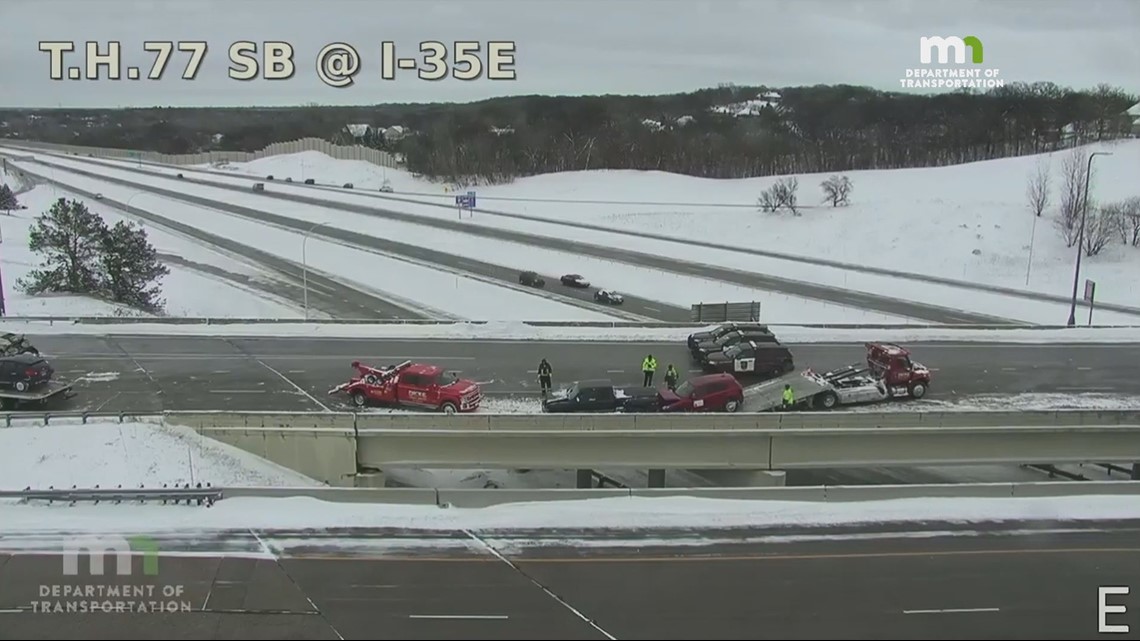 Governor Walz on Tuesday issued an emergency executive order authorizing the patrol, MnDOT and Minnesota National Guard to work together on storm preparation plans. The guard spent the day moving equipment to the areas expected to be hardest hit, and notifying personnel that might be involved in rescues or shelter assignments.
For the latest weather conditions and information on this winter storm, check out your KARE 11 app or download it here.
Watch the latest deep-dives and explainers on weather and science in our YouTube playlist: