MINNEAPOLIS, Minnesota — Never did Caleb Crossley think playing pickup soccer with his friends would lead to him starting a youth soccer organization or that it would then inspire the opening of a new coffeehouse in Loring Park.
"It's grown like crazy," Crossley said.
In 2016, Crossley and his friends spent the winter playing pickup soccer at Whittier Recreation Center in south Minneapolis. The next year, Crossley, who was working at Anwatin Middle School at the time, invited some kids to play with them.
Crossley especially connected with seventh-grader Bishar Mohamed, who loved soccer but had never been coached or been on a team.
Pretty soon, Crossley said, "Instead of adults playing pickup, we started doing kids pickup. Then we made a league. Then we started doing training in the mornings here four years ago. Then we started doing a summer league. So it's really built and grown in a real, grassroots kind of way."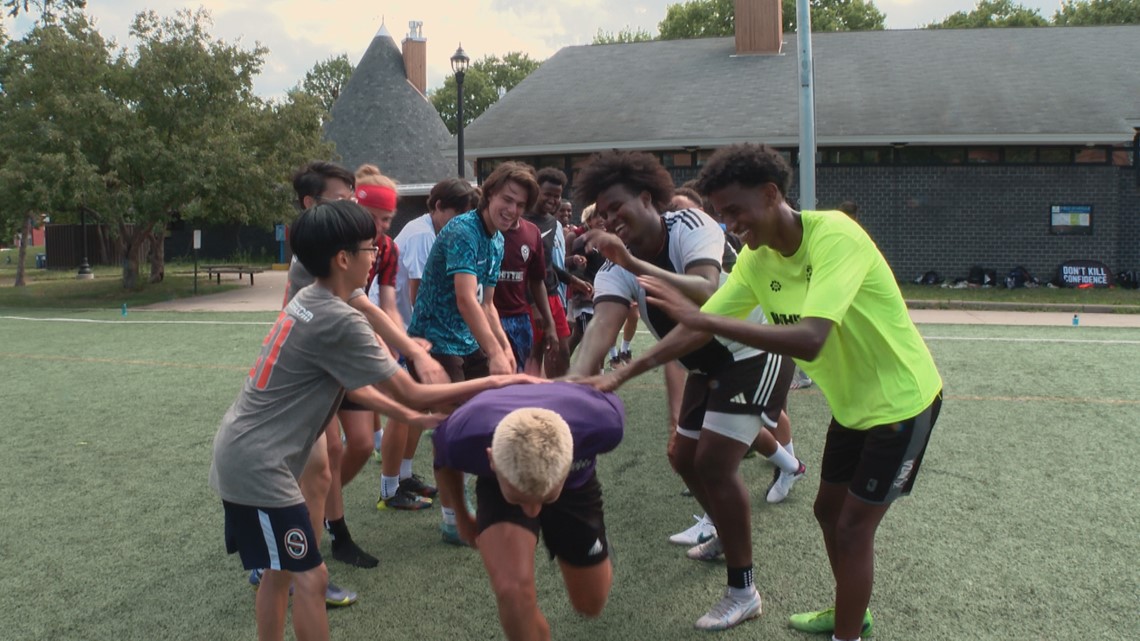 Futsal Society is a nonprofit that offers a free alternative to club soccer for kids and their families. Crossley said the entry point to play competitive youth soccer for a summer can cost $1,000 or more.
"It shouldn't matter how much money your family has or where you live. You should be able to participate in competitive soccer if it's something you're really passionate about and it's something you love to do," Crossley said.
Last year, Futsal Society had about 280 high school kids in the Twin Cities metro area participate in their programs. Nearly 60% of their players are first-generation immigrants.
"Really diverse group. I'm really proud of the way that we've just been able to grow kind of slowly, organically, over time in a really grassroots way," Crossley said.
But as they've grown, so has the need. Futsal Society held its first community fundraiser in April of last year. That's when volunteer coach Alex Heller brought up the idea of opening a coffee shop to benefit Futsal Society.
Heller is the property manager of Loring Corners — a historic series of buildings in Loring Park. A vacant space in the alley happened to be a spot Heller had been saying would be a great coffee shop location since he was in sixth grade.
Heller's stepfather is the building owner and is allowing them to use the space rent-free.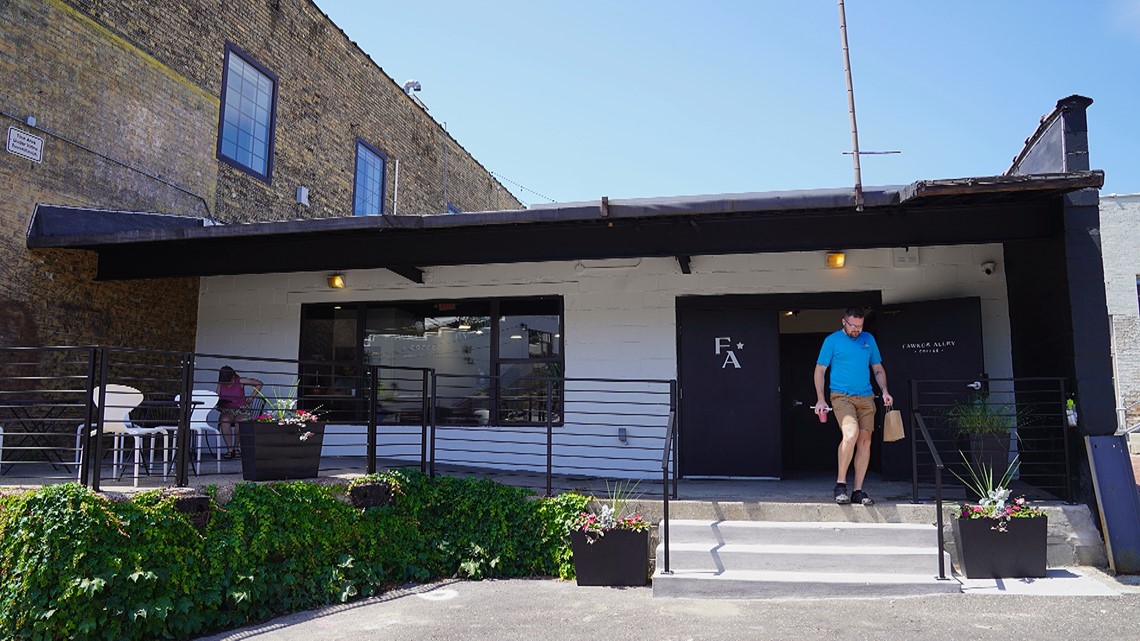 After more than a year of planning, Fawkes Alley Coffee opened this week. All profits from the nonprofit will go directly towards sustaining and growing Futsal Society's reach in the community.
The coffeehouse employs young adults who are former participants of Futsal Society.
"It's time to take it to the next level. That's through mentorship, through job skills training, and through things away from soccer but still part of this community," Heller said.
"A year ago it was just an idea and now we're actually here," said Mohamed Ali of Minneapolis.
Ali, 17, played with Futsal Society for three years. He now is working at Fawkes Alley Coffee while studying electrical engineering at Minneapolis Community & Technical College.
"We have mentors who we meet up with every month and they just teach us about life and stuff. Especially for me, it gives me someone to look up to. Someone to give me guidance... it's really helpful," Ali said.
Ali's mentor is Logan Quiggle who is also involved with the two organizations.
"The idea is to only work in the coffee shop for a maximum of a year and when you first start working here, we kind of sit down and talk to you and say, 'What is your dream job?'" Heller explained.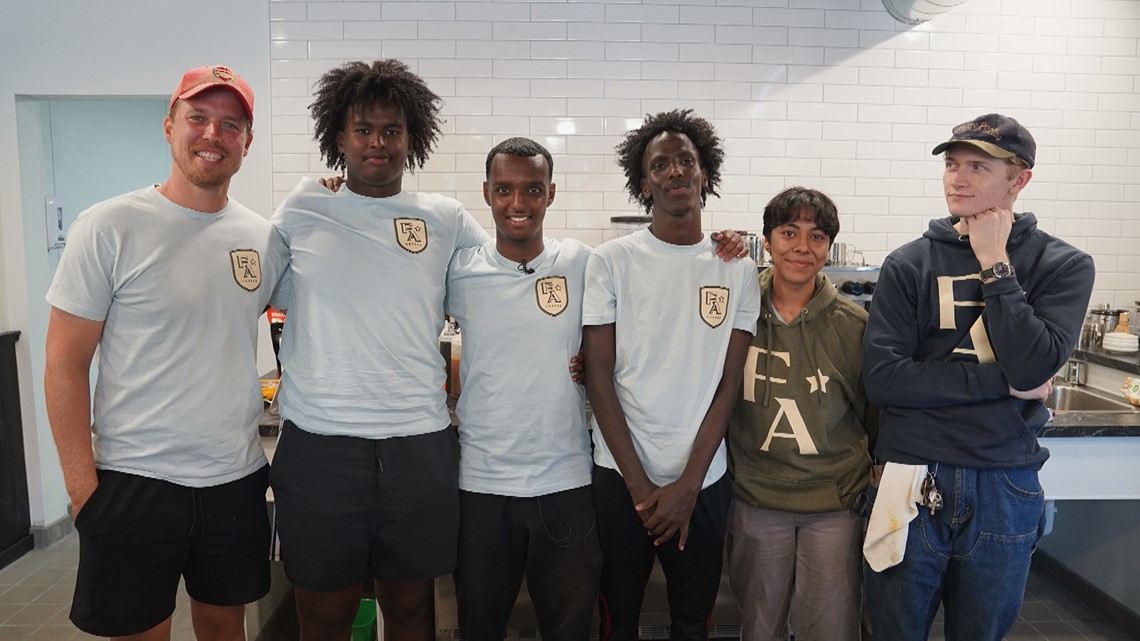 While Crossley said soccer is the catch-all that connects them, he added, "I think if we can grow outward from there and kind of expand our programs to give these kids jobs or give these kids more opportunities to kind of flex their muscles with life skills, professional development, help them into adulthood... I think that's really the goal."
Besides drinks, the coffeehouse offers baked goods provided by 86 Pastries.
Amber Arcuri opened the business specifically to provide pastries for the shop. She has worked for D'Amico for 14 years and is now using those skills to help Fawkes Alley Coffee.
"Growing up, my mom and I would make pastries, our monster cookies... we sold them at the concession stand to raise money for the soccer program," Arcuri said. "To see that in a display case now, the full circle of it is amazing to me."
The coffeehouse also employs experienced baristas who have been training the rest of the team.
Mohamud Ibrahim graduated from playing with Futsal Society to now coaching a team. He also works at the coffee shop.
"It just teaches me how to talk to others and how to be a better speaker," Ibrahim said. "I'm learning how to work with others. I'm learning customer service... how to greet others and just basically how to be a better person."
Heller encourages the public to watch a game. Futsal Society plays Monday-Thursday night at 6 p.m. and 8 p.m. at DeLaSalle High School.
Open daily from 8:30 a.m. to 2 p.m.
WATCH MORE ON KARE 11+
Download the free KARE 11+ app for Roku, Fire TV, Apple TV and other smart TV platforms to watch more from KARE 11 anytime! The KARE 11+ app includes live streams of all of KARE 11's newscasts. You'll also find on-demand replays of newscasts; the latest from KARE 11 Investigates, Breaking the News and the Land of 10,000 Stories; exclusive programs like Verify and HeartThreads; and Minnesota sports talk from our partners at Locked On Minnesota.